Top 10 College Basketball Players – February 2022 Rankings
Ranking the best NCAA Men's college basketball players of February 2022 as Antoine Davis of the Detroit Mercy Titans moves up in the Top 5 of the rankings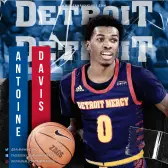 The light shines bright on the game of basketball as the NCAA Basketball is loaded with a ton of talented young men taking to the hardwood night in and night out. Some of these top stars are not only the light of college basketball but the future stars at the next level. 
As you look across NCAA Men's College Basketball, the list of talented stars is endless with some leading top tier programs while others are doing what they can to help lesser known programs make big strides.

This group of talented basketball players include some of the best guards, traditional forwards, big men and even swing forward type stars that can play multiple positions. One of those top tier stars is the Iowa Hawkeyes star Keegan Murray along with other top tier stars in Kofi Cockburn, Johnny Davis and Drew Timme. 
While these guys are leading big name programs (and hopefully deep into the NCAA March Madness Tournament), two other top stars to watch include Peter Kiss and Antoine Davis who are ranked #1 and #2 collectively in scoring in NCAA Division I Men's Basketball. 
With that said, here is our list of the Top 10 NCAA Men's College Basketball Players:
Honorable Mention
Michael Devoe
School: Georgia Tech Yellow Jackets
 Joining his NC State Wolfpack rival Dereon Seabron on the list of the Top 10 NCAA BB Players is Michael Devoe of the Georgia Tech Yellow Jacks. The senior guard is as polished as any guard in the country and one that can take over a game at any point. 
While the Yellow Jackets have struggled at times this season, Devoe has done everything he can to help the squad. On the year Devoe is shooting 38.1% from three point territory while shooting 48.8% from the field while averaging 18.6 points a game, 4.7 rebounds and 3.3 assists. 
Peter Kiss
School: Bryant Bulldogs
Much like a few of the other players on this list playing at smaller and less known schools, Peter Kiss has gone under the radar this season despite leading the country in scoring through his first 19 games this season. Kiss, who is listed as a guard, is a true game changer as he has averaged 23.9 points a game to go along with 5.9 rebounds and 3.3 assists this season. 
Kiss's performance along with his teammates have the Bryant Bulldogs sitting at 15-9 on the year and in 2nd place in the NEC conference. Entering February 17th, 2022 Kiss has posted at least 30 points in three straight games while scoring a combined 97 points to go along with 20 rebounds and six assists.
Top 10 College Players
10. Dereon Seabron
School: NC State Wolfpack
The NC State Wolfpack young sophomore guard Dereon Seabron has taken the ACC by storm during the 2021-22 NCAA Basketball schedule as he continues to put together big time performances as he has built a strong resume for future NBA teams to consider. 
Seabron is listed at 6'7'' while giving the Wolfpack a tremendous two way player that can not only play the guard position but also the small forward position. Seabron is averaging 17.9 points a game to go along with 8.8 rebounds and 3.2 assists while shooting 51.4% from the field. 
9. Fardaws Aimaq
School: Utah Valley Wolverines
It is difficult for any player to make a big name for themselves when the team they play for isn't a top tier program. That is the case with Fardaws Aimaq as he continues to be the Utah Valley Wolverines big time threat night in and night out as he helped his team to a 17-8 record as the NCAA Basketball schedule rolls into mid-February. 
Aimaq has posted five games with at least 25 points this season, eight more games with at least 20 points scored and has posted 22 double doubles on the year.
8. Alondes Williams
School: Wake Forest Demon Deacons
One of the surprising teams in the country in 2021-22 is the Wake Forest Demon Deacons who enter play on February 17th, 2022 ranked 5th in the ACC while posting an overall record of 20-7. Much of the team's success is due to the team's star guard Alondes Williams. 
Williams has all the tools to be a top tier threat and one that can take over a game at any point while also having the talent to open up shots for his teammates. Williams is averaging 19.8 points a game to go along with 6.8 rebounds and 5.2 assists per game. 
7. Oscar Tshiebwe
School: Kentucky Wildcats
If you are looking for a strong dominant two way player who can control the glass, the Kentucky Wildcats star Oscar Tshiebwe is your man. Tshiebwe who is emerging as one of the best overall players in the game and a possible lottery draft pick is averaging 16.2 points a game to go along with 15.3 while helping the Wildcats climb the AP Top 25 Men's Basketball rankings. Tshiebwe has posted 20 double doubles this season while posting at least 20 rebounds in five different games. 
6. Terrell Brown Jr.
School: Washington Huskies
Another new name to join Antione Davis as one of the top Men's College Basketball players is the Washington Huskies guard Terrell Brown Jr. The senior guard is averaging a career high 22.1 points a game this season to go along with 4.1 rebounds, 4.3 assists and 2.3 steals per game. 
While the Huskies have not capitalized on the strong play of Brown, the team's star continues to give it his all in each of the team's games this year. Brown has posted at least 26 points in four of the teams last six games. 
5. Antoine Davis
School: Detroit Mercy Titans
One guy who is making a big leap on our Top 10 NCAA BB Players list is the Detroit Mercy Titans star senior Antoine Davis. Davis, who doesn't get the recognition as other stars on top tier teams, is dominating the court night in and night out while ranking 2nd in scoring while averaging 23.4 points a game. 
Along with his ability to score, Davis is averaging 3.6 rebounds per game while also adding nearly five (4.9) assists per game. On the year Davis has scored at least 25 points in nine different games as well as scoring at least 30 in four games. Davis has the makings to be a top tier pick come the 2022 NBA Draft.
4. Drew Timme
School: Gonzaga Bulldogs
While his scoring average might not be as high as a few of the other players on this list, the Gonzaga Bulldogs is a well rounded player in the country while also bringing a leadership quality that has the team ranked number one in the country. 
Timme who is enjoying a solid junior season is averaging 17.8 points a game to go along with 6.2 rebounds and 2.5 assists. In addition to that success Timme is shooting 68.5% from the field while also giving the team a big man weapon who can also shoot the three point shot. 
3. Johnny Davis
School: Wisconsin Badgers
In a difficult debate, Johnny Davis is as much a candidate to take over the top two spots as either Kofi Cockburn or Keegan Murray. However, nonetheless only one player can land in each of those spots no matter how much you want to give them a three way tie. 
As you look at Davis, the Wisconsin Badgers star is currently ranked 11th in the country averaging 20.7 points a game. Despite being listed as a guard, Davis is a dynamic rebounder who is averaging 8.3 rebounds per game while also being a player that can handle the offense. In the Badgers impressive win over Indiana, on February 15th, 2022, Davis finished the game scoring 30 points to go along with 12 rebounds. 
2. Kofi Cockburn
School: Illinois Fighting Illini
Slotting back in at the number two slot is the Illinois Fighting Illini center Kofi Cockburn who currently ranks 9th in the country in scoring averaging 21.4 points a game while also ranking 6th in the country in rebounds averaging 15.2 per contest. The Kingston, Jamaica native has posted 14 double doubles this season while collecting at least 15 rebounds in four different contests. 
Cockburn is a dynamic big man who uses his size and speed to give the Fighting Illini second chance scoring opportunities while limiting opposing teams from additional opportunities. In addition, Cockburn is very smart with the ball while seizing his scoring chances while averaging 60.5% shooting from the field.
1. Keegan Murray
School: Iowa Hawkeyes
The sophomore 6'8'' forward for the Iowa Hawkeyes Keegan Murray continues to dominate game in and game out while holding to the top spot on the Top 10 NCAA BB Players rankings list. Murray who is currently ranked 3rd in the country averaging 23.3 points a game is a difficult matchup for opponents while giving the Hawkeyes a player who can not only play the wing but also down low.
 In addition to scoring, Murray is currently averaging 8.4 rebounds a game to go along with 1.1 assists. During the team's current three game winning streak, Murray has scored 91 points to go along with 28 rebounds, four assists and six blocked shots. The recent success has helped the Hawkeyes to move to 17-7 on the season.
How would you rank these college players for the 2021-2022 season? Rank below to be added in the Power Rankings and to have a chance to win a gift card to LAZADA, Amazon, Fanatics.com, or more that is specific to you. Join the contest by ranking below.
Related Links:
POPULAR POSTS
Thank you
Your email has been successfully subscribed.
Sorry, there are no polls available at the moment.