Top 10 Centers in the NBA – May 2021
Nikola Jokic, Joel Embiid, and Rudy Gobert battle it out in the rankings for the best Center in the NBA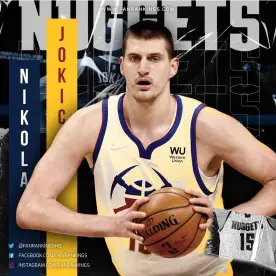 (Don't forget to rank your Top 10 Centers at the end of this article for a chance to win a $50 gift card or the equivalence of this amount of your country) 
10. DeAndre Ayton, Phoenix Suns
Ayton was a No. 1 pick in the 2018 draft and is a future superstar. He's only in his 3rd year and is very reliant and consistent with an efficiency of 63%. If he starts playing more aggressively with his tough build and attacks the rim more, he'll be in top 5 very soon.  
9. Christian Wood, Houston Rockets
He's one of the most underrated and underappreciated big man in the league. He went undrafted and made his way to Houston where he's in consideration of the MIP award. He's one of the few Centers who can shoot from anywhere with efficiency and play like a guard. Although he's injury prone he will be a star soon and will get the light he deserves once his team starts winning games. 
8. Clint Capela, Atlanta Hawks
Capela is an underrated and a highly skilled center. He was always overshadowed by the presence of James Harden alongside him and now in Atlanta he's getting his recognition while being the league leader in rebounds per game. He's one of the few old school dominant centers while also playing with efficiency and having a positive effect on both sides of floor.  
7. Myles Turner, Indiana Pacers
Turner is one of the best defensive bigs in the game right now and also a really good shot blocker. He was the Block champion this past season and is currently leading the league in blocks with 3.7 blocks per game. He has played an important role on the Indiana Pacers making it to the playoffs every year.  
6. Nikola Vucevic, Chicago Bulls
A two-time all-star and a versatile center, Vucevic is the type of player who can make the whole team better and have a positive influence on both ends of the floor making him one of the best play makers in the league. He'll definitely make Chicago bulls a better team in the future with his playmaking abilities and experience.  
View this post on Instagram
Swipe right for May 2021 Center Fan Rankings as rankings here could change. Follow @fanrankings to stay up to date
---
5. Bam Adebayo, Miami Heat
Bam has been an All-Star, made an NBA Final, and made it to an All-NBA defensive team while being only 23 years old. He's a budding superstar with great offensive skills and an elite defense. With each season he keeps getting better and he's definitely going to be a top 3 center in the next 5 years.  
4. Karl Anthony Towns, Minnesota Timberwolves
KAT is a versatile center who can shoot 3's with consistency and can score at will. He's a former rookie of the year, two-time NBA All Sta an All-NBA player and doing this only being 25 years old. He doesn't get enough recognition due to his team having subpar seasons but since the addition of DeAngelo Russell and Anthony Edwards the future is looking good for him and the Timberwolves.  
3. Rudy Gobert, Utah Jazz
Gobert is the best defensive center in the league right now. He's a 2-Time DPOY, one time block champion, been selected as All NBA defensive team four times, and multiple All NBA team selection. His accolades speak for himself and how important he is for his team's success. At 7ft-1, his ability to stay healthy throughout the season is something rare which makes him so valuable.  
2. Joel Embiid, Philadelphia 76ers
Embiid is currently the best player on the best team in NBA. He is the most dominant big in the game since Shaq, can dominate both sides of floor and has plenty of offensive firepower in his arsenal. Already a 4-time All-Star, 2 time All NBA defensive team player, 2 time all NBA player and is currently running in 2nd place for MVP. He can shoot efficiently from beyond the arc and can dominate the paint throughout the game. All this combined with his elite defense he is the best big we have seen in a longtime.  
1. Nikola Jokic, Denver Nuggets
"The Joker" is the type of center we have never seen before. His game is as unique as it gets as he can run the floor like a point guard with court vision better than any playmaker in the league. He's almost averaging a triple double while being 7 feet tall and probably the least athletic player in the league. He's a 3-time all-star, 2 time all NBA player and clearly the MVP this season. Even after the injury of Jamal Murray he didn't let the Denver Nuggets slip from its 4th spot in the West. He's a generational talent and a very reliable player who makes every player on the team better. Nikola Jokic is undoubtedly the best center in the league.  
How do you rank the Top 10 Centers in the league? Rank below to be added in the Power Rankings and to have a chance to win a gift card to LAZADA, Amazon, fanatics.com, Jumia, and more (Depends on your country). Sign up for our Newsletter for updates. Join the contest by ranking below.
POPULAR POSTS
Thank you
Your email has been successfully subscribed.
Sorry, there are no polls available at the moment.