Top 10 Best NBA Players – November 2021 Rankings
Where the best NBA players such as Lebron James, Joel Embiid, Giannis Antetokounmpo, and more rank in the 2021-2022 NBA season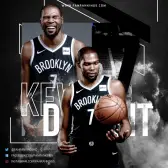 The NBA is filled with a load of talented players from top to bottom helping make the league the league it is today. However, when looking at the Top 10 NBA Players 2021-22, only ten players across the league can make the list making it a difficult discussion to start the season. 
While the normal guys like Kevin Durant & Giannis Antetokounmpo both sit near or at the top of the list, young stars such as Ja Morant, Luka Doncic and Trae Young continue to carve out their legacies.

Meanwhile, guys like Steph Curry who is healthy and Paul George are both bouncing back while putting together MVP numbers to start the season. As you look around at the top players in the NBA, a wide range of metrics are needed including statistics including points per game, assists, rebounds and other metrics such as field goal percentage, steals and blocked shots.
With that said, here is our list of the Top 10 NBA Players 2021-22:
View this post on Instagram
Swipe for NBA MVP Fan Rankings and follow @fanrankings to stay up to date
---
Honorable Mention
Donovan Mitchell
Team: Utah Jazz
Coming in just outside of the top 10 NBA Players 2021-22 is the Utah Jazz shooting guard Donovan Mitchell. Mitchell, who is coming off an impressive 2020-21 NBA season, is averaging his second highest career totals per game at 25.6 through his first 12 contests to start the season. 
Mitchell ranks ninth in points scored with 25.6 PPG in the NBA while ranking eight in assists (5.1 assists per game) and 15th in rebounds (4.4 rebounds per game) among all shooting guards within the NBA.
Anthony Edwards
Team: Minnesota Timberwolves
It is hard to look past the Minnesota Timberwolves second year star Anthony Edwards after the host start he has put together to open the year. 
Edwards, who is in his second year after being drafted by the Timberwolves during the 2020 NBA Draft, has seen his points per game increase from 19.3 per game to 24.1 per game to start the season while ranking 13th in points per game in the NBA. 
Edwards has seen his rebounds per game increase from 4.7 to 6.3 in 2021-22 while also improving his assists per game up to 3.3 assists per game.
Top 10 NBA Players
Zach LaVine
Team: Chicago Bulls
The Chicago Bulls have seen a ton of success to start the 2021-22 NBA Schedule and much of that has to do with the duo that comes in at number nine and 10 on the list of the Top 10 NBA Players 2021-22. 
At number 10, is the Bulls shooting guard Zach LaVine who is averaging the seventh most points per game to start the season within the NBA at 25.9 while also posting 5.7 rebounds and 3.7 assists per contests. 
The Bulls star has posted at least 27 points in five of his first 13 games to start the season.
DeMar DeRozan
Team: Chicago Bulls
Coming in just ahead of his Bulls teammate LaVine, DeMar DeRozan is having a bounce back season to start the 2021-22 NBA Schedule. 
DeRozan, who joined the Bulls during the offseason is scoring a team high 26.1 points a game while ranking sixth in the NBA in points per game through the start of the first few weeks of the season. 
In addition, DeRozan has seen his rebounds increase to 5.6 rebounds per game while also dishing out four assists per game for a Bulls team that sits near the top in the NBA Eastern Conference.
Trae Young
Team: Atlanta Hawks
Before you know it the likes of Trae Young will be within the top five players within the NBA as he continues to turn in strong performances night in and night out. 
Despite the Atlanta Hawks struggles to start the season, Young has done everything in his power to help lead his club to potential wins. Young is averaging 25.7 points a game to go along with 3.7 rebounds and 9.3 assists per game. 
The Hawks guard ranks tied for second in the NBA averaging 9.3 assists per game through his first 14 contests. 
Luka Doncic
Team: Dallas Mavericks
Between Young and Luka Doncic it is hard to not like the future of the NBA as both of these young stars are playing at the top of their level while putting together MVP caliber numbers night in and night out. 
Doncic is currently ranked seventh in the NBA in assists per game with 7.7 per contests while also ranking second among point guards with 8.3 rebounds per game and 11th in the NBA in points per game averaging 25.3 per contests. 
In addition the Mavericks star has posted one triple double, dished out at least double digit assists four times and grabbed at least double digit rebounds four times.
Nikola Jokic
Team: Denver Nuggets
Nikola Jokic is a double double waiting to happen on most nights around the NBA. The Denver Nuggets star is averaging 25.3 points a game and 13.7 rebounds per game to start the season while carrying the Nuggets to a 9-4 record to start the season. 
While both numbers stand out, the one statistic that gets overshadowed is his ability to make the players around him better and that continues to be the case this season. Jokic is averaging 6.3 assists through his first 12 games ranking first among all centers in the NBA. 
Paul George
Team: Los Angeles Clippers
Without the additional star power of Kawhi Leonard, Paul George has picked up the slack while trying to carry the Los Angeles Clippers to start the season. 
Through his first 13 games to start the season, George ranks fourth in points per game with 26.5 per contests, 32nd in rebounds per game with 8.2 per contest and tied for 31st in assists with 5.2 per contests. 
George is putting together one of the better seasons of his career only trailing his 2018-19 mark where he averaged 28 points per contests.
Ja Morant
Team: Memphis Grizzlies
How can you not like the Memphis Grizzlies point guard Ja Morant and his ability to take command of the team's offense while also playing solid on both ends of the floor. Morant enters Monday November 15th, averaging 26.2 points a game to go along with 6.5 rebounds per game and 7.4 assists. 
The Grizzlies guard continues to evolve into one of the game's best scoring threats and best overall point guards while sitting at just 22 years of age. Morant has seen his production increase over the past two seasons after being drafted by the Grizzlies during the 2019 NBA draft. 
Stephen Curry
Team: Golden State Warriors
When you look at the top three players in the NBA during the start of the 2021-22 NBA season, it comes down to just three options. One of those options is the Golden State Warriors star Stephen Curry who is having a strong bounce back season after dealing with injuries last year. 
Curry is averaging the second most points per game to start the season with 28.1 per contests while also adding 6.2 rebounds and 6.7 assists per contests. Unfortunately both Kevin Durant and Giannis Antetokounmpo are putting together MVP caliber seasons of their own.
Giannis Antetokounmpo
Team: Milwaukee Bucks
The "Greek Freak" comes in at number two as the Milwaukee Bucks All-Star Giannis Antetokounmpo continues his dominance in the NBA. 
The Bucks power forward is putting together another strong campaign in 2021-22 as he is averaging 26.5 points a game to go with 11.3 rebound and six assists per contest. 
With those numbers Antetokounmpo ranks third in PPG, sixth in RPG and 18th in APG. The Milwaukee Bucks star has posted a double double in eight of his first 13 games to start the season.
Kevin Durant
Team: Brooklyn Nets
Coming in at number one is the Brooklyn Nets star Kevin Durant who is putting together another MVP caliber season to start the 2021-22 NBA schedule. 
Durant is leading the NBA averaging 29.6 points a game while also grabbing 8.4 rebounds and dishing out 5.1 assists. While the Nets still have James Harden, the continued success of Durant has helped offset the loss of Kyrie Irving who is not playing due to issues regarding the Covid-19 vaccine. 
Durant has posted six double doubles to start the season while scoring more than 30 points in six different games this season.
So who do you have as your leading candidate for MVP in the 2021-2022 NBA Season? Rank below to be added in the Power Rankings and to have a chance to win a gift card to LAZADA, Amazon, Fanatics.com, or more that is specific to you. Join the contest by ranking below.
Related Links:
POPULAR POSTS
Thank you
Your email has been successfully subscribed.
Sorry, there are no polls available at the moment.