MMA UFC Top 10 Pound For Pound Rankings – December 2021
Ranking the P4P MMA fighters in the world such as Kamaru Usman, Israel Adesanya, Volkanovski, Jon Jones, and many more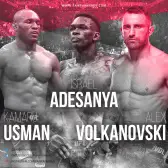 Honorable Mention
Jan Błachowicz
Organization UFC
Jan  Błachowicz, the now-former light heavyweight champion, deserves an honorable mention. He was on a five-fight winning streak and even defeated Israel Adesanya at light heavyweight. He recently lost his title to Glover Texeira. 
Vadim Nemkov
Organization: Bellator
Title(s): Bellator Light Heavyweight Champion
Vadim Nemkov is a Russian Mixed Martial Arts fighter with a record of 14 wins and 2 losses, and he competes in the Bellator light heavyweight division. He is a dominant fighter and deserves an honorable mention.
Top 10 Pound For Pound
Robert Whitaker
Organization: UFC
Robert "The Reaper" Whitaker is one of the biggest MMA stars to come out of Australia. He has a professional record of 23-5. 
Whitaker is the former UFC middleweight champion, he lost the title to Israel Adesanya in 2019. Since then, he has gone on a three-fight win streak, beating the who's who of the middleweight division. He is the number 1 contender at middleweight and will fight Adesanya for the world title next at UFC 271 in February 2021. 
His most recent fight was against Kelvin Gastelum, which he won via UD, and got a fight of the night bonus.
Jon Jones
Organization: UFC
Jon "Bones" Jones is one of the most talented MMA fighters ever, he was the youngest UFC champion, many people still regard him as the GOAT of MMA, and pretty much a pound for pound UFC all time fighter. However, as far as the current pound for pound rankings go, Jones is currently at number 9 on our list, because of inactivity. 
Jones has a record of 26-1 with 1 no contest. He won his most recent fight, Dominick Reyes, but vacated his title recently to move to heavyweight. Jones is eyeing a fight against the heavyweight champion Francis Ngannou.
Max Holloway
Organization: UFC
Max is the former Featherweight champion and one of the most exciting fighters in the UFC roster right now. 
The Hawaiian mixed martial artist has a record of 22-6 and in his recent fight against Calvin Kattar, he set the record for the most strikes landed in a single fight, breaking his own record. Holloway also holds the record for most significant strikes landed in the UFC and has the most wins in UFC Featherweight history.
Last Weekend Holloway fought Yair Rodriguez in a very exciting and entertaining fight which he won via a unanimous decision at UFC Fight Night: Holloway vs Rodriguez. 
Holloway's next fight has not been announced yet.
Petr Yan
Organization: UFC
Title(s): Interim UFC Bantamweight Champion
Petr Yan is a Professional MMA fighter from Russia, and he has an MMA record of 16 wins and 2 losses. 
Yan is the former UFC Bantamweight champion of the world, however, he lost the title after he was disqualified in a fight against the current champion Aljamain Sterling. In his most recent fight, Yan fought Cory Sandhagen for the Interim UFC bantamweight championship and won. '
His next fight is probably going to be a title unification bout against Aljamain Sterling.
Dustin Poirier
Organization: UFC
Porier is the former interim lightweight champion and the current number 1 contender at lightweight. Poirier has a record of 28 wins, 6 losses, and 1 no contest. 
Poirier has had an incredible career full of highlights and has defeated some big names including Justin Gaetghe, Eddie Alveraz, Max Holloway, Dan Hooker, and Connor Mcgregor twice. 
For his next fight, Poirier is going to challenge for the lightweight title once again, and face off against the current champ Charles Olivera.
Charles Olivera
Organization: UFC
Title(s): UFC Lightweight Champion
Charles Olivera is an MMA fighter from Brazil, and he is the reigning lightweight champion of the world. Olivera has a record of 31-8, and he is currently on an impressive 9 fight win streak. 
Olivera also holds the record for the most submissions and the most finishes in the UFC. His last fight was against Michael Chandler, which he won via TKO, and his next fight is scheduled for next month, at UFC 269 against Dustin Porier.
Francis Ngannou
Organization: UFC
Title(s): UFC Heavyweight Champion
Ngannou is easily the heaviest puncher in the UFC, and after defeating Stipe Miocic in his most recent fight, he is now the UFC heavyweight champion and the "Baddest man on the planet"
Ngannou is known for his incredible punching power, and he has knocked out many impressive names like Curtis Blaydes, Cain Velasquez, Junior dos Santos, Alistair Overeem, and Stipe Miocic. 
His next fight is going to be against the current Interim Heavyweight Champion Ciryl Gane on January 23rd, 2021.
Alexander Volkanovski
Organization: UFC
Title(s): UFC Featherweight Champion
Volkanovski is a professional MMA fighter and a former Rugby player from Australia. He is the current Featherweight champion and defeated Max Holloway to get the title, and has defended it twice.  
Volkanovski has a professional MMA record of 23-1, and he has wins over big names like Jose Aldo, Chad Mendes, Max Holloway, and in his last fight, Brain Ortega. 
As of now, there is no official announcement about Volkanovski's next fight.
View this post on Instagram
Israel Adesanya
Organization: UFC
Title(s): UFC Middleweight Champion
Adesanya is a Nigerian-born professional mixed martial artist, a former kickboxer, and a boxer fighting out of New Zealand. He is the reigning Middleweight champion and has defended his title 3 times.
Adesanya has had several impressive wins in the UFC, including wins over Kelvin Gastelum, Dereck Brunson, Yoel Romero, Paulo Costa, and Robert Whiticker
Adesanya has a record of 21 wins and 1 loss, he defeated Marvin Vettori via UD in his last fight, and his next fight has not been scheduled yet. However, there is a chance that he might have a rematch against the current number 1 contender at middleweight, Robert Whitaker.
Kamaru Usman
Organization: UFC
Title(s): UFC Welterweight Champion
Kamaru Usman is another Nigerian-American professional mixed martial artist and former freestyle wrestler. He is the current welterweight champion and the number one pound-for-pound MMA fighter in the world. 
With a record of 20 wins and 1 loss, Usman has defended his title 5 times already and is currently on a 19 fight win streak. He also holds the record for the longest active win streak in the UFC. Usman has defeated some of the biggest names in the welterweight division, he won the title from Tyron Woodly, and since then has defended it twice against Jorge Masvidal, twice against Colby Covington (with most recent at UFC 268), and once against Gilbert Burns. Usman also has wins over Leon Edwards, Damian Maia, and Rafael dos Anjos. 
His most recent title defense came against former opponent Colby Covington, and Usman won the fight via a Unanimous decision after a very entertaining display of combat. As of now, there is no announcement about Usman's next fight. 
Where do you rank these Contenders and Champions? Rank below to be added in the Power Rankings and to have a chance to win a gift card to LAZADA, Amazon, fanatics.com, Jumia, and more (Depends on your country). Sign up for our Newsletter for updates. Join the contest by ranking below.
Related Links:
POPULAR POSTS
Thank you
Your email has been successfully subscribed.
Sorry, there are no polls available at the moment.