MLB Top 10 Center Fielder Rankings – Mike Trout leads the way
Even with injuries Mike Trout is still the best Center Fielder in Baseball. Also ranking the best Center Fielders in baseball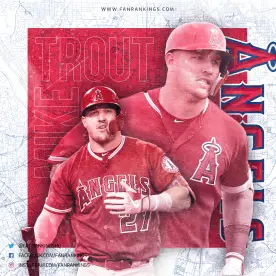 (Don't forget to rank your Top 10 Center Fielders at the end of this article for a chance to win a $50 gift card or the equivalence of this amount of your country)
The center field position in baseball is one of the most difficult positions to play and one that is anchored by one of the most talented players on the field. 
When looking around Major League Baseball, the group of center fielders is filled with a large group of young stars while being led by one of the best players of his generation. 
Leading that charge is the Los Angeles Angels star Mike Trout who has arguably been the best center fielder in baseball since his arrival at the major league level. 
While Trout has battled injuries over the past few seasons including this season, he has earned his spot at the top of the best MLB center fielders ranking near the top in every offensive category year in and year out while earning multiple MVP awards in the American League. 
As Trout carries out the top spot, a few additional known names rank just behind him in former MVP Cody Bellinger of the Los Angeles Dodgers and future star Byron Buxton of the Minnesota Twins.
Rounding out the rest of the top 10 MLB center fielders are seven other stars that all have taken the game by storm this season while playing at a high level. Here is our list of the Top 10 MLB Center Fielders in 2021.
Top 10 MLB Center Fielder Rankings
Chris Taylor, Los Angeles Dodgers
While it's odd to see two outfielders from the same list on one position top 10 list, this is the case with Chris Taylor and Cody Bellinger. Taylor, who has played the majority of his game in center field, has bounced around and filled in when Bellinger is not in center field while also being the Los Angeles Dodgers super utility player. 
That said Taylor is talented enough to play center field night in and night out. Entering play the last week of June, Taylor ranks fifth in runs batted in, seventh in home runs, first in runs scored and eighth in total hits among all center fielders. 
On the year, Taylor is batting .265 with 10 home runs to go with 37 runs batted in, seven stolen bases and 55 runs scored. 
Tyler Naquin, Cincinnati Reds
Another name that has put together a solid 2021 MLB season is the Cincinnati Reds versatile center fielder Tyler Naquin who the team has relied on at times this season to play all three outfield positions. Through his first 218 at bats of the season, Naquin is batting .252 with 12 home runs to go along with 45 runs batted in. 
After a strong rookie campaign in 2016, Naquin has struggled to stay healthy and at the major league level while struggling with consistency. Now Naquin has anchored himself as a regular role player on the Reds in one of the game's most friendly hitter's ballparks. 
Cedric Mullins, Baltimore Orioles
While there hasn't been much to cheer about in Baltimore of late, Cedric Mullins has been one of the bright spots and well deserving of the attention this season. Mullins enters June 28th batting .311 with 13 home runs to go with 28 runs batted in and 12 stolen bases. 
After showing some signs of being a young star in 2018, Mullins struggled over the past two seasons but has put it all together in 2021. The Baltimore Orioles center fielder ranks second in batting average, second in OPS, first in slugging, tied for third in home runs and leads all center fielders in hits. 
Ramon Laureano, Oakland A's
The Oakland A's continue to find talent and that track record has continued with Ramon Laureano. Laureano who is just 26 years of age is slowly emerging as a young star in the A's lineup as well as around the game of baseball. 
After hitting 29 doubles to go with 24 home runs and 67 runs in 123 games in 2019, the A's center fielder followed that up with eight doubles, six home runs and 25 runs batted in during the 2020 shortened MLB season. 
This season, Laureano has gotten back on track picking up 10 doubles and 13 home runs over his first 224 at bats while also adding eight stolen bases. 
Bryan Reynolds, Pittsburgh Pirates
In 2019, Bryan Reynolds made his arrival at the big league level for the Pittsburgh Pirates and showcased his talent over 134 games played. Over that stretch, Reynolds batted .314 while adding 37 doubles, 16 home runs and 68 runs batted in. 
That production has returned this season as Reynolds ranks near the top in home runs, runs batted in, doubles and batting average among all center fielders. Through the first 74 games this season, The Pirates center fielder has a .312 batting average to go with 20 doubles, 13 home runs and 44 runs batted in. 
View this post on Instagram
Swipe right for July Rankings. Follow @fanrankings to stay up to date
---
Randal Grichuk, Toronto Blue Jays
On a team field with young stars and bright futures, Randal Grichuk is making a name for himself while supplying the team with a talented defender and hitter who can play all over the outfield. 
While Grichuk has played more games in center field this season, he has the speed and defensive abilities to play both corner spots as well. On the year, Grichuk is batting .267 with 14 home runs to go along with 52 runs batted in.
Byron Buxton, Minnesota Twins
A name that has been talked about for many years since his arrival at the minor leagues, is the Minnesota Twins young star Byron Buxton. The hype had shown up early this season before Buxton went down with an injury that has limited him to just 27 games before returning just a few weeks ago. 
Buxton is batting .369 over 103 games this season with 10 home runs to go with 19 runs batted in and five stolen bases. When healthy, Buxton is a five tool star that ranks as one of the game's best fielding outfielders as well as showing his promise at the plate. 
Adolis Garcia, Texas Rangers
Outside of the top two stars, the center fielder position is wide open with a great group of talent across the game of baseball. A name that is making a household statement this season is the Texas Rangers star Adolis Garcia. 
Garcia, who is playing in his first full season, has picked up 20 home runs to go with 55 runs batted in while taking over the day to day role in center field for the Rangers. In addition to those numbers, Garcia is a plus defender, and has shown his ability to swipe a bag when needed this season. 
The Rangers surprising star leads MLB among center fielders in both home runs and runs batted in.
Cody Bellinger, Los Angeles Dodgers
Coming in as the second best center fielder in Major League Baseball is the Los Angeles Dodgers star Cody Bellinger. Bellinger, who has played the majority of center field over the past few seasons, is in the same situation as Trout after battling injuries to start the season. 
Bellinger has played in just 21 games this season and posted three home runs to go along with 14 runs batted in. Over the course of the previous four seasons, Bellinger has posted 39, 25, 47 and 12 home runs (Shortened Season) while posting his best season in 2019 with 47 home runs to go along with 115 runs batted in. 
Mike Trout, Los Angeles Angels
Despite not seeing the 2021 MLB season go the way he would have liked, Mike Trout is still arguably Major League Baseball's top center fielder and one of the game's top stars. In limited time due to injuries this season, Trout showcased his abilities posting a .333 batting average over his first 117 at bats of the season while posting a 1.090 ops over that stretch. 
In addition to that success Trout picked up eight home runs to go with 18 runs batted in. Still just 29 years of age, Trout has put together a brilliant career racking up 310 career home runs to go along with a career .305 batting average. 
How would you rank these Center Fielders? Rank below to be added in the Power Rankings and to have a chance to win a gift card to LAZADA, Amazon, Fanatics.com, or more that is specific to you. Your Fan Rankings will be added to our Power Rankings as well. Join the contest by ranking below. 
POPULAR POSTS
Thank you
Your email has been successfully subscribed.
Sorry, there are no polls available at the moment.