Top 10 South American National Teams – CONMEBOL 2023 Rankings
Ranking the best South American national football teams in this year's 2023 CONMEBOL Libertadores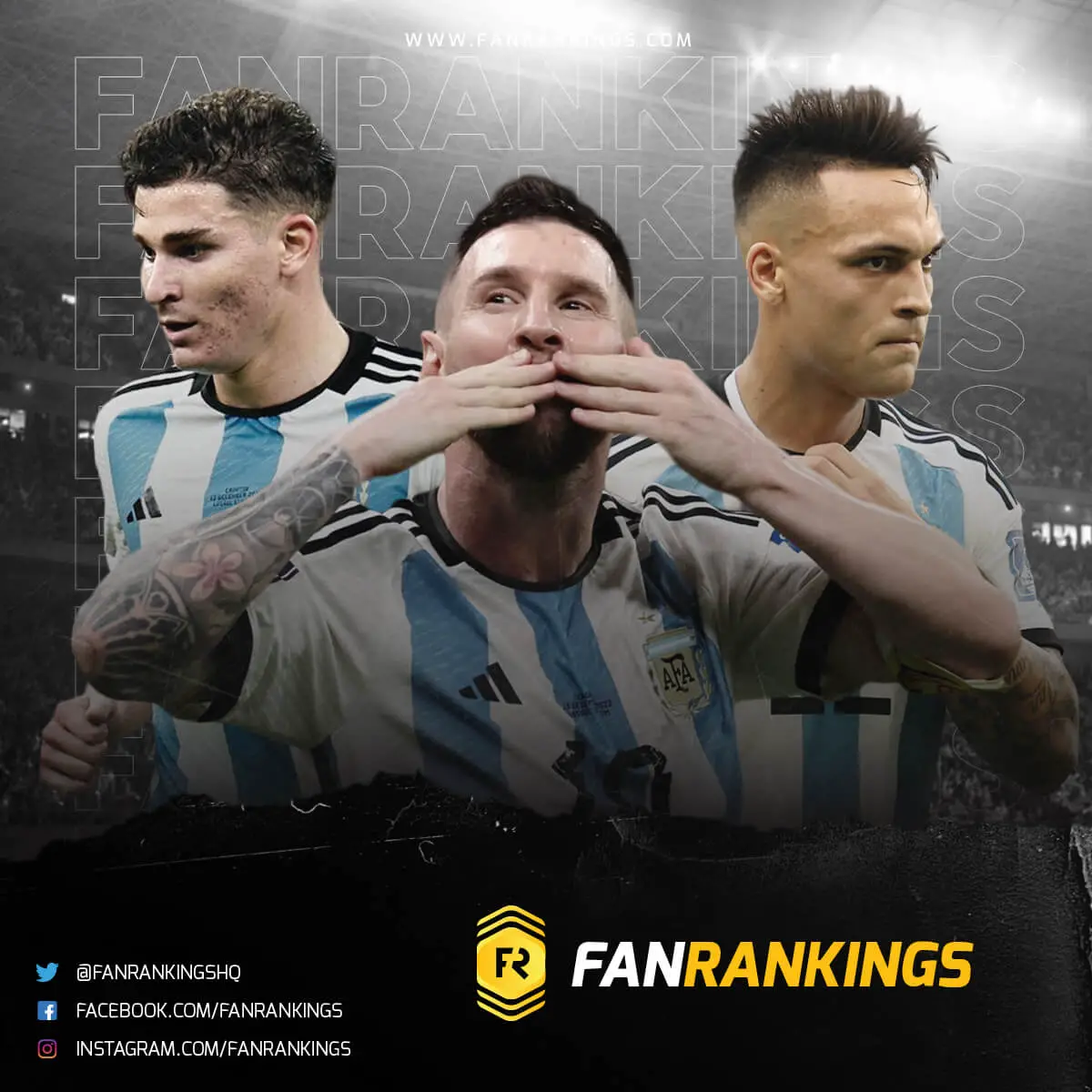 Copa Libertadores
When it comes to football, South America is undoubtedly one of the most dominant continents in the world.
The Continental governing body of football in South America is known as the Confederación Sudamericana de Fútbol (CONMEBOL), which is also the oldest continental confederation in the world.
And let's not forget, it's also one of the strongest confederations in the world, with some of the most successful football teams calling it home.
The continent boasts an impressive record of producing World Cup winners 10 times, with giants of the game such as Brazil (5), Argentina (3), and Uruguay (2) leading the pack.
The competition between these teams is fierce and fueled by a deep love for the sport and fierce national pride.
But it's not just the big guns that are making waves in the football world. Other countries like Colombia, Chile, and Peru have seen their teams rise in international rankings in recent years.
So, without further ado, let's take a look at the 10 best national football teams in CONMEBOL.
Top 10 CONMEBOL Teams
10. Bolivia
While Bolivia may not have the same level of success as some of its South American counterparts, the team has certainly made its mark on the football world.
The team's most notable achievement came when they won the Copa América on home soil in 1963. And while they finished runners-up in 1997, they were also the hosts of that year's tournament.
However, when it comes to the World Cup, Bolivia has struggled to make an impact. After playing in the 1930 and 1950 World Cups, they only managed to qualify once in 1994.
Bolivia has produced some notable players over the years, including Marco Etcheverry and Jaime Moreno. The team has also earned a reputation for being particularly tough to beat at home due to the high altitude of their stadiums.
The Estadio Hernando Siles, where they play their home matches, is one of the highest football stadiums in the world, sitting at an altitude of 3,637m (11,932 ft) above sea level.
Many visiting teams have protested that the altitude gives Bolivia an unfair advantage against opponents, making it difficult for them to acclimate. While Bolivia may not be among the top teams in South America, they remain a formidable opponent.
9. Venezuela
Despite never having qualified for the FIFA World Cup, La Vinotinto has made a name for itself in the football world.
In fact, as of December 2019, they held the highest position on the FIFA World Ranking of any team that has not yet qualified for the World Cup, coming in at an impressive 25th place.
In 2011, they achieved their best finish at the Copa América, coming in fifth in their first entry in 1967. And they've also recorded notable victories over top-ranked teams and continued to climb the FIFA rankings.
Led by standout players like Salomón Rondón and Tomás Rincón, La Vinotinto has shown determination and skill on the field.
And while they may not have the same level of success as some of their CONMEBOL counterparts, they are continuing to build a strong foundation for the future.
Off the field, the team has also been a source of pride and unity for the people of Venezuela, providing a positive distraction from the country's ongoing political and economic struggles. 
8. Paraguay
Paraguay's national football team, affectionately known as the Albirroja, holds an esteemed position as one of the most prominent teams in South America.
Although they have yet to clinch the prestigious World Cup title, the Albirroja has earned a spot in eight FIFA World Cup competitions, with their most remarkable feat being their quarter-final appearance in 2010.
With regular participation in the Copa América, Paraguay has triumphed as champions twice (in 1953 and 1979). Their reputation precedes them thanks to their aggressive and physically dominant style of play, which often poses a challenge for their opponents.
Paraguay has given rise to a slew of notable players who have made a significant impact on the football world, including Roque Santa Cruz, Carlos Gamarra, and José Luis Chilavert.
7. Peru
The Peruvian national football team has etched its name in history, having won the prestigious Copa América trophy twice and making it to the FIFA World Cup five times.
While Peru may not have the same level of dominance as Argentina, Brazil, or Uruguay in South America, they are undoubtedly a very good team.
The country has produced some remarkable players over the years, including the legendary Teófilo Cubillas and Paolo Guerrero, who is their all-time leading scorer.
The team has experienced a resurgence in recent years, evidenced by their quarter-final appearance in the 2018 World Cup and their runners-up finish in the 2019 Copa América.
The Peruvian football team shares a fierce rivalry with their neighbor, Chile. In fact, their matches are known for their intense and passionate play, fuelled by the fervor of the fans. Adding to their glory, the team finished 2022 on a high note, securing three consecutive wins.
6. Ecuador
Ecuador's national football team may have been perceived as a struggling footballing nation in the past, but they have changed the narrative in recent years.
Despite never having won a major international tournament, the team has qualified for four World Cups, including their latest appearance in the 2022 World Cup where they stunned hosts Qatar with a win and drew against powerhouse Netherlands.
Ecuadorian football has also produced a plethora of talented players in recent years, including Antonio Valencia and Enner Valencia, who holds the record for the country's highest goalscorer with 38 goals.
Additionally, their squad boasts exciting young talent such as EPL's Moises Caicedo. The team plays their home games at the Estadio Olímpico Atahualpa in Quito, which is renowned for its passionate fans who never fail to create a lively atmosphere during matches.
The Ecuador national team's performance at the 2022 World Cup was nothing short of impressive, and it has generated a buzz around the team's future prospects. 
5. Chile
Chilean football is an exciting and passionate affair, with La Roja undoubtedly ranking among the best in South America. Over the years, Chile has featured in nine World Cup tournaments and hosted the 1962 FIFA World Cup, where they secured an impressive third-place finish.
Their recent success includes back-to-back Copa America titles in 2015 and 2016, beating fierce rivals Argentina on both occasions.
Chilean football is known for its aggressive and physical approach to the game, with a relentless emphasis on pressing and attacking.
The Chile-Peru football rivalry, dubbed the Clásico del Pacífico ("Pacific Derby"), is widely regarded as one of the fiercest rivalries in the world, producing some of the most intense matches in South American footballing history.
The country has produced some world-class players such as Alexis Sanchez, Arturo Vidal, and Claudio Bravo, who have made their mark on the global stage.
Although they have struggled in recent World Cup campaigns, failing to qualify for the 2018 and 2022 tournaments, the Chilean team remains a formidable force in the region. 
4. Colombia
With a passionate fan base and a rich history in the sport, this team is known for its skillful, attacking play and unforgettable celebrations. They have participated in six World Cup tournaments, with their best performance being a quarter-final finish in 2014.
In addition, they have won the Copa América once as hosts, setting a new record by not conceding a single goal and winning every match. Led by star players like James Rodriguez, Juan Cuadrado, and Radamel Falcao, the Colombian team has left its mark on the international stage.
Although they did not qualify for the 2022 World Cup, they have been on a roll, winning all six of their matches that year.
When Colombia takes the field, fans can expect a thrilling display of technical skill and attacking prowess, which has earned them a reputation as one of the most exciting teams in the game.
3. Uruguay
When it comes to football, Uruguay is a name that cannot be ignored. This nation has a rich football history and is considered one of the greatest footballing nations of all time.
The team has won the prestigious Copa América a record 15 times and has also clinched two World Cup titles. Uruguay has produced some of the biggest names in the sport's history, including Diego Forlan, Luis Suarez, and Edinson Cavani, who have dominated the field with their exceptional skills.
The current squad also boasts of talented youngsters like Federico Valverde and Darwin Nunez. Uruguay's style of play is characterized by tenacity, high energy, and defensive prowess, earning them the nickname "The Garra Charrua".
Their disciplined and organized approach to the game has helped them achieve great success on the global stage.
Though they were knocked out in the group stage of the 2022 World Cup in an extraordinary fashion, the team lost just two matches in the ten they played in 2022
2. Brazil
When it comes to football, Brazil is the ultimate powerhouse in South America, and for good reason. The Brazil national football team is a globally recognized powerhouse with a rich and illustrious history of success on the international stage.
Known for their artistic, attacking style of play, the team has won a record five FIFA World Cups, more than any other country.
The Samba Boys have produced some of the greatest players of all time, including legends such as Pelé, Ronaldo, Ronaldinho, and Neymar. Even the current roster boasts some of the biggest names in the sport, plying their trade at Europe's top clubs.
However, the team has recently faced a World Cup drought since winning it last in 2002. Despite falling short in recent years, Brazil had a superb 2022 campaign, losing only one match in 12 played, and currently sits atop the FIFA rankings. 
1. Argentina
Argentina, the La Albiceleste, is not just a football team, but a symbol of passion and pride for the people of Argentina. With their recent triumph at the 2022 World Cup, they have cemented their place among the footballing elite.
Argentina has a rich history of success, boasting some of the greatest players in the sport's history. From the legendary Diego Maradona to the current maestro Lionel Messi, Argentina has produced some of the most skillful and entertaining players in the world.
The team has won three World Cup titles, with their latest victory coming in a dramatic fashion in Qatar. They also have a record 15 Copa América titles, more than any other team in the tournament's history.
Known for their attacking flair and technical ability, Argentina plays a mesmerizing style of football that leaves fans in awe. The current team features a blend of experienced players like Messi and exciting young talents like Julian Alvarez and Lautaro Martinez.
The team lost just two matches out of the 14 played in 2022, and they started 2023 with a win, showcasing their continued dominance in world football.
How would you rank these South American national football teams in this year's 2023 CONMEBOL Libertadores? Rank below to be added in the Power Rankings.
Related Links:
POPULAR POSTS
Thank you
Your email has been successfully subscribed.
Sorry, there are no polls available at the moment.