Top 10 Soccer Players in the World 2021 Rankings
Ranking the best footballers in the world such as Lionel Messi, Kylian Mbappe, Erling Haaland, Cristiano Ronaldo, and many more for 2021 and going into 2022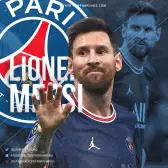 In a pretty hectic year, we have still seen some breath-taking football, with some incredible talent on display. So here are the ten best footballers in the world right now for 2021 and going into 2022.
Honourable Mention
N'golo Kante
Club: Chelsea, Premier League
National Team: France
The French midfielder has had a great year, being crucial to Chelsea's champions league title win. Kante is looking to be crucial as Chelsea aim for the league title in 2022.
Romelu Lukaku
Club: Chelsea, Premier League
National Team: Belgium
Another Chelsea player, Lukaku was the best player in Serie A last season. He seems to have shaken off the negative impressions premier league fans had of him after his time with Manchester United.
Top 10 Soccer Players
Bruno Fernandes
Club: Manchester United, Premier League
National Team: Portugal
Since his £47m move to Manchester United in January of 2020, Bruno Fernandes has been spectacular for the Red Devils. The Portuguese number 10 has 75 goals and assists in 87 starts for United. Bruno has been able to get the best out of United's attack.
Bruno brings a huge amount of creativity and control to the United team. While he loses the ball often, it is because Fernandes is constantly trying difficult passes, looking to feed attackers like Ronaldo and Rashford. He is the perfect 10 for this list and the United team.
Cristiano Ronaldo
Club: Manchester United, Premier League
National Team: Portugal
Despite being older than pretty much everyone in the Premier League, Ronaldo is still a world class striker. Ronaldo already has five goals and assists in his seven starts for United in his Premier League games. His champions league record is even more impressive, with five goals in four starts, including an 81st minute winner against Atalanta, and a 95th minute winner against Villarreal. 
Ronaldo has shown that while he may be losing some of his physical attributes, the finishing ability and mindset is still there. Ronaldo's phenomenal physical condition means he can still excel at the age of 36.
Harry Kane
Club: Tottenham Hotspur, Premier League
National Team: England
Some manager turnover and transfer rumours may have distracted from just how good Harry Kane really is. The England striker and Premier League Golden Boot winner has struggled to start the season, but a poor run of form should not distract from the fact that Kane is still one of the best strikers in the world. Harry Kane deserved to be premier league player of the season last year. Kane finished with 23 goals, as well as 14 assists. 
The new found creativity that Kane has found since the beginning of last season means he can now carry a team's attack, without any service. There is no doubt that Kane will return to form soon. Antonio Conte is a world class manager, and it would be hardly surprising if he returned to form very soon.
Erling Haaland
Club: Borussia Dortmund, Bundesliga
National Team: Norway
It is pretty crazy to think that few people had heard of Alf-Inge Halands son just three years ago. But Haaland has a very good case for currently being the world's most exciting young striker. After 17 goals in 12 starts for RB Salzburg, Haaland moved to Borussia Dortmund. Since his move, Haaland has a phenomenal record in the Bundesliga. 
Haaland has started 44 games, scoring 49 goals in the league for Dortmund. After a blistering start to the season, a knee injury is going to keep Haaland out until the new year. Dortmund will surely miss their world class striker.
Kevin De Bruyne
Club: Manchester City, Premier League
National Team: Belgium
KDB is still probably the best midfielder in the world. De Bruyne has been crucial to the success of Manchester City, and his talent is clear for anyone to see. De Bruyne PFA player of the season last year, despite only finishing on 18 goals and assists in the league. 
Still, KDB is phenomenal. The way he can control a game and create chances out of nothing Is something very few ever have been able to do. He is an assists machine, and despite all of the weapons City have in their attack, he is easily the most vital to their success. When you're judging players on pure quality, KDB has to be in the top 10.
Neymar
Club: Paris Saint-Germain, Ligue 1
National Team: Brazil
The Brazilian is often underrated when it comes to the world's best players. It is really just down to his numbers. Neymar has not started more than 20 league games for PSG the entire time has been there. Neymar is constantly dealing with injuries, and missing weeks at a time for various reasons. 
But when he's on the pitch, Neymar is incredible. Across the 74 starts in the league Neymar has made for PSG, Neymar has 93 goals and assists, an absolutely insane record. Neymar could easily push higher on this list, if he is ever able to play more than 30 games in a season.
Kylian Mbappe
Club: Paris Saint-Germain, Ligue 1
National Team: France
The world's most exciting young player, Mbappe burst onto the scene with Monaco in the 2016-17 season. Mbappe had 23 goals and assists in 17 starts, before a world record move to PSG. Since then Mbappe has flourished for PSG and France. 
Mbappe was crucial in France's world cup win in 2018, where he scored four goals, including in the final. Mbappe has been one of the world's best for PSG, despite only being 22. Mbappe still has a long time to develop, and it doesn't seem like he is going to slow down his exceptional goal and assist rates.
Mohamed Salah
Club: Liverpool, Premier League
National Team: Egypt
In terms of current form, there may not be a player in better form in the world at the moment than Mohamed Salah. Salahs first season with Liverpool in 2017-18 produced 32 goals and 10 assists in 34 starts. This season could end up being close to that. 
Salah has 10 goals and seven assists in eleven league starts already this season. This includes an excellent solo goal against Manchester City, and a hattrick against Manchester United. Salah is dominating the league this year, and making Liverpool a real Premier League title contender almost on his own.
Robert Lewandowski
Club: Bayern Munich, Bundesliga
National Team: Poland
The Polish striker was cruelly prevented from winning the Ballon D'or last year. Lewandowksi has continued his goal scoring form into this season as well. Having scored an incredible 41 goals in 28 starts last season, Lewandowksi has continued to score at over a goal a game this season, with 13 goals in 11 starts. 
If Lewandowski continues anywhere close to the scoring rate he is at now, he has a great chance of breaking Gerd Muller's scoring record. Lewandowski is the perfect striker. He is clinical anywhere near the box, as well as being able to distribute.
Lionel Messi
Club: Paris Saint-Germain, Ligue 1
National Team: Argentina 
Messi has not had the ideal start to his time in Paris. Messi has not yet scored or got an assist in the league, but has got three goals in the champions league. Despite this, there is no way that Messi can't be considered the best player in the world. Messi scored 30 goals in 35 league games last season. 
Messi turned out to be the only reason why Barcelona were competitive last season. Looking past the world class stats, Messi makes it clear he is the best player in the world every time he steps on the pitch. Messi is still a magician on the pitch, a Ballon d'Or winner, and while he is still playing, there is no better player in the world. 
How would you rank these great footballers? Rank below to be added in the Power Rankings and to have a chance to win a gift card to LAZADA, Amazon, Fanatics.com, or more that is specific to you. Join the contest by ranking below.
Related Links:
POPULAR POSTS
Thank you
Your email has been successfully subscribed.
Sorry, there are no polls available at the moment.