Top 10 Latino Soccer Players of All Time
Ranking the best Latino Footballers in history as we celebrate Hispanic Heritage Month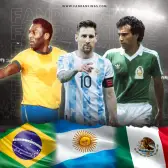 Football is the most popular sport in the world but that can especially be said for Latin America. This sport is like a religion in countries like Brazil and Argentina who have given some of the best players ever.
So in honor of Hispanic Heritage Month here are the top 10 Latino football players of all time.
Top 10 Latino Footballers
 Hugo Sanchez
Country: Mexico
Sanchez is by far the best footballer in Mexico history. He was one of the world's most feared strikers during his prolific career. After a tremendous career in his home country, he moved to Spain, first in Atletico and later in Real Madrid. 
He was the best scorer in La Liga in four consecutive seasons. He also won five consecutive La Liga titles with Real Madrid and represented Mexico in three World Cups.
Romário
Country: Brazil
Few players mastered the art of goal-scoring quite like Romário. He was the key player for the Brazil team that won the 1994 World Cup scoring five goals at the tournament winning him the Golden Boot Award. He won three Dutch championships with PSV before moving to Barcelona's dream team in 1993. In his first year at Camp Nou, Romário scored 30 goals in 33 matches. He scored 55 goals in 70 games for Brazil.
Mario Kempes
Country: Argentina
Before Maradona, Mario Kempes was Argentina's premier World Cup hero. The only man playing outside his country to be called up by Cesar Luis Menotti in 1978, the Valencia star repaid his coach's faith with six goals, including two in the final against the Netherlands. 
Kempes' career yielded over 300 goals, and the biggest stadium in Cordoba now bears his name in tribute to the province's most famous son.
Zico
Country: Brazil
Having overcome his slight build in his formative years, Zico helped Flamengo win the Copa Libertadores in 1971, eventually going on to win seven state titles and four Brazilian championships. 
Zico played for the Brazilian national squad in three World Cups from 1978 to 1986 and won millions of people's hearts. Pele, the leader of Brazil once said, "Zico is the only one who resembles my playing method". 
Garrincha
Country: Brazil
One of the most lavishly gifted footballers of all time Garrincha was, by many accounts, the greatest dribbler the game has ever seen. Garrincha's career was a triumph of spirit over anatomy. 
Certified a cripple by a doctor when he was young because of his left leg being six centimetres longer than the right, he still managed to become an elite footballer.
Alfredo Di Stefano
Country: Argentina
Alfredo di Stefano is considered the best player in Real Madrid's history. River Plate won back-to-back Primera titles during his time at the Monumental, while his sole experience with the Argentina team saw him net six goals in six to help the Albiceleste to victory in the 1947 South American Championship, fore-runner to the Copa America.
View this post on Instagram
Swipe right for Top Latino Footballer Fan Rankings. Follow @fanrankings to stay up to date
---
Ronaldo
Country: Brazil
Unquestionably the most explosive and exciting talent to emerge during the 1990s, Ronaldo was an almost unplayable fusion of speed, power and skill. 
Having won several titles with PSV, Barcelona, Inter Milan, Real Madrid and Milan, including two World Cups 1994 and 2020, Ronaldo is one of the best football players who ever played for Brazil.
Lionel Messi
Country: Argentina
Messi has won a record six European Golden Boots and six Ballon D'or awards. He is the leading scorer both for Argentina and Barcelona. Messi has rewritten the history books, as well as redefining what it means to be a truly world-class footballer with his unique talents on the ball. It is likely that we will never see a player like him again.
Diego Maradona
Country: Argentina
Maradona's heroics in the 1986 World Cup, including that unforgettable second goal against England, meaning he has earned a place in the nation's history as possibly their greatest-ever player. He also earned idol status at Napoli for his role in the Italian club's transformation into Scudetto winners in the late 1980s.
Pelé
Country: Brazil
The striker's goal-scoring records may remain up for debate, but his legend in Brazil will never, ever be questioned, and will quite simply last forever. Pelé is widely regarded as the best Brazilian to ever grace a football pitch and has won a record three World Cups for his country.
How would you rank these great footballers? Rank below to be added in the Power Rankings and to have a chance to win a gift card to LAZADA, Amazon, Fanatics.com, or more that is specific to you. Join the contest by ranking below.
Related Links:
POPULAR POSTS
Thank you
Your email has been successfully subscribed.
Sorry, there are no polls available at the moment.