Top 10 European Teams – UEFA Champions League 2022 Rankings
Ranking the best European Football Teams in this year's 2022 UEFA Champions League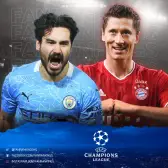 How great the competition was this year, perhaps the most interesting since the Champions League has been played in this format, is best evidenced by the fact that some of the greats of European football finished last in the groups. 
Probably all fans of this sport can hardly wait to find out who will fight for the quarterfinals, and the first matches of the knockout phase of the Champions League are scheduled for February 15, 16, 22 and 23, while the return match will be played, 8, 9, 15 and 16 March, and it is known that all matches will start at 9 p.m.
Let us remind you, the finals of the Champions League are scheduled for May 28, 2022, in St. Petersburg at the "Gazprom Arena" stadium.
Honorable Mention
Inter Milan
Serie A
Inter composed a team for winning the Italian Serie A and to defend the last season title. In the Champions League they are not very convincing, but they are always coming up from the shadows and can try to win the most precious trophy in the world of football.
Top 10 UEFA Champions League Teams
10. Atletico Madrid
La Liga
Spanish last season champions Atletico Madrid are not recognizable this season. They are very bad in the defence which was their strength and they play really bad in the attack. If someone manages to light the fire in the players then maybe they can show something better in the competition.
9. Juventus
Serie A
Same problems as Manchester United have and Juventus. Now with Vlahovic as striker they are looking more dangerous in the attack, but the whole team will need to level up if they want to win this competition for which they are longing for so long.
8. Manchester United
Premier League
Manchester United with their current form will probably drop even below on this list. They have been very bad in the past few months. Even C. Ronaldo can't make any difference and the whole team is playing in bad shape.
7. Real Madrid
La Liga
The most successful team in this competition, Real Madrid is far from its best days and moments. Carlo Ancelotti has composed a good team from the squad he got and they are doing great in Spain but we will see if it is enough for UEFA Champions League.
6. AFC Ajax
Eredivisie
AFC Ajax is playing amazing in the European competitions in the last 2-3 seasons. Although they are selling players every transfer period, their youngsters are amazing and always something little is missing for this team to make a sensation.
5. PSG
Ligue 1
PSG currently has probably the best 3 football players on the Earth, Messi, Neymar and Mbappe, but they somehow didn't connect as everyone expected from them. There are many individual efforts and less team play. That is why they are not up on this list.
4. Chelsea
Premier League
Last season's winners Chelsea are 4 on the list because their form has dropped from the start of the season. They aren't as secure as they used to be and they are struggling even in the Premier League.
3. Liverpool
Premier League
Liverpool with Klopp is always among the favorites. They showed that they can play against everyone and when all players are fit and ready they are certainly aiming for the top.
2. Bayern Munich
Bundesliga
The giant from Germany, Bayern Munich is second favorite for winning the trophy. No need for words or introductions about them, Bayern has always been in the top 5 teams in Europe in the last decades.
1. Manchester City
Premier League
Manchester City is the biggest favorite for winning this year's Champions League tournament. The Blues from Manchester are desperately waiting for this trophy. Last season they were very close but Chelsea stopped them. Perhaps this year is theirs.
How would you rank these European Football Clubs in this year's 2022 UEFA Champions League? Rank below to be added in the Power Rankings and to have a chance to win a gift card to LAZADA, Amazon, Fanatics.com, or more that is specific to you. Join the contest by ranking below.
Related Links:
POPULAR POSTS
Thank you
Your email has been successfully subscribed.
Sorry, there are no polls available at the moment.