Top 10 Best Midfielders in Soccer 2022 Rankings
Ranking the best Midfielders in the world of 2022 as Kevin De Bruyne leads the way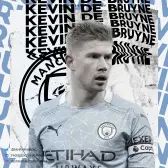 Being a midfielder is an art, it's the most balanced position in the game because you have to help both attacking and defending.
Perfecting the task of being a midfielder to the maximum is extremely hard but those who perfected this; are legends.
Today we are going to talk about the 10 best midfielders in world football in 2022, so sit back; take a bowl of popcorn and enjoy!
Honorable Mention
Dani Parejo
Club: Villarreal CF
Those who watch Villareal matches know very well how extremely good Dani Parejo is. Metronomic passes, world-class ball control, great shooting, and astonishing vision are some of the characteristics of Parejo's playing style.
The sad thing is that he is still extremely underrated when he is better than almost 85% of La Liga midfielders. He is one of those players that you love how they play; the calmness on the ball, the defensive help, and the ability to score beautiful free kicks are part of Parejo.
Amazingly good footballer but criminally underrated. He is the main reason why Villarreal won the Europa League in 2021.
Top 10 Best Midfielders in Soccer
10. Sergej Milinkovic-Savic
Club: Lazio
I said this before and I will say it again: an informed Milinkovic-Savic is the closest thing to prime Zidane we will ever have, period.
Milinkovic-Savic is just class, he is just too good; the serbian is without a doubt the best Serie A's midfielder right now, along with Marcelo Brozovic.
A perfect central midfielder who can do everything: defend, attack, pass, shoot, assist, and score. Lazio's fans must be happy to have a midfielder like him in the team, so much that they nicknamed him "il Sargente" because of his physical dominance, charisma, and also because of his name.
9. Bruno Fernandes
Club: Manchester United
A midfielder known for being probably the best midfielder in the world when we are talking about goal scoring abilities.
Bruno Fernandes is a versatile player that can play as an attacking midfielder, playmaker, central midfielder, winger, or even as a second striker because of his very good finishing.
Also praised for his leadership, Bruno Fernandes is also a direct player who likes to deliver passes that can break any defense apart, also he has also drawn comparison with the legendary Frank Lampard because of his goalscoring capabilities.
Despite all of these, he has been criticized for "not appearing" or "disappearing" in important matches.
8. Pedri
Club: FC Barcelona
Pedri is not the new Iniesta: Pedri is definitely the new Pedri, the future next midfielder in the world. Pedri took the world by storm when he played more than 60 matches in one season only at 18 years old, I repeat; only at 18 years old.
Capable of playing as a midfielder, attacking midfielder, winger, defensive midfielder, and even at false 9; Pedri is a player destined to success.
Now 19 years old, he is considered one of the best midfielders in the world, one of the best in La Liga, and even considered by some critics and fans as the best midfielder of FC Barcelona. 
7. N'Golo Kanté
Club: Chelsea FC
Once considered the best defensive midfielder in the world; Kanté is still world class but sadly he is not the same monster he was the last 7 years, but he is still one of the very best midfielders in the world.
Primarily operating as a box-to-box midfielder, Kante is widely known for his energy, relentless running, ball-winning abilities and almost inhuman stamina.
Kante is also a clean player, he never has received a red card while playing in the Premier League. I like to say that an informed Kanté is the best defensive midfielder, the best box-to-box midfielder, and the best attacking midfielder in the world at the same time.
6. Frenkie de Jong
Club: FC Barcelona
People don't know that Frenkie, at Ajax, used to play as a centre-back back in the day; that shows how versatile the Dutch midfielder is.
Normally a central midfielder, he can play everywhere in the center. de Jong is widely known for his dribbling, world-class ball control, precise passing, technique, and both defensive and attacking qualities.
I don't really know why FC Barcelona was thinking of letting him go when he is by far one of the most important players in the roster… Crazy things you know. De Jong was born to play for FC Barcelona, and he shows that every week.
5. Rodri
Club: Manchester City
When you are Busquets and Xabi Alonso's successor you must be really good, and Rodri is an exceptional player.
Usually considered the next Sergio Busquets, Rodri is a strong and technical defensive midfielder with a great passing ability and defensive awareness, and the mastermind behind the transition between defense to attack in the Manchester City system.
Rodri is one of the most down-to-earth players right now; no flashy boots, no "Gucci" hairstyles, and zero social media… Just football soccer, a football soccer so good that Pep Guardiola sometimes says that Rodri is the perfect midfielder, and, to be fair, he is not so far from that.
4. Toni Kroos
Club: Real Madrid
Toni Kroos is, without a shadow of a doubt, one of the best midfielders of all time. Capable of playing everywhere from attacking midfielder to defensive midfielder, he excels everywhere he plays and never has played badly.
Characterized by his world-class passing, vision, calmness, creativity, and powerful shooting: Toni Kroos despite not being fast and agile, he compensates this with his dribbling ability and his pendant of beating players with feints.
His perfect partnership with another midfielder we will see on this list has been critically acclaimed and is considered one of the best midfield partnerships in football soccer history. This helped them to a Champions League Title.
3. Joshua Kimmich
Club: FC Bayern München
Joshua Kimmich is probably the most versatile midfielder on this list, he can play as a centre-back, as a right-back, as a defensive midfielder, as a right midfielder, as a central midfielder, even as a box-to-box midfielder on occasion.
Considered the "true" successor of Philipp Lahm, Kimmich is a player who showed professionalism and maturity since he was a teenager when he played for RB Leipzig.
When he signed for Bayern München he turned into the winner he is today. Passing, defensive qualities, leadership, ball control… He is like the fusion between Bastian Schweinsteiger and Phillip Lahm, he is two world class players at the same time.
2. Luka Modric
Club: Real Madrid
Modric is so good that he won the Ballon d'Or when Cristiano Ronaldo and Lionel Messi were Gods and that makes Modric a God himself.
Undoubtedly the best midfielder in La Liga, Luka Modric is a player who when arrived at Real Madrid he was nothing, but now, he is everything for Real Madrid.
If you need to defend; he will be there, if you need to attack; he will be there; Modric is everywhere. Now, at 37 years old, he is still playing the best football of his life, and we all hope he can continue to do so for more years because watching Modric play is a pleasure.
1. Kevin De Bruyne
Club: Manchester City
If you ask somebody: Who is the best midfielder in the world? And they answer you with another footballer who is not Kevin De Bruyne, tell them that they are crazy because right now, nobody is better than the Belgian.
Described as the complete footballer, De Bruyne is usually considered the perfect playmaker because of his technique, vision, skills, and elegance on the ball, capable of dribbling your defense and unleashing a thunderbolt of a shot.
Kevin De Bruyne is the type of midfielder you show to those who want to be world-class, he is the perfect example of how a midfielder should be.
Related Links:
POPULAR POSTS
Thank you
Your email has been successfully subscribed.
Sorry, there are no polls available at the moment.