Top 10 Best Managers in Soccer 2022 Rankings
Ranking the best football Managers in the world of 2022 as Carlo Ancelotti leads the way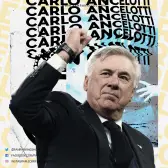 Head coaches are more important than you think; they are as important as the players on the pitch.
They are responsible for creating the tactics that will lead the team to the victory despite not being in the spotlight all the time.
To be honest it was a matter of time before we did an article on head coaches. So, let begin; these are the top 10 best managers in the world in 2022 ranked.
Honorable Mention
Zinedine Zidane
Club: No Team
We know that despite not having a team right now Zizou built up a reputation in his years as the head coach of Real Madrid that led him to be considered one of the best soccer managers in the world and even in history.
He won three Champions League in a row and more trophies with the team, let's not forget that this was his first experience as a manager so, winning three champions league in your first three years is something mind blowing.
Top 10 Best Managers in Soccer
10. Antonio Conte
Club: Tottenham Hotspur
Conte has built a great reputation throughout the last decade that cemented him as one of the best managers in the world and one of the best Italian managers ever.
After spending three years managing Juventus winning an avalanche of trophies, he went to England where he won the Premier League with an overpowered Chelsea side that dominated the English league that year. Later he won the Serie A with Inter Milan and now he is managing Tottenham Hotspur.
9. Xavi
Club: FC Barcelona
A natural born genius. Xavi, three years ago, was managing Qatari team Al Sadd where he showed that he can become a great manager in the future.
Now managing his childhood team FC Barcelona, he proved that he can become a world class manager after saving a Barsa side that was in pieces.
There are a lot of things to improve but we know that the best midfielder Spain ever produced is one of the best managers right now in the business. Barcelona trusts in you.
8. Thomas Tuchel
Club: No Team
Thomas Tuchel was sacked because he was not able to win the Champions League with the PSG, but the next year he was signed by Chelsea and won the 2021 Champions League with them despite only joining in January; reaching two Champions League finals back-to-back is not something easy to do.
Now without a team, we have to wait to see Tuchel again managing another team, but we already know that he will be able to deliver wherever he goes.
7. Jose Mourinho
Club: AS Roma
Everybody knows Jose Mourinho, everybody knows "The Special One". Mourinho is both one of the best managers of all time and one of the most controversial ever.
He is widely known for his passion, controversial decisions and unique personality. He is the only manager in history that has won the Champions League, the Europa League and the UEFA Conference League. Now with AS Roma, he is slowly turning the team into a machine.
6. Diego Simeone
Club: Atletico Madrid
You can hate him, or you can love him; but you can't refuse to acknowledge him as one of the best of the last 10 years.
He came to Spain and changed Atletico Madrid forever making them one of the best teams in the world thanks to his defensive and counter attacking style of play.
He has been the manager of this team since 2011 and he is not showing any signs of quitting, he is still going strong fighting with Real Madrid and FC Barcelona every year.
5. Lionel Scaloni
Club: Argentina
Scaloni changed the Argentina national team and turned them into a force of nature since he arrived.
He led Argentina to the 2021 Copa America title; helping them to win their first trophy in 28 years and after that, he led them to the 2022 Finalissima title.
He brought two international trophies to Argentina in two years. Now, the national team has 35 matches undefeated and this is thanks to the good chemistry between Scaloni and the team.
4. Hansi Flick
Club: Germany
Everybody knew that Flick would be the perfect replacement for Joachim Low when he decided to retire… Well, Flick was Low's assistant after all so he learned from the best.
After winning the sextuple with Bayern in 2020 he decided to manage the Germany national team and since then he has done a great job.
Let's see how the Germany national team will perform in the 2022 World Cup because they are strong contenders for the title.
3. Josep Pep Guardiola Sala
Club: Manchester City
Widely regarded as the best in the world right now; Guardiola is a man who would die for football soccer. He has shown that he can dominate any league; delivered in Spain, delivered in Germany and now he is delivering with Manchester City in England.
He is one of the most successful managers ever, he has been able to win at least one trophy every season; something quite hard to be honest. Since he arrived in England, he has won 4 Premier Leagues in 5 years.
2. Jurgen Klopp
Club: Liverpool FC
The direct rival to Guardiola and the man that turned a fragile Liverpool to a powerhouse of a team. Is not easy to compete against Guardiola's City, Conte's Spurs, Tuchel's Chelsea, and Arteta's Arsenal but he was able to defeat them in almost every match.
His "heavy metal" influenced style of play has been critically acclaimed since his arrival and thanks to this, he was able to both win the 2019 Champions League and the 2020 Premier League, their first Premier League title.
1. Carlo Ancelotti
Club: Real Madrid CF
I am fairly convinced that Ancelotti is the greatest manager of all time; the "Messi of Managers". Ancelotti is a man who knows how world football works and his style is amazing; whether he was coaching Madrid, Chelsea, Milan or PSG, I always watched his games because he is the perfect example of how a manager should be.
If you want to be a good manager, watch Ancelotti and learn from him. Well, he is the only one who ever won 4 Champions League for a reason, right?
Related Links:
POPULAR POSTS
Thank you
Your email has been successfully subscribed.
Sorry, there are no polls available at the moment.