Top 10 Best Defenders in Soccer 2022 Rankings
Ranking the best Defenders in the world of 2022 as Reece James leads the way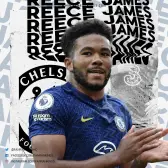 Today we are going to talk about who are the 10 best defenders in the world. For this list we will not only talk about central defenders.
No, no. We will add fullbacks, wing backs, and even sweepers, because, of course, they are part of the backline that will defend your team from strikers trying to score a ton of goals against you. Ok, so let's begin!
Honorable Mention
Trent Alexander-Arnold
Club: Liverpool FC
England's favorite right back, unless your name is Gareth Southgate. Trent has received praise by pundits and ex-players because of his ability to produce assists from anywhere he is and for his ability to score free kicks.
Regarded by many as the best right back in the world, Trent also received criticism because of his lack of defensive contribution. The funny thing is that he is a defender and more than assisting he has to defend.
Top 10 Best Defenders in Soccer
10. Marquinhos
Club: Paris Saint Germain F.C.
After Thiago Silva's departure from PSG, Marquinhos was responsible for filling the gap left by O' Monstro and since then he has done too well.
Marquinhos is the best defender in the league and in 2022 he matured a lot, going from a very good defender to a world-class defender.
He can play as a central defender, right defender, and defensive midfielder, which means Marquinhos is very versatile. Silva's successor without a doubt.
9. Andrew Robertson
Club: Liverpool FC
A guy that is always improving. "Robertson Carlos" is widely one of the best fullbacks both in the Premier League and in the world.
His perfect partnership with Trent is so ridiculously efficient that both of them produce assists for fun. Also, Robertson is known for having a degree in shithousering; it's ridiculous how much arrogance he has, and that is one of the reasons why Liverpool fans love him… But I have to come clean, I hate him.
8. Thiago Silva
Club: Chelsea FC
You cannot create a list of the best defenders in the world without adding O' Monstro. Despite being 38 years old, Thiago Silva plays like he is 28.
Still fast, still strong, still world-class. A lot of people doubted when he signed for Chelsea, but after being a wall time after time, he won our hearts.
His unbreakable partnership with Rudiger was extremely good and won us the Champions League. Thank you, Thiago.
7. Theo Hernandez
Club: AC Milan
Look, in my book; Theo Hernandez is the best left back in the world, sorry Joao Cancelo, but that does not mean I would not include Cancelo on the list.
Theo is extremely fast, agile, strong, and can score goals like prime Marcelo, and he is one of the main reasons why AC Milan is coming back from the ashes.
He is a menace every time he is motivated and let me tell you something; he has been motivated since he signed for AC Milan. It is just a matter of time before FC Bayern Munich buys him.
6. Kalidou Koulibaly
Club: Napoli
Silva's current partner in crime. Koulibaly since he started playing for Napoli has been regarded as one of the best and most complete defenders in the world. The big guy can defend, can dribble, can pass like prime Beckenbauer, and can score goals.
Now playing in the Premier League for Chelsea FC, Koulibaly has to show the world that even in a different league he can defend like always; and he will do it, he is amazingly good.
5. Eder Militao
Club: Real Madrid CF
What happens after both Raphael Varane and Sergio Ramos, probably the best defensive partnership in the world, left your team? Eder Militao shows up.
The Brazilian is so good he was able to fill the gap left by both Varane and Sergio Ramos. His new partnership with both David Alaba and Antonio Rudiger was able to stop every team in the world and win the Champions League. Able to play as a right back and central defender; Militao deserved everything he won.
4. Joao Cancelo
Club: Manchester City
Let's be honest, we never thought that Joao Cancelo would be so extremely good. Joao Cancelo transitioned from being an average right winger to the best left back in the world.
Joao Cancelo is a quick, strong, agile, and intelligent right back that fills the gap left by Mendy… Well, that is not a difficult job to be fair. The funniest thing about Joao Cancelo is that Juventus swapped him for Danilo… FOR FREAKING DANILO.
I don't know what Manchester City did in order to convince Juventus to accept the deal, they are geniuses.
3. Ruben Dias
Club: Manchester City
Imagine playing for Benfica and then signing for Manchester City in the hardest and toughest football soccer league in the world, and in your first season there, you win both the Premier League Player of the Season and the FWA Footballer of the Year.
That is mind blowing. Manchester City already found a new Vincent Kompany, but Portuguese this time. Aerial ability, strength, leadership, and defensive prowess are some of the characteristics that define Bruno Dias. And he is only 25 years old, he is younger than me.
2. Virgil Van Dijk
Club: Liverpool FC
Virgil Van Dijk has been considered the best central defender in the world for more than 3 years, and is not something so controversial because he was borderline unbeatable for more than 1-and-a-half years.
The heart of the Liverpool defense and the leader of the Netherlands national team. Van Dijk is tall, strong, fast, agile, and a natural born leader.
He is a nightmare for a striker, because even if you get past him, it will not matter, he will catch up and leave you on the ground.
There are some pundits and ex-footballers who say that Van Dijk is the best defender in Premier League history, and that is controversial, but the first spot of this list may be controversial too.
1. Reece James
Club: Chelsea FC
Call me crazy, I don't care; Reece James is the best right back in the world. It is ridiculous how good James is and how perfect he plays.
He is the perfect wing back; his defensive contribution is good, his attacking contribution is good, he can do anything. Fast, strong, agile, intelligent, and professional.
Some players can play well depending on the team's system but in James' case, it does not matter which system Chelsea uses, Reece James always plays well and will silence your left winger and convince him to join the team at the same time.
Related Links:
POPULAR POSTS
Thank you
Your email has been successfully subscribed.
Sorry, there are no polls available at the moment.