Best Black Soccer Players 2023 Rankings
Ranking the best Black Football Players in Black America today in honor of Black History Month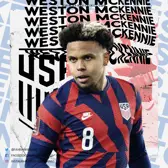 Black History Month
Soccer is a game that transcends borders and unites people from all backgrounds, and the contributions of black players to the sport cannot be overstated.
As we honor Black History Month, we take a look at the top 10 Black American Football players currently dominating the game in 2023.
These players are not only excelling on the field but also breaking barriers and challenging stereotypes. These footballers are role models for young black players and fans, proving that anything is possible with hard work and dedication.
So, without further ado, let's take a look at the top 10 black soccer players currently dominating the game in 2023. From world-class goalkeepers to midfield maestros, these black stars are proof that black excellence is alive and well in the world of soccer.
Top 10 Best Black Soccer Players
10. Kellyn Acosta
Club: Los Angeles FC
Kellyn Acosta, a dynamic midfielder for Los Angeles FC, has been making waves in Major League Soccer. With an impressive tally of 3 goals and 4 assists in 35 matches during the 2022 season, Acosta has proven to be a valuable asset to his team.
Prior to joining LAFC, he honed his skills with FC Dallas and Colorado Rapids. His exceptional performances on the field have made him a force to be reckoned with in the MLS.
9. Erik Palmer-Brown
Club: Troyes
Erik Palmer-Brown, a formidable center-back for Troyes, has made a name for himself in Ligue 1. Beginning his professional career with Sporting Kansas City, he then moved on to Portuguese club Porto where he played a key role in leading Porto B to the LigaPro title.
After a loan spell with Manchester City, he joined Troyes in February 2022 on a permanent deal until 2024.
Despite conceding 40 goals, Palmer-Brown has kept 1 clean sheet in 19 matches of the 2022-2023 Ligue 1 season, solidifying his position as a key defender for the club. 
8. Chris Richards
Club: Crystal Palace
Chris Richards, a promising center-back for Crystal Palace, has made a smooth transition to the Premier League after signing a five-year contract with the club on July 27, 2022.
The young defender previously played for Bayern Munich and Dallas FC, before making the move to Crystal Palace for a €12,000,000 transfer fee.
In the current season, Richards has made 6 appearances averaging 1.77 tackles and 1.42 interceptions per 90 minutes on the pitch. Additionally, he has been clocking in 7.80 clearances per match.
7. Auston Trusty
Club: Birmingham City
Auston Trusty played in the USL Championship for Bethlehem Steel, and Major League Soccer for the Philadelphia Union and the Colorado Rapids before joining Arsenal on January 31, 2022, however, he remained on loan with the Colorado Rapids until July 17, 2022.
After returning to Arsenal, he was immediately loaned to Birmingham City for the 2022-23 season. Trusty has played 28 matches in the Championship and has kept 8 clean sheets while conceding 32 goals.
He has also scored 3 goals and made 1 assist, averaging 2.36 tackles and 1.25 interceptions per 90 minutes on the pitch.
6. DeAndre Yedlin
Club: Inter Miami
DeAndre Yedlin, a versatile player for Major League Soccer club Inter Miami, is known for his skills as a right-back but has also played as a right wing-back and wide midfielder.
He was a part of the final 26-man squad for the 2022 FIFA World Cup, being the only US player to have played in both the 2014 and 2022 FIFA World Cup.
Yedlin has played for clubs like Seattle Sounders FC, Tottenham Hotspur, Newcastle United, and Galatasaray before returning to the USA and signing a four-year contract, with an additional one-year option, to join Inter Miami on February 2, 2022. He has made 3 assists in 34 matches for the team.
5. Mark McKenzie
Club: Genk
Mark McKenzie, a skilled center-back for Belgian Pro League club Genk, began his career with the Philadelphia Union.
He was recognized for his talent by being named to the MLS Best XI in 2020 and was nominated for the 2020 Defender of the Year, finishing second in the voting. On January 7, 2021, McKenzie joined Genk on a four-and-a-half-year deal.
He has played 18 matches in the Pro League 2022/2023 season and has kept 6 clean sheets while conceding 13 goals, averaging a goal against every 125 minutes he's on the pitch. He also averages 1.56 tackles and 1.56 interceptions per 90 minutes of play.
4. Cameron Carter-Vickers
Club: Celtic
Cameron Carter-Vickers, a dependable center-back for Celtic, has established himself as a key player in the Scottish Premiership.
Starting his career at the Tottenham Hotspur Academy, he went on loan to several clubs before joining Celtic on a permanent four-year deal for £6 million, after winning the Scottish Premiership and Scottish League Cup in the 2021-22 season.
In the current season, he has played in 19 matches and has kept an impressive 9 clean sheets while conceding 13 goals with an average of 0.68 goals per 90 minutes.
He also averages 0.58 tackles and 0.95 interceptions per 90 minutes and 3.32 clearances per match.
3. Zack Steffen
Club: Middlesbrough
Zack Steffen, a talented goalkeeper for EFL Championship club Middlesbrough, on loan from Premier League club Manchester City, started his career playing college soccer for the Maryland Terrapins.
He went on loan to Freiburg in Germany before returning and becoming the starting goalkeeper for the Columbus Crew.
He won the Goalkeeper of the Year Award in 2018 and is currently helping Middlesbrough secure promotion to the EPL; they are currently 6th in the championship. 
Steffen has played 24 matches in the Championship 2022/2023 season and has kept 5 clean sheets while conceding 27 goals.
2. Tyler Adams
Club: Leeds United
Tyler Adams, captain of the United States national team, currently plies his trade with English club Leeds United.
Known for his versatility and skill on the pitch, Adams has established himself as one of the top young American soccer players in the world. He began his career with the New York Red Bulls before moving to RB Leipzig in 2019 and later signing with Leeds United in 2022 for a reported £20 million transfer fee. 
Adams made history as the youngest captain at the 2022 FIFA World Cup and was named U.S. Soccer Player of the Year that same year. This season, he's been a force on the field, averaging 3.9 tackles and 1.14 interceptions per match.
1. Weston McKennie
Club: Juventus
Weston McKennie is a dynamic midfielder who plays for Juventus and the United States national team. Known for his versatility and ability to play in multiple positions, McKennie is a key player for both club and country.
He began his career with Schalke 04 before moving to Juventus on a permanent basis in 2021 for a transfer fee of €18.5 million.
McKennie has made a significant impact for Juventus this season, scoring 3 goals and providing 1 assist in 18 appearances including notching 2 goals in the UEFA Champions League.
He was also a key player for the USMNT in the 2022 World Cup, helping the team reach the knockout stage.
Related Links:
POPULAR POSTS
Thank you
Your email has been successfully subscribed.
Sorry, there are no polls available at the moment.