FIFA World Rankings – November 2021
Top 10 Men's FIFA World Football Rankings - November 2021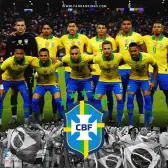 With the FIFA World Cup just a year away, we take a look at who are the best international teams in the world, and who could win the World Cup.
Top 10 FIFA Rankings
Netherlands
Currently at the top of their World Cup qualifying group, Netherlands have a shot at the World Cup down to their talent.
Coming off the back of a major disappointment in not even managing to qualify for the 2018 World Cup, the team will be looking to right the wrongs of their past.
Virgil Van Dijk, Memphis Depay and Frenkie De Jong make up an exciting core of a team that could surprise a few at next year's World Cup.
Portugal
After disappointing in the Euros, Portugal may be heading into this tournament with Cristiano Ronaldo playing his last international competition. Their Euros triumph in 2016 was followed up by a disappointing round of 16 loss to Uruguay in the 2018 World Cup.
Portugal will be boosted going into the World Cup by the development of superstars like Bruno Fernandes and Ruben Dias.  Portugal have the stars to surround Ronaldo, but have to go through the play offs to reach the World Cup in the first place. 
Germany
Germany have only lost one game in World Cup qualifying, and will be looking to improve, having gotten through a tough group in the Euros, only to be knocked out in the round of 16 by England.
After a disappointment four years ago where the team failed to get out of the group stage, new boss Hansi Flick will be looking to restore German football to the very top.
Since Flick took over, the team have won all of their games, scoring 31 goals while only conceding 2 in their last 7 games. 
Spain
Having narrowly missed out on a place in the Euros final, Spain will not want to rely on penalties in the upcoming World Cup.
Their core players have been boasted by impressive performances from young stars, and this combination could be key in next year's tournament.
It will be crucial for Luis Enrique to squash any anti-Madrid accusations, and he leads his team for the first time in a World Cup. Still, Spain has a very talented squad and could easily be a big surprise in Qatar next year. 
Argentina
Lionel Messi is still yet to win a World Cup, having come so close in 2014. With younger players like Cristian Romero and Lautaro Martinez adding some much needed support, the team will go into the World Cup looking to not lose a game, as they have done so far in qualifying.
Another team coming off a disappointing loss in the round of 16. Argentina had an all-round disappointing World Cup last time out, where they barely scraped through their group.
Argentina doesn't want the greatest player of all time to retire without a World Cup. 
Belgium
The golden generation of Belgian football has one last shot at the World Cup before players like Eden Hazard, Kevin de Bruyne and Jan Vertonghen age out of the squad. It seems like a huge World Cup for the legacy of this legendary generation.
These aging stars will hope that younger players in the squad like Romelu Lukaku, Youri Tielemans and Jeremy Doku will all be able to step up and help Belgium to their first World Cup victory, after their best ever performance four years ago, when they finished third. 
England
A team that could definitely move up these rankings, England will be looking to avenge the cruel defeat in the final of the Euros.
With a young squad that continues to improve, this team could do some serious damage at next year's World Cup. England have not lost a game in 90 minutes since November 2020, dominating during their qualification for the World Cup.
England have an abundance of talent, in pretty much all areas of the pitch. If Southgate can sort out the chemistry, this team can go very far in the World Cup. 
Italy
It may be surprising to see the Euros winner in third, but Italy have been poor in qualifying. With Switzerland topping their group, Italy have to go through the playoffs to qualify for the World Cup.
Still, this is a very talented team that will be more experienced than they were this year. You could very easily argue that Italy will head into next year's World Cup with the most momentum out of any team.
They could have been higher, but Italy failed to qualify for the 2018 World Cup, and may not qualify for this World Cup. But Italy have shown they can turn it on in tournament time. 
France 
The reigning holders of the World Cup, France will also be looking to get the most out of stars who will not be in the team the next time the World Cup rolls around.
With Kylian Mbappe a year older, this team will be looking to continue their qualifying form into the World Cup. Another team that have not lost a game in 90 minutes this year, France have a very talented squad, including Mbappe, Karim Benzema, Ngolo Kante, Paul Pogba and Antoine Griezmann.
They have a very good chance of becoming the first back to back World Cup champions since Brazil in 1962. 
Brazil 
This team has stars all over the pitch, with young attackers Raphina, Vinicius and Gabriel Jesus all supporting Neymar heading into this World Cup. Brazil look like a serious team, and you would imagine that they have to be the favourites heading into the World Cup next year.
Brazil did lose the Copa America final earlier this year, but this squad is full of talent. Brazil also benefits from the fact that they have a coach who was with them in their last World Cup. Tite has five years of experience coaching Brazil, and this could provide the edge for them heading into Qatar next year. 
How would you rank these countries? Rank below to be added in the Power Rankings and to have a chance to win a gift card to LAZADA, Amazon, Fanatics.com, or more that is specific to you. Join the contest by ranking below.
Related Links:
POPULAR POSTS
Thank you
Your email has been successfully subscribed.
Sorry, there are no polls available at the moment.