Top 10 Welterweight Boxers of All Time Rankings
Ranking the greatest Welterweight Boxers in the history of Boxing such as Sugar Ray Leonard, Manny Pacquiao, Floyd Mayweather Jr., and many more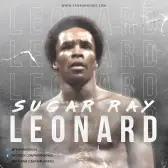 Honorable Mention
Joe Walcott
Before we move to the welterweight division rankings, we need to mention some honorable mentions. First of all, "Barbados' ' Joe Walcott is recognized by many as one of the best welterweights, however, since he fought almost 1 hundred years ago, it is difficult to rank him. Still, the champion deserves an honorable mention. 
Roberto Duran
Roberto Duran was also an incredible boxer, who became the welterweight champion, however, his career at welterweight was short, and he had a lot more success at middleweight. 
Julio César Chávez and Thomas Hearns also deserve an honorable mention. Now on to the Top 10 Welterweight Boxers All-Time Rankings
Top 10 Welterweights All-Time
10. Oscar De La Hoya
Oscar De La Hoya is one of the best boxers of the modern era, and he deserves to be on the list of greatest welterweight boxers of all time as well. 
De La Hoya competed between 1992 and 2008, and won 11 major world titles in 6 different weight classes, becoming the lineal champion in three. At welterweight, De La Hoya held the WBC and IBA welterweight titles, and he defended the WBC title 7 times. 
De La Hoya retired with a record of 39 wins and 6 losses.
9. Manny Pacquiao
Manny Pacquiao is regarded by many as one of the greatest boxers of modern times, and he is the only boxer to win world titles in 8 different weight classes. 
Competing between 1995 and 2021, Pacquiao has won 12 major world titles. He is the former WBO and WBA welterweight champion of the world. 
Pacquiao retired with a record of 62 wins, 8 losses, and 2 draws and is now a leading politician and public figure in the Philippines.
8. Pernell Whitaker
Pernell Whitaker is also one of the best to do it and makes it on my list at number 8. 
His professional career started in 1984, and he went on to win world titles in 4 different weight classes. He was a unified lightweight champion, and also won the WBC welterweight title, which he defended 8 times. 
Whitaker retired in 2001 with a record of 40 wins, 4 losses, 1 draw, and 1 no contest. 
7. Emile Griffith
Emile Griffith, a professional boxer from the U.S. Virgin Islands is known to be one of the best at welterweight. 
Between 1958 and 1977, he competed in multiple weight classes and won world titles in three. The best performances of his career were at welterweight and middleweight. He is a three-time welterweight champion and also held the Undisputed title. 
 Emile Griffith retired with a record of 85 wins, 23 losses, 2 draws, and 1 no-contest. 
6. José Nápoles
José Nápoles was a Cuban-born Mexican boxer who is widely regarded as one of the best welterweights to ever step in the ring. 
Throughout his career, which went from 1958 to 1976, he became a two-time unified welterweight champion, having held the unified  WBA, WBC, and The Ring welterweight titles twice. He has 12 combined title defenses on his belt. 
José Nápoles retired with a record of 81 wins and 7 losses. 
5. Floyd Mayweather Jr.
Mayweather is the most successful boxer of all time, he is the highest-paid boxer of all time, and has had an incredible undefeated career. 
He competed between 1996 and 2015, with a comeback fight in 2017 as well. He won 15 world titles in 5 different weight classes and is also a two-time lineal welterweight champion. 
Mayweather retired in 2017 with a perfect professional record of 50 wins and no losses. 
4. Kid Gavilan
Kid Gavilan was a Cuban boxer, who competed between 1943 and 1958. 
After winning the unified NYSAC, NBA, and The Ring welterweight titles in 1951, he became the Undisputed champion and defended his titles 7 times. He had an impressive boxing record, however, most of his losses came later in his career. 
Kid Gavilan retired with a record of 108 wins, 30 losses, and 5 draws. 
3. Henry Armstrong
Homicide Hank competed in multiple weight classes, but his best work came at welterweight. 
Competing between 1931 and 1945, Armstrong fought 183 times. He started his career at featherweight, where he won a unified world title, however in 1938, he won the unified  NYSAC, NBA, and The Ring welterweight titles and defended them 19 times. 
Armstrong retired with a record of 152 wins, 22 losses, and 9 draws. 
2. Sugar Ray Robinson
Regarded by many as the greatest boxer of all time, Sugar Ray Robinson is second on our list. 
He competed from 1940 to 1965 and won world titles in two weight classes. He also holds the record for the third-longest win streak in professional boxing, with 91 consecutive wins. He is also the former undisputed welterweight champion
Robinson ended his career with a record of 128 wins, 1 loss and 2 draws with 84  knockouts. He was inducted into the Boxing Hall Of Fame in 1990.
1. Sugar Ray Leonard
Sugar is regarded as one of the best boxers of all time and is easily the best welterweight boxer of all time. 
Through his 30 year career, which spanned between 1977 and 1997, Leonard won multiple world titles in five weight classes, with the lineal championship in three. Leonard is also the former Undisputed welterweight champion, as well as the undisputed welterweight title
Sugar retired with a record of 36 wins and 3 losses
How would you rank these Welterweights in boxing history? Rank below to be added in the Power Rankings and to have a chance to win a gift card to LAZADA, Amazon, Fanatics.com, or more that is specific to you. Your Fan Rankings will be added to our Power Rankings as well. Join the contest by ranking below.
Related Links:
POPULAR POSTS
Thank you
Your email has been successfully subscribed.
Sorry, there are no polls available at the moment.