Top 10 Middleweight Boxers of All Time Rankings
Ranking the greatest Middleweight Boxers in the history of Boxing such as Sugar Ray Robinson, Roberto Duran, Canelo Alvarez, and many more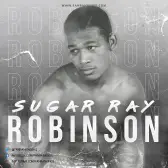 Honorable Mention
Harry Greb
Harry Greb is regarded by many as one of the best middleweights of all time, however, he competed mostly in the 1920s, and there are discrepancies about his record. Moreover, he fought almost a hundred years ago, which is why he didn't make my list but deserves a strong honorable mention. 
Stanley Ketchel
Stanley Ketchel is another boxer of the early 1900s, who is on many people's top ten list. He retired with a record of 49 wins and 3 losses.
Now let's get into the Top Middleweight Boxing Champions of All Time
Top 10 Middleweight Boxers All-Time
10. Jake LaMotta
Jake LaMotta, also known as Raging bull was one of the most entertaining boxers of his time, and also has a movie made about him, in which he was portrayed by Robert de Niro. 
LaMotta competed between 1941 and 1954 and he was also the unified NYSAC, NBA, and The Ring middleweight champion. 
LaMotta retired with a record of 83 wins, 19 losses, and 4 draws. 
9. Thomas Hearns
Nicknamed the "Motor City Cobra", and more famously "The Hitman", Thomas Hearns is number 8 on our list. 
Competing between 1977 and 2001, Thomas Hearns won world titles in five different weight classes, including light middleweight, middleweight, and super middleweight. 
Hearns retired with a record of 61 wins, 5 losses, and 1 draw. 
8. Sugar Ray Leonard
Sugar Ray Leonard is one of the best boxers of all time, and though most of his success came at welterweight, he also had a lot of success at middleweight. 
He competed from 1977 to 1997 and reigned as a champion at middleweight and super middleweight. He was also the undisputed welterweight champion. 
Leonard retired with a record of 36 wins and 3 losses. 
7. Canelo Álvarez
Canelo Álvarez is currently the number 1 pound-for-pound boxer in the world, and he definitely makes the list of the greatest boxers of all time. 
The Mexican professional boxer is the current undisputed super middleweight champion and has won multiple world championships in four different weight classes. He has also resigned as the unified WBA (Super), WBC, IBF, and The Ring middleweight champion
Álvarez currently has a record of 57 wins and only 1 loss.
6. Roberto Durán
Roberto Durán was a Panamanian boxer, who competed over the span of 5 decades.
From 1968 to 2001, Roberto Durán was one of the best to step in the ring. He held world championships in four weight classes, including middleweight where he won the WBC middleweight title and defeated some big opponents. 
Duran retired with a record of 103 wins and 16 losses. 
5. Gennady Golovkin
Gennady Golovkin has reigned over the middleweight division as one of the best for a very long time. 
Golovkin is currently active, and a two-time middleweight champion. He is the reigning unified IBF and IBO middleweight champion, and previously also held the unified WBA (Super), WBC, IBF, and IBO middleweight titles. 
He has a very impressive record of 41 wins, 1 loss, and 1 draw, and is also ranked as the number 1 active middleweight in the world by BoxRec, TBRB, and The Ring.
4. Bernard Hopkins
Bernard Hopkins might not have been the most exciting boxer, but he was one of the most effective. 
Between 1988 to 2016, he held multiple world championships in two weight classes, including the undisputed middleweight title from 2001 to 2005, with seven title defenses. He also defended the IBF middleweight title 12 times. Overall, he has 20 title defenses, which is the most at middleweight. 
Hopkins retired with a record of 55 wins, 8 losses, 2 draws, and 2 no-contests. 
3. Carlos Monzón
Carlos Monzón was an Argentine professional boxer, and one of the longest-reigning undisputed middleweight champions. 
Throughout his career, which spanned from 1963 to 1977, Monzón remained the undisputed middleweight champion for seven years, defending the title 14 times. 
Carlos Monzón retired with a record of 87 wins, 3 losses, 9 draws, and 1 no contest. 
2. Marvin Hagler
Marvelous Marvin Hagler was an American boxer, and he is my 2nd pick for this list. 
He started his professional boxing career in 1973 and fought at middleweight for most of his career. He is the former undisputed middleweight champion of the world, and held the title for almost 7 years, with 12 title defenses. 
Hagler retired in 1987 with a record of 62 wins, 3 losses, and 2 draws. 
1. Sugar Ray Robinson
Sugar Ray Robinson isn't only the greatest middleweight of all time, he is in fact one of the best to ever step in the ring, at any weight class. 
Over the course of his career, which spanned from 1940 to 1965, he won world titles in two weight classes. He also holds the record for the third-longest win streak in professional boxing, with 91 consecutive wins. He is a three-time undisputed middleweight champion. 
Robinson ended his career with a record of 128 wins, 1 loss and 2 draws with 84  knockouts. He was inducted into the Boxing Hall Of Fame in 1990.
How would you rank these Middleweights in boxing history? Rank below to be added in the Power Rankings and to have a chance to win a gift card to LAZADA, Amazon, Fanatics.com, or more that is specific to you. Your Fan Rankings will be added to our Power Rankings as well. Join the contest by ranking below.
Related Links:
POPULAR POSTS
Thank you
Your email has been successfully subscribed.
Sorry, there are no polls available at the moment.