Top 10 Women's Olympic Hockey Teams 2022 Rankings
Where Russia, Canada, Sweden and more rank in the 2022 Beijing Winter Olympic Games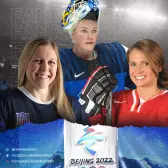 Women's Hockey
It is unfortunate that women's hockey doesn't get the recognition it deserves. The 2018 Gold Medal games versus Canada and the United States was one of the most exciting games of ice hockey tournament play I have ever seen with the USA winning in a shootout. 
Team Denmark and Czech Republic are looking to impress in their first Olympic showings in program history. China is also fielding their first appearance in 12 years being the host country. 
All eyes are on USA and Canada, after Canada beat USA 3-2 in August. Without further ado, here are our top 10 Olympic women's teams for the 2022 Olympic Winter Games. 
Top 10 Olympic Hockey Rankings
10. China 
China has yet to announce their Olympic hockey roster and the team hasn't played in international competition since 2019 as the last two times they were unable to attend the games. The Women's Ice Hockey Team for China has not qualified since 2010 and is looking to play solid hockey in their home country. 
China, despite being ranked 20th, is the host country and was automatically qualified. The Chinese Women's Team has been training for these Olympics near Moscow, in a facility designed to train hockey players. The team has not been announced but it has been reported that there are seven North American born players representing China, including Rachel Llanes. 
With the games within sprinting distance and only ten teams in the mix, China is our number 10 on our top 10 teams going into the Olympics. 
9. Japan 
Japan played pretty well all things considered in 2018, they placed sixth, second in Group B. They went 1-3-1, while the unified Korean team went 0-5. Japan had their best showing in the World Championships ever, placing sixth in 2021. 
They are bringing the exact same team they had for the 2021 World Championship and are looking to have a successful tournament in a weak Group B. Goalie Nan Fujimoto played phenomenally during the qualification round, only allowing 6 goals in 4 games, and played every single minute. 
This is her third Olympics. The team will be without Fumika Sasano, and five out of the seven defenders from the 2018 Olympics are returning to play. Japan has a pretty decent hockey program, despite the country not being known for Ice Hockey production.
8. Denmark 
The Demark Women's Hockey Team has been a program on the rise these past few years. They played their way back into one of the top divisions at the World Championships and will be in the top division for 2022. 
They won in the qualification round and are ready to play in their first Olympic games. Cassandra Repstock-Romme is ready to guard the pipes for Denmark and has been outstanding for them in their past few international competitions. 
She stopped 50 out of 54 shots in two games during the 2021 Women's World Championships. Denmark is playing in the weaker Division B with China and Japan and could be a sleeper to win a medal this year.
7. Switzerland 
Switzerland is bringing the same team that they took to the 2021 IIHF Women's World Championships and are getting a boost before the games with Alina Muller and Noemi Ryhner are back from injury. 
Nicole Bullo, who missed the 2021 World Championship will be back for her fifth consecutive Olympic games, being the backbone and leader for this Swiss team. 
She is one of six players from the 2014 Bronze winning team in Sochi. They will be playing in the VERY tough Group A with Canada and the United States.
6. Czech Republic 
Just punching their ticket to the 2022 Olympic Winter Games was a huge accomplishment for the Czech Women's Ice Hockey Team and they will look to ride this wave into a potential medal finish. This is the first time the Czech Women's Ice Hockey team has ever qualified for an Olympic competition. 
They recently finished seventh at the World Championship and are more or less bringing the same roster to the Olympics, they have never placed higher than sixth in the World Championship but have won Bronze twice at U18's in 2008 and 2014. 
Klara Peslarova is the heart of the Czech team, and she is more than ready for her first Olympics. She has been the starting goalie for the Czech's for 8 years now. 
Alena Mill's, the oldest player on the team, is excited for her first crack at Olympic hockey and has been team captain for over a decade now. They aren't expected to medal but are one of the best stories going into this Olympics.
5. Sweden
The Swedish Women's Team has had a rough go the last four years, despite the country's deep hockey history. In 2019 they were demoted in the World Championship, but due to Corona they weren't able to have a 2020 tournament. 
The women's team was able to get into the 2022 Olympics with their win in the qualification tournament in Sweden. Defender Linnea Andersson is not going to be on the team this Olympics, a huge blow to the blueline. 
On the bright side Emmy Alasalmi is going to be attending the tournament, despite her injury forcing her to miss the qualification round. This team isn't expected to make a run for a medal, which makes them very dangerous!
4. Finland 
Finland won Bronze in 2018 and were ecstatic to win beating Russia 3-2. The Finish Women's Teams objective is to obviously win Gold, but they are looking to break into the Gold Medal game this time around. 
Pasi Mustonen returns as bench boss, as they did in 2018. The Fins are bringing 13 first time Olympians, eight of which were born after the year 2000, a really young team. It was a huge blow when it was announced that four-time Olympian Noora Raty would not be attending this year's Olympic games. 
This alone gives Russia the edge over Finland as Raty was the backbone of Finland for over 16 years. Jenni Hiirkoski does return to the Finnish blueline as they look to defend their Bronze medal and go for gold!
3. Olympic Athletes from Russia
The Russian Women's Hockey Team has been on the rise the past decade and is looking to make a serious push this year. In 2018, the Russian Women's team came in fourth after losing 3-2 to Finland. 
Russian head coach Yevgeni Bobariko has been pushing the envelope for Russian hockey and it was evident in 2018 with them placing fourth, and they think they can crack the top three this year. Russia has looked great at the World Championships these past few years and a handful of Russian Women's players are eager to make their Olympic debut. 
Diana Farkhutdinova and Daria Gredzen both played under Bobariko at the 2018 World Championships U18. Give them the edge over Finland as the team has been working very hard the last four years and are going to be a serious threat to Canada.
2. Canada 
Canada lost a really close game to the United States in 2018, and they haven't forgotten about it. Despite USA's dominance of women's hockey this past decade, Canadian Women's Hockey is just as good as their American opponents. 
Thirteen players are returning from the 2018 roster, with Meaghan Mikkelson returning to the team for a third time, at 37 years old, she is the oldest player on the team and is recovering from a knee injury she sustained playing in the PWHPA. 
It is important to note that Women's hockey is limited to 23 players while Men's bring 25, making it harder to make cuts for the Women's team. Canada did beat the USA back in August 3-2, Canada vs USA is going to be a game to watch for any hockey fan.
1. United States 
The United States Women's Ice Hockey Team is looking to defend their Gold Medal from 2018 and 15 of the players from then are returning. It is amazing to see Kendall Coyne Schofield return for Team USA as she has won Gold 8 times representing Team USA and may be the best female hockey player in hockey history. 
Team USA will also be joined by eight first time Olympians. Hilary Knight is also returning for Team USA, her fourth time representing the country, the fourth woman in USA Hockey history to do so. 
All 23 members of the Team USA roster participated or are participating in NCAA Hockey. Kendall Coyne Schofield was rightfully named team captain as USA prepares for the Winter Olympics.
How would you rank these Olympic national teams? Rank below to be added in the Power Rankings and to have a chance to win a gift card to LAZADA, Amazon, Fanatics.com, or more that is specific to you. Join the contest by ranking below. 
Related Links: 
POPULAR POSTS
Thank you
Your email has been successfully subscribed.
Sorry, there are no polls available at the moment.