Top 10 Women's Olympic Hockey Players 2022 Rankings
Ranking the best Olympic Women going into the 2022 Beijing Winter Olympic Games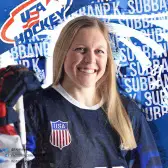 This year's Olympics for Women's Ice Hockey is going to be a very exciting one as Team Denmark and Team Czech Republic both make their Olympic debuts after qualifying last season. 
Team USA is going to be looking to defend their Gold medal form the 2018 Winter Olympics, and Canada is looking to dethrone them. This will also be Team China's fourth Olympic appearance, only placing fourth in 1998. 
With all that being said, here are our top 10 Women's hockey players competing in this year's Winter Olympics.
Honorable Mention
Meaghan Mikkelson
Country: Canada 
Meaghan Mikkelson is one of the best female hockey players of all time and possibly one of the greatest Canadian athletes of all time. She has represented Canada three times at the Olympics, this year being her fourth, and has medaled every single time.
 She has won Gold in 2010 and 2014. She has also represented Canada seven times at the World Championships, where she also medaled every single time. At the World Juniors she has 6 Silvers and 1 Gold that she got in 2012. 
She also had a very successful NCAA career playing for the Wisconsin Badgers and being honored with the 2007 WCHA Defensive Player of the Year and two All-WCHA awards. This may be her last Olympics and it truly would be the end of an era for Canadian Women's Hockey.
Top 10 Olympic Hockey Players 
10. Josefine Jakobsen
Country: Denmark
This is the first time the Denmark Women's Hockey Team has qualified for the Olympics and Jakobsen is more than ready for her Olympic debut. She made her international debut for Denmark in 2008 and has been one of their best players ever since. 
She played four seasons for the University of North Dakota, being named the assistant captain her senior year. She is currently in her fifth season in the SDHL with Djurgardens IF and has won 3 SDHL Championships. 
Her older brother Julian also plays hockey in the DEN and has represented Denmark numerous times. A lot of eyes will be on Denmark and the Czechs this coming Olympics as both ice hockey teams make their debuts.
9. Klara Peslarova
Country: Czech Republic 
Klara Peslarova has been the goalie for the Czech Women's team for the better part of a decade now and has been a rock for them. She is currently playing for Modo in the SDHL and in 20 games she has a GAA of 2.29 and a .922 SV%. 
She won the Czechia Women's Championship in 2013 and 2014. Despite her decade in net, she has only medaled one time way back in 2014 during the WW18 where she won Bronze. 
This will be her first Olympic games as the team did not qualify for the 2018 Winter Olympics. She has plenty to show the world and she will surely impress.
8. Alina Muller
Country: Switzerland
Hockey skates hard in the Muller family, as her older brother Mirco Muller is currently on the New Jersey Devils. This year's Winter Olympics will only be here second, and at just 23, she has plenty to show and lots to impress. 
At the 2014 Sochi Olympics, she placed Bronze with Switzerland. She played three seasons and is currently in her fourth season with Northeastern University and has scored 8 goals and 21 assists in 16 games for the Huskies. 
This only being her second outing, what she has accomplished this far at a young age is very impressive. Switzerland does have a real shot at placing Bronze or higher again.
7. Jenni Hiirikoski
Country: Finland 
Jenni Hiirikoski is probably the greatest woman to play for Team Sweden and even outside of international play she has been very successful. She made her international debut in 2004 for Finland and won Bronze. 
She played 14 seasons in the SM-sarja for 285 games, scoring 118 goals and 289 assists. She won four Aroura Borealis Cups during her 14 seasons. In 2016 she started playing in the Swedish Women's Hockey League and has won 3 SDHL Championships. 
So far in 174 SDHL games she has scored 74 goals and 176 assists. Internationally she has won 2 Olympic Bronze Medals and 6 Bronze Medals at the World Championships and one Silver. She is considered the best ice hockey defensemen in the world, winning 7 World Championship Best Defensive titles. 
6. Ann-Renee Desbiens
Country: Canada 
Ann-Renee Desbiens is also a fellow Wisconsin Alumni and was absolutely stellar in her final season. In her senior year she played 35 games and had a 0.71 GAA and an SV% of .963. 
In 2011 she also won the CWHL Championship with the Montreal Stars. She made her Olympic debut in the 2018 Winter Olympics, just missing Gold as Team USA bested her in a shootout. 
She recently won Gold at the 2021 World Championships and also placed second in the 2015 World Championships. She was named to the Canadian Olympic Team for a second time and will no doubt be the starter again.
5. Alex Cavallini
Country: United States
Alex Cavallini has been the go to in net for Team USA since her U18 debut in 2009. She played four seasons for the Wisconsin Badgers, where she was the captain for her senior season, as a goalie. 
Her best seasons was her senior season when she had a 1.32 GAA, SV% of .945 in 27 games played. She won the NCAA Women's Championship in 2011. In her first Olympic appearance she won Gold, beating Canada in a shootout. At the World Championships, she has backstopped Team USA 6 times, 5 Gold medals and one Silver. 
She appeared in one U18 World Championships and won Gold as well. She is going to definitely be a factor in Team USA's repeat of this Olympics.
4. Hilary Knight
Country: United States 
Hilary Knight, similar to Kendall Schofield, has had an incredible career thus far, especially in the World Championships. Knight played four great seasons for the Wisconsin Badgers, making the playoffs in every single season. 
She then went to play for the Boston Blades of the CWHL and the Boston Pride of the NWHL. She then went to play for Les Canadiennes de Montreal for two seasons. Internationally is where she really shines, winning 2 Silver Olympic medals and 1 Gold medal in 2018. 
For Team USA in the World Championships, she has won 8 Gold medals and 3 Silver. She and Kendall Schofield have been the heart and soul of USA Hockey this past decade and they are hoping to repeat their Gold medal success.
3. Rebecca Johnston
Country: Canada
Rebecca Johnston came into Hockey Canada the same time as Marie-Philip Poulin, and they have been teammates since both making their Canadian Hockey debuts in 2008. She played four years for Cornell in the NCAA, but never made the playoffs. 
Internationally she has represented Hockey Canada at three Olympics where she placed Gold twice in 2010 and 2014, and Silver in 2018. She has represented Canada 10 times at the World Championships, 2 Gold, 7 Silver and 1 Bronze. 
She was also a 2015 Angela James Bowl winner for the CWHL. She scored 5 points in 5 games at the last Olympics and is looking to build off a strong previous Olympics.
2. Marie-Philip Poulin
Country: Canada
Marie-Philip Poulin is such an incredible athlete for Team Canada and has been that way since she made her international debut in 2008, same time as Kendall Schofield. She had a fantastic NCAA career, playing four seasons for Boston University, she was captain her final two seasons. 
She has been the captain for Team Canada since finishing her college career in 2015 and is going to be again this season. Poulin has won 2 Olympic Gold Medals in 2010 and 2014, and then Silver in 2018. 
She has represented Canada 9-times at the World Championships, 3 Gold, 5 Silver and 1 Bronze. She also placed Silver in both of her U18 appearances. In 2021, she was given the prestigious honor of being awarded the Hockey Canada Isobel Gathorne-Hardy award. 
This award is given to women whose values, leadership and personal traits are representative of all female athletes. She is definitely coming in hot and ready to beat Team USA and reclaim Gold.
1. Kendall Coyne Schofield
Country: United States
Kendall Coyne Schofield is the greatest American female hockey player of all time and has more Gold than most jewelry shops. She had five fantastic seasons at Northeastern University where she was captain for two seasons. 
She was awarded the Patty Kazmaier Award in 2016 for being the best player in women's collegiate hockey. In her only season in the NWHL, she was able to win the Isobel Cup. Internationally she has been representing Team USA since 2008 in the U18s tournament. 
Since then, she has won with Team USA, 6 World Championship Gold Medals, Gold Medal at 2018 Olympics, World Juniors Gold Medal, Winter Olympics Silver, 2 World Championships Silvers, and a WJC U18 Silver medal. She has been the captain of Team USA the past few outings and will be again this Olympics as well. Team USA is the team to beat this year. 
How would you rank these Olympic hockey players? Rank below to be added in the Power Rankings and to have a chance to win a gift card to LAZADA, Amazon, Fanatics.com, or more that is specific to you. Join the contest by ranking below. 
Related Links: 
POPULAR POSTS
Thank you
Your email has been successfully subscribed.
Sorry, there are no polls available at the moment.