Top 10 Olympic Hockey Teams 2022 Rankings
Where USA, Canada, Sweden and more rank in the 2022 Beijing Winter Olympic Games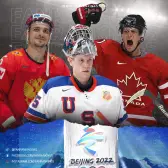 It is one of the best times to be a hockey fan as the Winter Olympics are right around the corner and this year's men's ice hockey tournament is set to start on Thursday, February 3rd and run till Sunday, February 20th. 
In 2018 the Olympic Athletes of Russia won men's Gold, Germany won Silver, and Canada won Bronze. The Russian team was full of players who could be full time NHL players. The games are also to be played at the Beijing National Indoor Stadium and Wukesong Arena. 
The general public will not have access to the games, but they will all be televised. That being said, here are the top ten hockey teams in the Men's Tournament for the 2022 Olympic Winter Games.  
Honorable Mention
Latvia 
Latvia might have the fewest number of former NHL players on their roster but are still going to ice a pretty good squad. Kaspars Daugavins played for the Bruins and Senators but hasn't been in the NHL since around 2013, he played in the NL before moving on to the KHL. 
Their goalie Kristers Gudlevskis was a Lightning draft pick but didn't have much of a shake in the NHL.  He famously almost shut down Canada during the 2014 Olympics. Latvia is an honorable mention because after the top four teams (Germany, Canada, Russia, and United States) their play level is pretty even. 
Despite not having a boatload of former NHL talent, Latvia could upset some games if their goaltending can keep up, and everyone else on their roster has significant pro experience.
Top 10 Olympic Hockey Rankings
10. Slovakia
Slovakia has a surprisingly rich international ice hockey history, players such as Peter Stastny, Marian Hossa, and Stan Mikita all hail from Slovakia. The country has produced up to 89 NHL players. 
Slovakia is a little weaker when it comes to former NHL players on their roster, but they will have Martin Marincin who played 227 games between Edmonton and Toronto. One name that might look familiar to NHL fans is Marko Dano. 
Marko Dano was a first-round pick and looked like a great winger for the Blue Jackets. After 131 games between the Blue Jackets, Jets, Avalanche and Blackhawks, he decided to take his game overseas and is currently playing for HC Ocelari Trinec. Slovakia will be competitive but not as skilled as Canada or Russia. 
9. China 
China, despite being the host country, almost did not have an Olympic team for this year's Olympic Winter Games. China as a country doesn't have a massive amount of highly skilled hockey players, so the team is being represented by foreign born players along with some Chinese natives. 
The team will have players from China, Russia, and the United States on it. These players had to forfeit their passports and temporarily become Chinese citizens as the Chinese government doesn't recognize dual citizenship. 
The most notable name on Team China is Brandon Yip who played 6 years in the NHL and also played years in the KHL and DEL after leaving North America. They also have former Red Wing and Ranger Ryan Sproul on the team. While not made of mostly Chinese players, given the fact that NHL players are not going, China will be an interesting team to watch.
8. Switzerland 
Switzerland was one of the later teams to announce their Olympic roster and the team is looking like an absolute sleeper. The team has a ton of NHL experience and is going to be led by NLA/NL legend Andres Ambuhl. 
Ambuhl has 888 NL games played and has 204 goals, 333 assists. He has also represented Switzerland 24 times in international hockey and 5 times at the Olympics. Other NHL Alumni on the team are Reto Berra, Mirco Mueller, Yannick Weber and Sven Adrighetto. 
The 11 former NHL players on the team have combined for 1,542 NHL games. Switzerland could really surprise some teams this season with the subtraction of NHL players. 
7. Czech Republic 
The Czech Republic Olympic ice hockey team is going to have some pretty big names on it. The biggest name on the team is fire captain David Krejci who is coming off a 15-year career with the Boston Bruins. 
Krejci could have easily played a few more seasons in Boston but wanted to go home and represent his country one more time. There are also former NHL players on the team such as Michael Spacek, Michal Repik, Roman Cervenka, Jakub Jerabek, Michael Frolik and Vladimir Sobotka. 
Three of those players have won the Stanley Cup. Despite having such a large number of NHL players, the Czech Republic may not be as skilled compared to their North American opponents but they will be very exciting to watch. 
6. Sweden 
Sweden is an early favorite to win their group, but I don't see it happening when stacked against Finland. They are bringing two-time Stanley Cup Champion Marcus Kruger for the ride, but that is about it for big NHL experience. 
Joakim Nordstrom also won the Cup but has since been playing in the KHL. Henrik Tommernes is going to be the defensive backbone for Sweden and has been playing great in the Swiss NL this season. 
Lars Johansson is looking like the man in net for Sweden, he was a 2019 KHL All-Star and won the Gagarin Cup championship that same year. He played on season in North America for the Rockford IceHogs before going back overseas. Sweden is going to be a tough team, but I think Finland has their number this time around.  
5. Finland 
Finland has some pretty big names in their forward core and are going to be very competitive against some of the other weaker teams. The biggest names on their roster are Leo Komarov, Markus Granlund, Valtteri Filppula, and Sami Vatanen. 
Filppula is Stanley Cup champion, winning back in 2008. Leo Komarov had a very long career, playing in the KHL before coming over to play in the NHL for the Islanders and Leafs. He won the Gagarin Cup in 2012 and 2013. 
After spending time in the AHL, it was sad seeing Markus Granlund go to the KHL, he was a longtime Canucks player. Sami Vatanen has won Bronze twice representing Finland, and after leaving the NHL to play in Switzerland, he is finally looking for that Gold. While all of Finland's goalies did play in North America, only Harri Sateri played in the NHL, totalling 9 games. 
4. Germany 
Germany was officially the last team to announce their roster after the NHL players decided to not go. Germany won Silver at the 2018 Winter Olympics and are certainly looking to go for Gold this time around. 
Tobias Rieder will more than likely be the captain and leader of Team Germany who has played 478 games in the NHL for the Coyotes, Flames, Sabres, Oilers, and Kings. There are few more NHL alumni on the team this time around with Dominik Kahun, Tom Kuhnackle and Korbinian Holzer. 
All of the goalies on Team Germany have not played North American hockey and will most likely be led by veteran goalie Danny aus den Birken. Despite USA, Canada and Russia, the playing field is pretty even, and Germany has a shot to shock the hockey world once again.
3. United States 
When NHL players aren't able to play in the Olympics, the United States team is obviously not nearly as competitive compared to Canada and Russia. The United States is icing it's youngest team in over 30 years. 
They have 15 NCAA players set to play alongside with their first teenage players on the Olympic team in 30 years. There are 5 players that recently played internationally at the World Juniors. 
Drew Commesso at just 19, is apparently the youngest goalie in the Olympics in Olympic history. Pennsylvania native, Brian O'Neill is the only player who was on the 2018 team that is returning for the 2022 Olympics. O'Neill played 22 games for the Devils in 2015-16 and most recently played for Jokerit in the KHL, last season he had 54 points in 53 games. Team USA should be significantly better than they were in the last Olympics.
2. Canada 
It is crazy that in a year where NHL players are not going, the Canadians are still icing a borderline elite squad. Canada was one of the last teams to announce and they have some big names listed. 
Stanley Cup champion Eric Staal, while older, is going to be a force for Canada as he takes his last kick at the can. He is currently playing for the Iowa Wild in the AHL. 
The most surprising name is Owen Power, the former first overall pick in last year's draft. Power could have signed pro and been a full time NHL player but opted to stay in college. Not to crack a pun, he is going to be the power for Canada's defense this Olympics. 
Power was on Canada's World Junior team a few months ago. They are looking weak in net, as they bring one goalie with NHL experience in Edward Pasquale. Pasquale played 3 NHL games and 87 KHL games. He did win a Calder Cup in 2017. 
While Canada is the Sparta of hockey, they don't look as great as the Russians. Experience alone gives them a slight edge over America.
1. Olympic Athletes from Russia 
Russia is looking like the best team going into the Olympics as they have tons of former and potential NHL talent on their roster. Some of the best hockey players in the KHL never leave to play in the NHL, hence why "Russia" typically has a very good Olympic Team without NHL players. 
The team is even being coached by Alexei Zhamnov, a former NHL coach. Slava Voynov won a Stanley Cup in 2012 and 2014, and the Gagarin Cup in 2017. Despite being allowed to return to the NHL, he opted to stay in the KHL. He won gold for the OAR in 2018. 
Artemi Anisimov and Mikhail Grigorenko also have significant NHL experience. They also look solid in net with former Flyers draft pick Ivan Fedotov in net. The OAR are looking like the favorite to win Gold in this year's Olympics. 
How would you rank these Olympic national teams? Rank below to be added in the Power Rankings and to have a chance to win a gift card to LAZADA, Amazon, Fanatics.com, or more that is specific to you. Join the contest by ranking below. 
Related Links: 
POPULAR POSTS
Thank you
Your email has been successfully subscribed.
Sorry, there are no polls available at the moment.