Top 10 Olympic Hockey Players 2022 Rankings
Ranking the best Olympic Men going into the 2022 Beijing Winter Olympic Games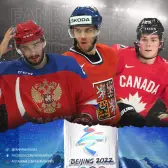 All of the national ice hockey team programs really had to scramble when the NHL players decided they were not going to attend the Olympics over COVID concerns. Honestly cannot blame them for not wanting to do so. Some players have tested positive for the virus and have had to opt out, but these 11 players are still going to be attending as of writing. 
Canada and Russia are going to be fielding pretty competitive teams without NHL players like always, but the USA is looking like a Miracle 2.0 run. Anyway, here are our top 10 players competing in this year's Winter Olympics. 
Honorable Mention  
Matty Beniers
Country: United States
Team: University of Michigan (NCAA Big Ten)
With the addition of Eric Staal, he sadly pushed Matty Beniers out of the top 10. Beniers plays with Owen Power at the University of Michigan, but as a forward. Beniers played two seasons in the USHL with the USNDT and scored 28 goals and 39 assists in 86 games. 
He then scored a point per game in his freshman season in Michigan scoring 10 goals and 14 assists for 24 points in 24 games. He was drafted second overall, right after teammate Owner Power, by the Seattle Kraken in the 2021 NHL Entry Draft. He did not immediately sign an ELC so he could return to play in Michigan once again. 
So far this season, wearing the "A", Matty has 16 goals and 20 assists for 36 points in 28 games this season. Internationally he has represented the USA hockey team three times. He won Bronze at the 2019 U18's, Gold at the 2021 WJC and then Bronze at the World Championships in 2021. He has a fantastic opportunity to make an early impression at professional level international competition. 
Top 10 Olympic Hockey Players
10. Brandon Yip
Country: China
Team: Kunlun Red Star (KHL)
Brandon Yip is a pretty familiar name just from the uniqueness of his last name alone. Drafted 239th overall in the 2004 NHL Entry Draft, Yip played three seasons for Colorado before being waived by the Avalanche. 
Yip went from Nashville to Arizona where he spent the majority of his time in the AHL and then bounced between the AHL and ECHL before heading over to Germany and then inevitably the KHL. He has been a member of the Kunlun Red Star since 2017 and captain since 2018. 
During the 20-21 season, he played 15 games for Jukurit in the Finnish Liiga. He will more than likely be the captain for Team China and will surely be an interesting player to watch. 
9. Andres Ambul
Country: Switzerland
Team: HC Davos (National League) 
It is not a stretch to call Andres Ambul the Sidney Crosby of the National League and has represented Switzerland 20 times over numerous competitions winning Silver twice. He has won 6 National League Titles with HC Davos and also won the Spengler Cup with them. 
He is a 5-time Olympian and he is surely eager to represent his country one more time. In 888 NL games played he has 204 goals and 333 assists and in 188 playoff games he has scored 45 games and 38 assists. 
In 2009 after nine seasons with HC Davos, he decided to try his hand at North American hockey. He played 64 games with the Hartford Wolf Pack after signing with the Rangers and scored 8 goals and 6 assists, then returning to the NL with the ZSC Lions. He is going to be the player to watch in Switzerland next week. 
8. Marcus Kruger
Country: Sweden
Team: ZCS Lions (National League)
Drafted 149th overall in 2009 by the Blackhawks, Marcus Kruger is a shining example of how you win Cups through the draft. Kruger played the better part of 7 seasons with the Blackhawks and Rockford IceHogs and won two Stanley Cups. 
Playing in an astounding 87 playoff Games, he scored 6 goals and 10 assists. Due to cap constraints, he was dealt to the Golden Knights for future considerations, who then traded him to Carolina for a 5th round pick. 
After a season in Carolina, he returned home to Chicago before leaving his 520 NHL game career where he scored 38 goals and 85 assists. In 2019 he signed with the ZSC Lions of the Swiss National League and has played there since. 
Internationally he has represented Sweden 7 times over multiple international competitions where he won Silver at the 2014 Olympics, Gold at the World Championships in 2017, Silver at the 2011 World Championships and Bronze at the 2010 World Junior Championships. 
Kruger will be a leader on Team Sweden this year as they look to regain top footing in international ice hockey. 
7. Sami Vatanen
Country: Finland
Team: Geneve-Servette HC (National League) 
It was rather surprising when Vatanen left the NHL to return to Europe and play in the National League, but after being waived by the New Jersey Devils and missing the playoffs with Dallas it was probably time for a change in scenery.
 Drafted by the Ducks in 2009 109th overall, he spent 6 seasons with the Ducks before being traded to the Devils. He then played three seasons with Devils before being moved to the Hurricanes and returning once again to the Devils.
Internationally he has represented Finland 8 times and won Silver at the 2014 Winter Olympics. Vatanen is a highly skilled defensemen and could easily still be playing in the NHL and will be the cornerstone for Finland's success this year. 
6. Tobias Rieder
Country: Germany
Team: Vaxjo Lakers (SHL)
Tobias Rieder hung around the NHL for a long time, spending most of his time with the Coyotes and split his last four seasons with the Kings, Oilers, Flames and Sabres. Rieder was originally drafted by the Oilers in 2011 but his rights were traded to the Coyotes before he ever signed with Edmonton. 
Rieder played in 478 NHL games, scoring 64 goals and 81 assists for 145 points. He also scored 5 points in 10 playoff games for the Calgary Flames in the Edmonton bubble. He signed a PTO with the Ducks and was unfortunately released. With his NHL opportunities drying up he signed with the Vaxjo Lakers of the SHL in Sweden. 
5. Valtteri Filppula
Country: Finland
Team: Geneve-Servette HC (National League) 
Valtteri Filppula was in the NHL for almost 20 years, spending the majority of his career with the Lightning and Red Wings. He did briefly spend two seasons with the Flyers and one with the Islanders. 
Filppula won the Stanley Cup with Detroit in 2008 and was on some very good Tampa Bay teams, including the 2015 Stanley Cup team that sadly couldn't finish off Chicago. Filppula won Bronze for Finland in the 2010 Olympics, only recording 3 goals. 
He had an okay final season with Detroit last year scoring 15 points in 38 games. Wanting to make sure he played in the Olympics, he signed a one-year contract with Geneve-Servette HC in the Swiss National League and has 36 points in 39 games so far, pretty good for an almost 40-year-old. 
He is definitely going to be a leader for Finland this year. Internationally he has represented Germany over ten times, but he only won Silver once for Team Europe in the World Cup of Hockey in 2016. 
4. Eric Staal
Country: Canada
Team: Iowa Wild (AHL)
There might be no bigger family in hockey than the Staal family, all four of the brothers made it to the NHL with two of them still playing in the NHL. Eric was the backbone and captain of the Carolina Hurricanes for over a decade before getting shipped out to be a Ranger and then spending time with Wild, Sabres and Canadians. 
In 21 games with the Canadians, he only scored 3 points, but in the postseason run with the Habs he scored 8 points in 21 games. Staal intentionally did not sign with an NHL this season in hopes of playing for team Canada. 
To prepare for his Olympic run, he signed a professional try out with the Iowa Wild of the AHL and scored 5 goals in 4 games. Staal won gold for Canada in 2010 and won the Stanley Cup in 2006. He is the captain for Team Canada. 
3. Owen Power
Country: Canada
Team: University of Michigan (NCAA Big Ten)
Owner Power was the first overall pick in the 2021 NHL Entry Draft by the Buffalo Sabres. Instead of going pro almost immediately, he decided to finish his college career before joining the rebuilding Sabres. 
Before his freshman year at the University of Michigan, he played two seasons in the USHL where he played 103 games, scoring 23 goals and 42 assists for the Chicago Steel. In his first year in the B1G for Michigan he scored 3 goals and 13 assists, this season he has 3 goals and 23 assists. 
He won Gold at the World Juniors for Canada, scoring 3 assists in 3 games. Power not signing his ELC was great luck for team Canada as this young player will get a crack at international competition while the rest of the Canadian players stay in North America.
2. David Krejci
Country: Czech Republic
Team: HC Olomouc (Czech Extraliga)
David Krejci very obviously had more in the tank and could have easily played two more seasons in Boston but opted to return home and play for HC Olomouc in the Czech Extraliga. 
The door is more than open for him to return to the Bruins after this season if he chooses to do so. Krejci won the Stanley Cup with the Bruins in 2011 and has won Bronze representing the Czech Republic internationally over multiple competitions. 
In the 2014 Olympics the Czechs placed 6th and Krejci had 3 points in 5 games. Krejci was the unsung hero for the Bruins for a long time, and a strong Olympic showing would be a great cap to his phenomenal career. Krejci currently has 17 goals and 19 assists in 41 games this season. 
1. Slava Voynov
Country: Olympic Athletes from Russia
Team: Dynamo Moscow (KHL)
With Pavel Datsyuk and Ilya Kovalchuk not attending the Olympics this year for the OAR, Slava Voynov is the guy on top. Voynov is the most decorated player attending this year's Olympics. 
Sadly, we can't gloss over the controversy for this player, but his charges were dismissed, and he is allowed to return to North America and the NHL if he wanted to do so. Before his controversial end to his NHL career, Voynov won two Stanley Cups with Los Angeles and scored 81 points in 190 NHL games. 
He then returned home to Russia to play three seasons with SKA Saint Petersburg in the KHL, winning the Gagarin Cup in 2017. He played last season for Avangard Omsk, sat out 2020-21, and then signed with Dynamo Moscow for this season where he has 5 goals and 26 assists in 40 games played. He represented Russia in 2018, winning Gold, and in 2014 placing 5th. 
How would you rank these Olympic hockey players? Rank below to be added in the Power Rankings and to have a chance to win a gift card to LAZADA, Amazon, Fanatics.com, or more that is specific to you. Join the contest by ranking below. 
Related Links: 
POPULAR POSTS
Thank you
Your email has been successfully subscribed.
Sorry, there are no polls available at the moment.