Top 10 NHL Teams – December 2021 Power Rankings
Ranking the best NHL Teams as we witness the Washington Capitals take the #1 spot so far in the 2021-2022 NHL season. Also where the New York Rangers, Toronto Maple Leafs, and more rank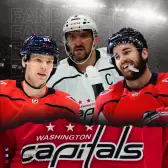 We are partially a third of the way through the 2021-2022 NHL season, with some teams playing around 30 games, with the struggling Islanders only playing 23 so far. Despite only playing 25 games, Colorado is skyrocketing to the top of the NHL standings. 
They also lead the league in goals scored at 109 goals for at the time of writing. Some teams have slipped with Pittsburgh Penguins and Edmonton Oilers sliding out of the top 10 NHL team rankings and the Las Vegas Golden Knights still in the middle of the standings. Here are the top 10 NHL Power Rankings right now this season.
Honorable Mention
Nashville Predators
Honorable mention has to be given to the Predators this season as they are second in their division with a record of 17-10-1. Matt Duchene's scoring has slipped, but still has an impressive 13 goals this season and 12 assists for 25 points. 
Roman Josi and Mikael Granlund are tied at 27 points. Juuse Saros has taken full control of the Predators net with Rinne retiring. He is currently 13-8 on the season with a GAA of 2.24 and an SV% of 9.25. They are a worthy honorable mention this season. 
Top 10 NHL Teams
10. Calgary Flames
The Calgary Flames are having a really good season, they are second in their division at 15-7-6 for 36 points. They are only behind the Anaheim Ducks and have a four-point lead on their Alberta rivals in Edmonton. Big factor in their success is Johnny Gaudreau's 30 points in 28 games. 
All eyes are on Andrew Mangiapane's 17 goals so far this season, leading the team, and is a worthy addition to Team Canada for the 2022 Olympics. Jacob Markstrom is also having a fantastic season as well, going 10-6 with a 1.94 GAA and an SV% of .933. The club is still waiting for Rasmus Andersson to score his first goal of the season but has 15 assists on the season.
9. Anaheim Ducks
The Anaheim Ducks are having a season to remember out of nowhere, going 16-9-5, leading their division with 37 points. The biggest factor in the Ducks success is the out of nowhere propulsion of Troy Terry and him lifting the team around him. 
In his fifth season with the Ducks, the Denver native has 17 goals and 11 assists in 29 games for 28 points. For a good old one two punch, the Ducks also have Trevor Zegras popping off, second in scoring with 6 goals and 16 assists. The Ducks are in the perfect zone where they have veteran leadership that's perfectly mixed with rookies. 
Well, it doesn't hurt when a good amount of your successful players are on bridge deals or ELC's. The Ducks are also benefiting from a goalie tandem in net that is on fire. Anthony Stolarz is leading the two with a GAA of 2.27 and SV% of .930. On the flip side, John Gibson is having a great season with a GAA of 2.57 and SV% of .918. It is all engines for the Ducks right now. 
8. Tampa Bay Lightning
Steven Stamkos is showing no signs of slowing down, leading the team with 32 points, 13 goals and 19 assists. Victor Hedman is also having another Norris caliber season, having 27 points in 27 games.
 The Lightning are third in their division at 19-8-2 for 38 points. They are playing in a tough division that includes the Florida Panthers and Maple Leafs. There is also a really strong Detroit team this year that is surprising many, alongside Boston who is also playing well. 
Andrei Vasilevskiy is also having another great season, going 14-4 with a GAA of 2.17 and an SV% of .927. The Lightning do appear to be slowing down after two Stanley Cups and a Florida Panther team well on the rise. 
7. Minnesota Wild
The Minnesota Wild are really benefiting from the Avalanche slow start to the season and the schedule gap that would have seen Colorado in Finland. The Wild are currently 19-8-1, leading the Central Division at 39 points with Nashville, St. Louis, and Colorado hot on their heels. 
It is no surprise that Kaprizov is leading the way for the Wild with 32 points in 28 games. He is leading the team with 22 assists. Marcus Foligno and Ryan Hartman are tied with 13 goals in 28 games. Cam Talbot is the backbone for the Wild this season. 
Currently 15-6, he has a GAA of 2.71 and an SV% of .917. There is still plenty of hockey left to play, but the Wild are owning the Central for now. 
6. Carolina Hurricanes
This team may be the second most exciting team to watch in the NHL right now. They are only one point behind the Capitals in a very exciting race for Metropolitan Division champions.
 The Hurricanes are 19-7-1 on the season and have an impressive 12-4-1 record on the road. The two names leading the team in scoring are exactly who you think it would be. Sebastian Aho is leading the team in both goals and assists at 15 goals and 17 assists in 26 games. 
Andrei Svechnikov is only 11 points behind with 9 goals and 12 assists in 26 games. Rookie Seth Jarvis is also having a great first season, not Calder worthy but his 11 points in 20 games is truly impressive. Fredrick Andersen is also finding a second life in Carolina; he is 14-5 on the season with a GAA of 1.93 and an SV% of .930. 
5. New York Rangers
With the Capitals and Hurricanes playing so well you'd think no one would notice the sudden resurgence of the Rangers, everyone is on notice. The Rangers did one of the quickest rebuilds we have ever seen and are currently 18-6-3 on the season, also one point behind the Capitals for leading the Metro. 
It looked like the Metro was going to be the division to watch this year, but the Islanders fell way off the cliff. Artemi Panarin is leading the way for the Blueshirts with 32 points in 27 games. Adam Fox is also leading all defensemen in points with 29 points in 27 games. Chris Kreider is also having a scoring revolution with 17 goals in 27 games so far this season. 
Still waiting for Lafreniere and Kakko to get going, but when they do this team is going to be dangerous to play against. Shesterkin is also solid in net for the Rangers, currently 13-3 on the season with an impressive GAA of 2.05 and an SV% .937.
4. Toronto Maple Leafs
The Toronto Maple Leafs may have been the disappointment of the playoffs last season, but it is looking like they are turning it around, hopefully getting past the first round. They are currently tied for their division at 40 points with the Florida Panthers. 
The Leafs are currently 19-8-2 and are dominating at home with a record of 12-4-1. Auston Matthews is leading the team in goals with 18 in 26 games. Matthews is tied with Tavares for points at 31, Tavares has two more games played than Matthews. 
Biggest story for the Leafs is Matthew Bunting who has 7 goals and 12 assists for 19 points in 29 games, technically in his rookie season. Jack Campbell has been the solution to most of the Leafs problems with a GAA of 1.99 and an SV% of .935 in 22 games. He is currently 14-5 on the season.
3. Colorado Avalanche
The Colorado Avalanche are firing on all cylinders and are currently the most exciting team in the NHL to watch right now. The only thing they are missing is being top of their division, but it is coming. 
So far in 25 games this season the Avalanche have scored 109 goals, while only allowing 84 goals. With the caliber of players on the team, it is surprising that Nazem Kadri is leading the team in points at 34. MacKinnon is back from injury and getting back on pace, he has 21 points in 15 games played. 
Logan O'Connor has been a revelation for the Avalanche, currently with 12 points in 25 games, slotting into the top six in most games. They finally are back to 100% in net with Pavel Francouz back with the big club after a successful recovery stint with the Eagles in the AHL.
2. Washington Capitals
The Capitals are currently holding a one-point lead on the Rangers and Hurricanes for #1 in the Metropolitan division. Alex Ovechkin is currently leading the team in goals and assists with 20 goals and 24 assists for 44 points in 28 games. 
Biggest surprise so far is Tom Wilson with 24 points in 27 games. It is still disappointing to see all this success without Backstrom, as he is still out with injury. 
Ilya Samsonov is taking full reign in net for the Capitals since Holtby left. He currently is 11-2 on the season with a GAA of 2.47 and an SV% of .915. 
1. Florida Panthers
The Florida Panthers are the #1 team in the NHL right now and their big step forward this season is truly impressive. They are currently in a three-way tie with the Capitals and Leafs for first in the league. 
The team is currently being led in points by Jonathan Huberdeau at 31 points in 27 games. Aaron Ekblad isn't that far behind with 24 points in 27 games. Sam Bennett is still turning heads in his comeback with the Panthers with 9 goals and 5 assists for 14 points in 23 games. 
Owen Tippett is also having a great season, well on pace to pass his 18 points last season. Despite early criticism, Bobrovsky is back in his old form. Bob is currently 12-2 on the season with a GAA of 2.37 and an SV% of .920. The Panthers are built for the long haul, and it may be time for another team in Florida to win the Cup. 
How would you rank these NHL teams so far in the 2021-2022 season? Rank below to be added in the Power Rankings and to have a chance to win a gift card to LAZADA, Amazon, Fanatics.com, or more that is specific to you. Join the contest by ranking below.
Related Links:
POPULAR POSTS
Thank you
Your email has been successfully subscribed.
Sorry, there are no polls available at the moment.