Top 10 NHL Players – November 2021 Rankings
Ranking the best NHL players of the 2021-2022 season so far in the month of November as Connor McDavid leads the way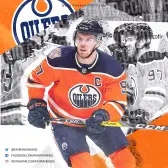 This season is roaring along, and some players are really separating themselves from the pack and we are briefly going to go over the top 10 players in the NHL Power Rankings for the month of November 2021 and where they are points wise. 
Honorable Mention
Lucas Raymond
Team: Detroit Red Wings 
This guy is looking like a rocket in his first NHL season on a Red Wings team that is surprising everyone. Not surprising considering Steve Yzerman is the General manager of the team, and he built two Stanley Cup teams in Tampa. 
Anyway, Lucas is in his rookie season with the Red Wings and has 17 points in as many games, 7 goals and 10 assists. He's currently logging top ten minutes with the Red Wings on the right flank of Dylan Larkin and Tyler Bertuzzi. He is an early Calder favorite since Byram got injured.
View this post on Instagram
Swipe for NHL MVP Fan Rankings and follow @fanrankings to stay up to date
---
Top 10 NHL Players
Andrei Svechnikov
Team: Carolina Hurricanes 
Everyone knew way back in 2018 when the Canes lucked into the second overall pick that Svechnikov was going to be special. Now the Hurricanes have the #2 and #3 pick from that draft after offer sheeting Jesperi Kotkaniemi. 
In just 218 games, Svech has 66 goals and 91 assists for 157 points and so far, this season he has 7 goals and 10 assists in 17 games. Averaging a point per game in your fourth season is incredible and he is only 21 years old with a lot of hockey left to play. The top six for the Hurricanes is stacked and Svech is the icing on the cake. 
Kyle Connor
Team: Winnipeg Jets 
This Michigan boy is about to be the first line left winger for team USA at the Olympics next year, mark my words. Entering his sixth season, all with Winnipeg, Connor has 142 goals and 128 assists in 319 games played, not including playoffs. 
So far this season in 14 games he has 11 goals and 8 assists for 19 points. The Central is weird this year, and with the wreck that Chicago is, all these teams are looking to boost their stats. He recently assisted Blake Wheeler in getting his 700th point after Connor buried a goal versus the Kings. 
Matt Duchene
Team: Nashville Predators
Going with the Nashville winger with this one is sort of a comeback story. Matt Duchene was the talk of the NHL during 2017. He wanted out of Colorado and Colorado didn't want to lose him for cheap, they held him and Sakic pulled highway robbery for it. 
He played parts of two seasons in Ottawa and was a big part of the Blue Jackets sweeping the Lightning. He then went on to sign as a free agent with Nashville. Last season he had 13 points in 34 games, this season he has 16 in almost half as many games and 9 of them are goals. 
Duchene is a first line winger with Granlund playing center, if he can keep it up Nashville may win the Central if Colorado keeps spinning tires.  
Roman Josi
Team: Nashville Predators 
The Nashville Predators made the Stanley Cup a few years back, and they haven't sniffed it since. Lately, it's been a place where over bloated center contracts go to die, ergo Matt Duchene till recently and Ryan Johansen. 
That isn't the case this year, Roman Josi is tied with Matt Duchene in points at 16 points in 15 games. Josi, the captain himself, has 6 goals and 10 assists so far and is averaging over 22 minutes a night on the ice. 
He has 123 goals and 339 assists in his career all with Nashville. They are currently second in the Central Division and Josi is a big part of that early success. 
Adam Fox
Team: New York Rangers 
Adam Fox is quite the story, at just 23, he is looking like a franchise defensemen for the New York Rangers. He was drafted by the Flames out of the USNDT and wouldn't sign with the Flames, they then flipped him to the Hurricanes, where he wouldn't sign. 
The New York native had one team in mind, the New York Rangers. He played 55 games for the team last season and scored 5 goals and registered 42 assists, enough for him to win the Norris Memorial Trophy. So far this season he has 4 goals and 12 assists in 15 games played. The Rangers are going to be an exciting team for years to come and he's going to be a leader of it. 
Frederik Anderson
Team: Carolina Hurricanes 
After 5 seasons in Toronto, Andersen left for greener pastures in free agency, heading down to the team that defeated him with a Zamboni driving emergency goalie. Last season he had a 2.96 GAA and an SV% of .895 in 24 games. 
So far this season he is 9-2 with a GAA of 1.78 and an SV% .938, he might be just what the Hurricanes need to get over their playoff hump. The biggest question mark for the Canes these past few years has been on the net, so this is the hope they finally figured it out. 
Troy Terry
Team: Anaheim Ducks 
The 5th round of the 2015 NHL Draft is really producing some gems, alongside Kirill Kaprizov to the Wild, the Ducks were able to pluck Troy Terry 148th overall. 
The Colorado native put up 45 goals and 70 assists during his three seasons at the University of Denver and recently put up 20 points in 40 games for the San Diego Gulls. 
So far this season in 15 games he has scored 11 goals and 9 assists, and he is recently a player of the week. In addition to Zegras and Drysdale, Terry has really found money for the Ducks. 
Alex Ovechkin
Team: Washington Capitals 
Ovechkin just passed Brett Hull for 4th in NHL history for goals scored at 742 goals, and at 36 years old, it looks like he has plenty left in the tank. He had a down goals year last year only at 24, but his games last season were insane. 
So far, he has 12 goals on the season, putting him on pace for 60, not sure if it happens but we all want it to. The 2018 Conn Smyth trophy winner is leading his team in points and is 3rd in the NHL in scoring.
Leon Draisaitl
Team: Edmonton Oilers
The former third overall pick from the 2014 NHL Draft is doing what everyone expected him to do, leading the NHL in points alongside his partner Connor McDavid. He has had two 100-point seasons and only had 84 points last season, but he should eclipse that this year. 
So far, he has 15 goals and 16 assists for 31 points in 14 games. He and McDavid could very well have over 120 points each this year and it wouldn't surprise anyone. Leon for Hart 2022. 
Connor McDavid
Team: Edmonton Oilers 
This is absolutely no surprise to anyone, but Connor McDavid is the best hockey player on the planet right now and might be the best so far to play the game. Wayne Gretzky himself even said so. 
The former Erie Otter and Ted Lindsay award winner is second in scoring on his team, and that's only because Leon is feeding him goals. McDavid has 10 goals and 17 assists so far this season and is on pace to have a well over 100-point season. 
Last season he had 105 points in 56 games, so that math more than checks out. He recently crossed the 600-point mark and is only missing a cup to secure his legacy. 
How would you rank these great players this past 2021-2022 National Hockey League season? Rank below to be added in the Power Rankings and to have a chance to win a gift card to LAZADA, Amazon, Fanatics.com, or more that is specific to you. Join the contest by ranking below.
Related Links:
POPULAR POSTS
Thank you
Your email has been successfully subscribed.
Sorry, there are no polls available at the moment.