Top 10 Fantasy Hockey Rookie Rankings – Draft 2022
Bringing you the Top 10 NHL Fantasy Rookie Rankings for your upcoming Hockey Fantasy Draft as Matty Beniers leads the way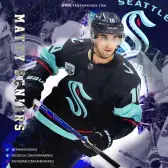 The NHL season is coming up hot and fast, many teams are already having rookie showcases and tournaments. This last National Hockey League draft was insane, and there are plenty of rookies looking to make their mark with their new team.
This is great for us fantasy hockey players, who are looking for a steal that other opponents may pass on. Here are the top ten rookies for the upcoming fantasy hockey season. 
Honorable Mention
Jake Sanderson
Team: Ottawa Senators 
Drafted 5th overall in the 2020 NHL Entry Draft, Sanderson played two great seasons for the USNDT and then moved on to the University of North Dakota.
In 45 NCHC games, he scored 10 goals and 31 assists. He also scored a Gold Medal at the 2021 WJC's. Sanderson's arrival has been anticipated by Sens fans for a few seasons now, and if he can crack the top six, he'll put up some serious numbers. 
Top 10 NHL Fantasy Rookies
10. Marco Rossi
Team: Minnesota Wild
Marco had one heck of a first season in North America after a nasty COVID-19 complications and had to return home to Austria.
He spent most of the 2021-22 season with the Iowa Wild, putting up 53 points in 63 games, only playing two NHL games. Rossi is in the running to become a top six center the Wild desperately need.
If he can crack a top six role, and be productive, he will be a great rookie pickup. He is currently 238 in NHL.com fantasy hockey rankings.
9. Shane Wright
Team: Seattle Kraken 
It was the rocking of the hockey world when Shane Wright fell to fourth in the draft. He was snagged by Seattle, who was not going to let him go to five. Wright will be looking to prove himself and make the Canadiens regret selecting Slafkovsky.
Wright put up 94 points in 63 games last season and is going to be a great one two punch for the Kraken along with Matty Beniers. He is currently ranked about 240th in the NHL fantasy rankings.
8. Juraj Slafkovsky
Team: Montreal Canadiens 
It was an absolute shock that Juraj went first overall in the 2022 NHL Draft. Shane Wright was the go-to first overall pick and the Canadiens went another way.
Juraj has excelled at every level he has played in, and I doubt the NHL will be any exception. In 31 Liiga games last season he scored 10 points.
I think there is a little bit of skepticism that he makes the opening night roster, but if he does, he is primed to put points up for a fantasy team.
7. Simon Edvinsson
Team: Detroit Red Wings 
Edvinsson was drafted 6th overall by the Red Wings in 2021 and after a very successful season in the SHL, he is looking to come across the pond.
The 6-foot 6 defenseman is sure to get some serious looks on the top defensive pair with Seider and could be considered a top 50 defenseman this season.
6. Alexander Holtz
Team: New Jersey Devils 
Holtz was drafted 7th overall in 2020 by the New Jersey Devils. When Swedish players come over to the North American system, sometimes there are some major adjustments that need to be made.
After two successful SHL seasons, Holtz came over and played 10 AHL games for the Devils AHL team, scoring 3 points.
The next season in the AHL he scored 51 points in 52 games. Holtz will surely be a mainstay on the Devils top six this fall and should be on the radar of any fantasy players this season.
5. Andrei Kuzmenko
Team: Vancouver Canucks 
Andrei Kuzmenko is going to be a slam dunk pick up for the Canucks and your fantasy hockey team. He has had a similar career to Panarin and Kaprizov, playing multiple professional seasons and now coming to the NHL as a rookie.
In 315 KHL games, he has had 200 points. He is an early Calder favorite and surely will be a nice steal for a fantasy team.
4. Jack Quinn
Team: Buffalo Sabres 
Jack Quinn was a rare forward pick by the Sabres in the first round of the 2020 NHL Entry Draft, they typically pick defenseman.
The big right winger had three great seasons with the 67s of the OHL before coming over to the AHL.
In 60 AHL games, he scored 28 goals and 42 assists for 70 points. He will surely have a shot to prove himself with the Sabres this fall and depending on how it goes, he could be a great pickup.
3. Cole Perfetti
Team: Winnipeg Jets 
Perfetti was drafted 10th overall in the 2020 NHL Entry Draft by the Jets, and he has been already adopted and loved by the fanbase.
He only played 17 games for the Jets last season and did well, but not enough to lose the rookie tag. In 18 games he scored 7 points for the Jets and then scored 15 points for the Moose in the AHL.
He is going to come HOT out of the gate and should be high on the list for anyone drafting this season.
2. Owen Power
Team: Buffalo Sabres 
It wasn't quite a shock, but still surprising when Owen Power decided to play another season in the B1G instead of going pro and getting paid.
Drafted first overall in the 2021 NHL Entry Draft and was a powerhouse on the back end for Michigan for two seasons. In 59 games he scored 6 goals and 42 assists.
He did play eight games for the Sabres last season putting up 3 points, pretty good production. He should be in the running for a Norris in a few seasons.
1. Matty Beniers
Team: Seattle Kraken 
Matty Beniers is the go-to winner for rookie of the year this upcoming season if he can out produce Kuzmenko. In 61 games for Michigan, he scored 30 goals and 37 assists.
He then moved on to the Kraken, playing 10 games, and scoring nine points. Beniers is going to come out of the gate. Hot. I wouldn't take him first overall, but you definitely want to snag him in the later rounds. 
How would you rank these fantasy NHL rookies going into your fantasy draft? Rank below to be added in the Power Rankings
Related Links:
POPULAR POSTS
Thank you
Your email has been successfully subscribed.
Sorry, there are no polls available at the moment.