NHL Top 10 Defensemen Rankings – April 2021
John Carlson continues his great play on the ice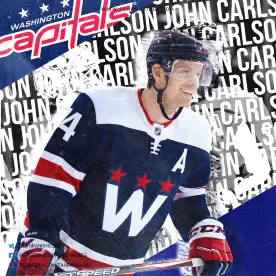 (Don't forget to rank your Top 10 Defensemen at the end of this article)
10. Shea Weber, Montreal Canadiens
The Canadiens defenseman was written off as close to done when injuries hampered his game with the Habs, but it sure looks as if they ultimately made the right decision trading him straight up for a fading PK Subban.
Using his strength, size, physicality and big shot to lead the Canadiens while averaging 24:24 of ice time. We all know that Weber might not be what he once was at 34, but he's shown that he can still be a No. 1 when he's healthy.
9. Quinn Hughes, Vancouver Canucks
It is believed that the future is bright for Quinn Hughes. With his potential and mentality he is one of the most improved players in the NHL. Only 20, the 5-10, 170-pounder is going to have to tighten up his defensive game with a minus-9 mark so far this season. Hughes is another example of the young, vastly talented Canucks team that GM Jim Benning is building out in Vancouver. Hughes has been the top offensive defenseman in the league this season, leading all players at the position with 21 points (two goals, 19 assists). He quarterbacks the power play and orchestrates it well, with 11 of his assists coming with the man advantage. His quickness makes him a one-man breakout machine.
8. Ivan Provorov, Philadelphia Flyers
Provorov is in his fifth NHL season. He's playing as much as he ever has (25:07 time on ice per game), although his offense and puck possession are a tick down from last season.
He hasn't gotten into the Norris conversation yet, but Provorov was ranked in the top 10 on seven ballots in the survey. One NHL general manager had him second overall, his highest ranking. That alone was the difference between Provorov getting the final spot by a slim margin over Brent Burns (27 points).
7. Charlie McAvoy, Boston Bruins
Charlie is playing in one of the best shot-suppressing teams in NHL, which is somewhat surprising since they parted ways with Torey Krug and Zdeno Chara in the offseason.
But Charlie McAvoy has been key to the Bruins' success on the blue line. He leads all Boston defensemen with 13 points (two goals, 11 assists), which is tied for 14th in the NHL, but it's about more than just point production.
6. Jeff Petry, Montreal Canadiens
During his 12th NHL season, he has made strides in his defensive play and taken some advice from baseball great Roger Clemens to improve his mental approach.
Jeff knows how to play against bigger opponents and with his playing style The Habs have more high-danger chances on the ice than ones they give up.
View this post on Instagram
Swipe right for April Fan Rankings. Follow @fanrankings to stay up to date
---
5. Aaron Ekblad, Florida Panthers
Ekblad has blossomed into one of the best shutdown defensemen in the NHL. He's used to playing big minutes in big situations and he's producing in those situations. The first overall pick in the 2014 draft has three power-play goals on the top unit, and he's been involved in more for the league's eighth-ranked power play. His six goals are tied for the most among all defensemen.
Ekblad has been consistently good since he was drafted, but his game has always lacked in certain areas. He's shown flashes of being a complete defenseman, and this might be the year when he puts everything together.
4. Darnell Nurse, Edmonton Oilers
The Edmonton Oilers were dealt a big blow when they lost Oscar Klefbom for the season but Darnell Nurse has stepped up in his place. The 26-year-old has taken on a leadership role in the locker room and on the ice as a top-pairing defenseman.
Does it make him a good candidate for the Norris Trophy? In this case, the answer is probably yes. Nurse has clearly made himself an invaluable player for the Oilers.
3. Victor Hedman, Tampa Bay Lightning
Hedman does everything you want a No. 1 defenseman to do and does them better than almost every other blueliner in hockey's greatest league. He skates better than most people of his size (6'6″), uses his body to his advantage, has tremendous shutdown ability, logs big minutes, is a great passer and can drive the play.
He's the most complete defenseman in the league, and the Norris Trophy is awarded to the most complete defenseman of a given season. So Hedman will be in the conversation as long as he's healthy.
2. Cale Makar, Colorado Avalanche
Cale Makar has had an incredible career trajectory. The UMass product won the Hobey Baker Award as college hockey's best player in 2019, he was the Calder Trophy winner as the NHL's best rookie in 2020 and he's a favorite to win the Norris Trophy as the top defenseman on a team with Stanley Cup aspirations.
Makar has struggled with injuries this season, but unless he spends significant time on injured reserve, it's unlikely to damage his resume. If the Avalanche and Makar keep playing the way they have been, then he should run away with the award.
1. John Carlson, Washington Capitals
Carlson now sits fourth in points among all NHL defensemen. He trails Jeff Petry (18), Tyson Barrie (18), Victor Hedman (19), and Quinn Hughes (21).
Carlson's early production could make him another strong contender for the Norris Trophy, an end-of-the-year award given "to the defense player who demonstrates throughout the season the greatest all-around ability in the position," according to the NHL.
Last year, Carlson was a finalist for his first Norris Trophy after leading all defensemen in points (75) and assists (60). First-time nominee, Roman Josi, from the Nashville Predators, ended up taking home the honor after having comparable stats offensively and being an overall better defender.
How do you rank these Defensemen? Rank below to be added in the Power Rankings and to have a chance to win a gift card to LAZADA, Amazon, fanatics.com, Jumia, and more (Depends on your country). Sign up for our Newsletter for updates. Contest Ending May15th
POPULAR POSTS
Thank you
Your email has been successfully subscribed.
Sorry, there are no polls available at the moment.