NHL Top 10 Center Rankings – April 2021
Connor McDavid, the clear #1 Center in the NHL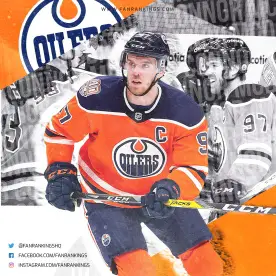 (Don't forget to rank your Top 10 Centers at the end of the article to have a chance to win a prize)
10 . Aleksander Barkov, Florida Panthers
For the number 10 side I chose the center from Finland – Aleksander Barkov who plays for the Florida Panthers. With his strength and offensive abilities he is ranking higher than players like Eichel or Bergeron.
On offense, Barkov has 40 points through 33 games in this season. He definitely has a high playing IQ. Also, Barkov with his defensive prowess has him in the Selke conversation annually, although he has been unable to break through to become a finalist.
9. Mathew Barzal, New York Islanders
For me Mathew is one of the best young players in the league. This season, the 23-year old center is the most impactful offensive player for the New York Islanders and has improved every season.
Barzal was criticized for his defense, but with his offensive skills, he is definitely one of the best player in NHL.
8. Brayden Point, Tampa Bay Lightning
One of the players who has perfect offensive and defensive prospects. For the last 3-4 years, Brayden has the 14th best points per game average among centers in the regular season.
It is obvious that Brayden is more productive in the playoffs than the regular season, but it doesn't make sense.
7. Jack Eichel, Buffalo Sabres
Jack's statistic impressed me – despite injuries, Sabres's center had 18 points in 21 games this season.
Buffalo Sabres has an awful season, but Jack does not stink. It is interesting that Eichel appeared on every top-10 ranking save three of them: one from a veteran NHL defenseman and one from a NHL insider.
6. Patrice Bergeron, Boston Bruins
One of the veteran centers in my top 10 is Patrice Bergeron, who is the defensive standard by which others are judged.
As you know, Patrice is four-time Selke Trophy winner and is working on nine straight seasons as a finalist for the award.
5. Leon Draisaitl, Edmonton Oilers
Some people think that Leon is easily as good defensively as Mcdavid. Draisaitl received two third-place votes, five fourth-place votes.
Leon is third to Mcdavid and Mackinnon in points per game average among centers since 2017-18 season.
4. Auston Matthews, Toronto Maple Leafs
I can see that Auston Matthews is one of the most gifted goal-scoring centers in the NHL history for the past few years.
Every center in the NHL needs goals and Auston has got it. But on the other hand, you need to defend as well, and with his defensive awareness, Matthews is out of my Top 3.
3. Sidney Crosby, Pittsburgh Penguins
Crosby is a very high level, experienced center in the league. His days of challenging for the league scoring title could be in the rearview mirror, but he remains one of the NHL's most dynamic and complete players, building on a career that rates among the greatest in Ice Hockey history.
I think Sidney is one of the best who ever played this game, so he is definitely a generational player.
2. Nathan MacKinnon, Colorado Avalanche
Colorado Avalanche's center has definitely great season. The gap between him and McDavid was considerable, but MacKinnon was a solid second choice for me.
Most of Colorado Avalanche's W was coming from Nathan MacKinnon's great game. With his skills and potential, he definitely can improve and show others that McDavid is not the only best center in the league.
1. Connor McDavid, Edmonton Oilers
Edmonton Oilers's center was the clear No. 1 for me. He is fabulous player with his statistic. Except that, he is great leader for the team and his courage is appreciated by his teammates.
While he's not a Selke Tropy finalist yet, he has two scoring titles, two player of the year awards from the NHLPA and one Hart Trophy. I can say without any hesitation that he is the best center in the world.
Where do you rank these Centers? Rank below to be added in the Power Rankings and to have a chance to win a gift card to LAZADA, Amazon, Fanatics.com, or more that is specific to you. Your Fan Rankings will be added to our Power Rankings as well. Join the contest by ranking below.
POPULAR POSTS
Thank you
Your email has been successfully subscribed.
Sorry, there are no polls available at the moment.