What Patrick Mahomes and the Kansas City Chiefs need to address this offseason
Post the Super bowl loss what are the next steps for Patrick Mahomes and the Kansas City Chiefs to reverse their fortunes next season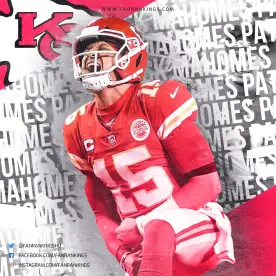 After coming off an upsetting loss to the Tampa Bay Buccaneers, the Kansas City Chiefs have a few things to address in this upcoming offseason. Kansas City has reached back to back Super
Bowls and has gone 38-10 in the "Mahomes Era," so they are far from panicking. Still, there are a few significant problems in this upcoming offseason that need to be addressed to protect
Mahomes and once again look to run the AFC West and the conference as a whole.
The first significant point of concern is their future salary cap. With the salary cap looking like it will be reduced in this upcoming year after a down year due to covid, the Chiefs are among the
many teams facing salary cap problems. While they have many of their cornerstone piecessigned long-term, they have an estimated  -$11 million in cap space heading into next season.
With many starters needing extensions to remain with the team next season, the front office will need to make some difficult decisions that will result in several players getting cut. With a
top-five offense and a top 12 defense, the Chiefs have room to grow on both sides of the ball; the number one concern heading into this offseason should be the offensive line.
The central bright spot is that the offense looks like it will be coming back nearly 100% intact. They will most likely lose a few pieces here and there but retaining key components in Tyreek
Hill, Travis Kelce, Clyde Edwards-Helaire, a majority of the offensive live and several other role players will allow for the front office to put all of their energy into building up the defense that
will need some help with the future budget cut.
View this post on Instagram
One of, if not the most underrated keep is their Offensive Coordinator, Eric Bieniemy. While it is unfortunate that he was overlooked for a head coach position after several openings, this is a significant boost for the offense. With what looks to be a full offseason and the ability to work and meet in person, this offense could be even better as Bieniemy is coaching for a future head
coach position. The offense is coming off of a lackluster performance in Super Bowl LV, and this group will be eager to put in the work after they were left with a bad taste in their mouth to
conclude the 2020-2021 season.
Suppose the Chiefs can address their injuries on the offensive line and make it out of the offseason without losing too many starters in free agency. In that case, the future for Kansas City
will always look bright with Mahomes under center, and it wouldn't be a shock to see them in their 3rd straight Super Bowl and continue their dominance well beyond that.
Where do you rank the Kansas City Chiefs next season? Doing so below will make you automatically entered in our contest that could win you up to $50 in a gift card to Amazon or Fanatics.com. Your Fan Rankings will be added to our Power Rankings as well. Contest ending March 31st 
POPULAR POSTS
Thank you
Your email has been successfully subscribed.
Sorry, there are no polls available at the moment.