Tyrann Mathieu Overcoming The Odds to Superbowl Champion
Tyrann Mathieu's journey to his second Superbowl ring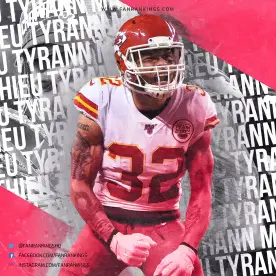 Superbowl Coverage: Tyler Johnson and Antoine Winfield Jr – Gopher teammates to Buccaneers going to the Superbowl
With the Super Bowl just around the corner, there are several players who come from
unlikely upbringings, have faced adversity, and overall come from a melting pot of different
backgrounds. Some say that that melting pot is what makes team sports one of the places where people learn the most about themselves and others. While both teams have several players who have been doubted along their journey, one of the most doubted through his journey is the Kansas City Chiefs safety Tyrann Mathieu.
Mathieu had a rough childhood while living in New Orleans. Mathieu's biological mother
was not in his life for the majority of his childhood, and his biological father has been incarcerated for murder most of Mathieu's life. This led Mathieu to be raised by his grandparents for a long period of his childhood. After his grandfather had passed in 1997, Mathieu was adopted by his uncle and aunt Tyrone and Sheila Mathieu.
Mathieu was a standout recruit with a four-star rating and was listed as the number 13
cornerback of the class. His senior year, Mathieu accepted a scholarship to attend LSU, where he played for coach Les Miles and the LSU Tigers. Mathieu made an immediate impact as a true freshman playing in all 13 games while starting in one. He finished the season with 59 tackles, 3 sacks, and 2 interceptions. He was the defensive MVP of the 2011 Cotton Bowl where he recorded seven tackles, two forced fumbles, one fumble recovery, one interception, one sack, and one pass defense.
The following year Mathieu had a stellar season recording 77 total tackles, 1.5 sacks, 5
forced fumbles, 2 interceptions, and 4 fumble recoveries (2 for a touchdown). Mathieu added 26 punt returns for 420 yards, with 2 return touchdowns. He was named the MVP of the SEC Championship Game. This season is when he earned the nickname "The Honey Badger " for his ability to play extremely tough against bigger and stronger opponents. His tremendous season led to him being a Heisman Trophy finalist. Mathieu was later awarded the Chuck Bednarik Award , for the best defensive player in college football.
In August of 2012, LSU announced that Mathieu would be dismissed from the program due
to violating team rules. News outlets reported that the dismissal was a result of several failed drug tests, but those reports were never confirmed. In August of 2012, Mathieu officially withdrew from LSU and entered a drug rehab program in Houston. Mathieu returned on September 4, 2012, enrolling in fall semester classes after he was expected to miss the entire academic year. On October 25, 2012, Mathieu and three other former LSU players were arrested for possession of marijuana.
On November 29, 2012, Mathieu announced that he would enter the NFL Draft. Mathieu
attended the NFL Combine and completed all of the positional drills as well as the test outs. He was projected to be a second or third-round pick by the majority of NFL draft experts and scouts. The Arizona Cardinals ended up taking Mathieu in the third round. Mathieu was the sixth safety drafted in 2013. While Mathieu has had a wild road to where he is now including a stop in Houston with the Texans, Mathieu is in his second year in Kansas City competing for his second ring in as many years.
Where would you rank Tyrann Mathieu among Free Safeties? Rank below the top 10 Free Safeties this season to be added in the Power Rankings and to have a chance to win a gift card to Amazon or fanatics.com. Contest Ending March 31st.
POPULAR POSTS
Thank you
Your email has been successfully subscribed.
Sorry, there are no polls available at the moment.