Top 10 NFL Players MVP Race – December 2021 Rankings
Ranking the best NFL Players in the 2021 - 2022 MVP Race with players such as Tom Brady, Aaron Rodgers, and Jonathan Taylor in the mix for the month of December 2021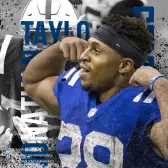 The 2021 National Football League season is rolling along as the 2021 NFL schedule is half over as the calendar month jumps to December. With every team having played at least 11 games and some having played 12, it gives you an opportunity to look at the front runners for some of the 2021 NFL Awards including the 2021 NFL MVP award. 
This year the race is heated with a wide range of talented players looking to take home the prestigious award including the likes of Tom Brady, Cooper Kupp, Jonathan Taylor and Matthew Stafford to name just a few.
As with any award it is difficult to pin it to just one player despite the early successes we have seen from a long list of players around the NFL. Before we get to our power rankings of the Top 10 NFL Players, the historical statistics continue to point towards the quarterback position as the top option year in and year out. 
Heading into the 2021 NFL season, a quarterback had won the award in eight straight seasons as well as in all but four seasons since 2000. The only other players to have won the award over that stretch was the running back position.
Now with that said, here is our list of the Top 10 NFL Players MVP Race.
Honorable Mention
Derrick Henry
Team: Tennessee Titans
Despite playing in just eight games and is expected to miss the rest of the season, Derrick Henry was putting together a storied 2021 resume to start the season. In eight games Henry was leading the NFL in yards per game (117.1 ypg), touchdowns (10) and total rushing yards (937). 
Despite missing the past few weeks, Henry still sits second in rushing yards and second in rushing touchdowns while playing three to four less games. The Titans were 6-2 with Henry in the lineup and are just 2-2 without Henry in the lineup.
Mac Jones
Team: New England Patriots
The second NFL MVP honorable mention is the New England Patriots rookie quarterback Mac Jones who is putting together a terrific rookie season while positioning the team atop the AFC East just ahead of the Buffalo Bills. 
Jones currently ranks 10th in passing yards (2,850), 13th in touchdowns (16) while having fewer interceptions (8) than the likes of Tom Brady, Matthew Stafford, Patrick Mahomes, Josh Allen and Justin Herbert.
Top 10 NFL Players
Deebo Samuel
Team: San Francisco 49ers
One name that might get overlooked around the NFL is the San Francisco 49ers wide receiver Deebo Samuel. Samuel, who has been a key weapon in the 49ers offensive attack this season has not had the luxury of playing with an MVP caliber quarterback while also seeing fellow star weapon Greg Kittle battle injuries. 
Despite that, Samuel is a jack of all trades as he has been a weapon in both the receiving and running game. Samuel ranks 4th in the NFL in rushing yards 1,006 and is tied for 18th in the NFL with rushing touchdowns (5).
Deebo Samuel plays football today. pic.twitter.com/TGyiIxva8J

— ً (@javiskiboo) November 28, 2021
Dak Prescott
Team: Dallas Cowboys
The Dallas Cowboys quarterback is having a great season despite missing time with an injury. Prescott has racked up 2,932 yards to go with 22 touchdowns and seven interceptions while completing 69.4 percent of his passes. Prescott ranks 4th in completion percentage, 8th in passing yards per game and tied for 8th in passing touchdowns. 
Prior to his injury the Cowboys were 5-1 to start the season. Since his return the team has struggled winning just one of four however the Cowboys are 6-4 and atop the NFC East.
Some decent ball placement from Dak Prescott to CeeDee Lamb on 3rd down pic.twitter.com/bqQjZhctuz

— Nate Tice (@Nate_Tice) December 3, 2021
Nick Chubb
Team: Cleveland Browns
One of the NFL's top running backs continues to put up solid numbers this season despite missing time due to COVID-19 and injuries. Nick Chubb enters December having rushed for 867 total yards on the year on 150 attempts and six rushing touchdowns in just nine games this season. 
In addition, Chubb has pulled in 14 catches for 106 yards with one touchdown receptions. The Browns running back leads the NFL in yards per carry averaging 5.8 each time he carries the ball.
Mesmerized by how easy Nick Chubb makes this TD run look. This isn't walk-throughs bro pic.twitter.com/eR21r0M1cq

— Alex Rollins (@AlexRollinsNFL) November 30, 2021
Joe Mixon
Team: Cincinnati Bengals
Coming in at number seven on the Top 10 NFL Players MVP race list is the Cincinnati Bengals running back Joe Mixon. Mixon currently sits third in the NFL with 924 rushing yards through his first 11 games while adding the second most rushing touchdowns with 11. 
Mixon has yet to fumble this season despite carrying the ball the most in the NFL with 208 total carries. The former Oklahoma Sooners running back has also pulled in 26 catches for 192 yards with two touchdown receptions.
Put this one on Joe Mixon's career highlight reel WHEW pic.twitter.com/dxDP8CTlR6

— Mike (Sans) (@bengals_sans) November 29, 2021
Aaron Rodgers
Team: Green Bay Packers
It is hard to look past Aaron Rodgers as an MVP candidate year in and year out. The same case be said for the 2021 NFL season after the Green Bay Packers star took home the award last season. 
Rodgers ranks 9th in passing yards (3,013), 6th in touchdown passes (23) and third in interceptions (4) among quarterbacks with at least 200 passing attempts. In addition Rodgers has helped the Packers to a 9-3 start and first place in the NFC North to start the 2021 NFL schedule.
The greatest precision throw from Aaron Rodgers that you haven't seen?? pic.twitter.com/jyJYAI0wMg

— IKE Packers Podcast (@IKE_Packers) November 21, 2021
Davante Adams
Team: Green Bay Packers
Unfortunately the wide receiver position gets little attention in the NFL MVP award voting year in and year out. However that doesn't mean star wide outs like Davante Adams hasn't played like an MVP all season long and has the significant importance as any other play in the NFL. 
Adams is 2nd in the NFL in receiving yards with 1,083, 2nd in yards per game with 98.5 and 18th in the NFL in touchdowns with five. The 1,083 yards is the third time over the past four seasons Adams topped the 1,000 yard mark.
This route by Davante Adams ?

Unstoppable pic.twitter.com/knnhwsq4FC

— Eli Berkovits (@BookOfEli_NFL) November 27, 2021
Matthew Stafford
Team: Los Angeles Rams
New state, new colors and new team has revived Matthew Stafford as he put the Los Angeles Rams on track to make the NFL playoffs in 2021. The Rams new quarterback has passed for the 3rd most passing yards in the NFL this season with 3,316 and the 2nd most passing touchdowns with 27 to start 2021. 
With this success the Rams have gotten off to a 7-4 start and holding on to a wild card spot while sitting just behind the Arizona Cardinals in the NFC West. 
OBJ sighting! Matthew Stafford connects with Odell Beckham Jr. and he takes it to the house for a 54-yard TD pic.twitter.com/1Qci0ZSaGd

— Ari Meirov (@MySportsUpdate) November 28, 2021
Cooper Kupp
Team: Los Angeles Rams
With the success of Cooper Kupp this season and the solid play of Matthew Stafford, the Los Angeles Rams are a true contender to make a strong run in the NFL Playoffs. 
As far as for Kupp, the Rams wide receiver is making a strong case to be considered as the league MVP while ranking third among the Top 10 NFL Players MVP race. Kupp leads the NFL in receiving yards (1,237), receiving touchdowns (8), yards per game (112.5) and yards after catch (539).
Cooper Kupp demanding the double team. Obviously gonna shake the first guy out of his shoes.

Frees up Van for the deep shot 1v1. pic.twitter.com/1iSc1FxR3R

— JetPack Galileo (@JetPackGalileo) December 1, 2021
Tom Brady
Team: Tampa Bay Buccaneers 
All you can say is the GOAT is making another run at yet another NFL MVP award. The future Hall of Famer, former Super Bowl MVP, and current Tampa Bay Buccaneers quarterback continues to play at a high level this season while ranking near the top in nearly every passing category. 
Brady ranks 2nd in passing yards (3,403), 2nd in passing yards per game (309.4) and 1st in touchdown passes (30) while leading the Buccaneers to the top spot in the NFC South. 
This man Tom Brady told Leonard Fournette the coverage as he was getting into his drop ? pic.twitter.com/MoQkNZzHad

— Footballism™ (@FootbaIIism) November 26, 2021
Jonathan Taylor
Team: Indianapolis Colts
While it will be far-fetched that a positional player outside a quarterback will win the award in 2021, it is hard not consider Jonathan Taylor as the NFL MVP if he continues his current pace and production to start the season. Taylor is currently the NFL leading rusher in yards (1,205) and rushing touchdowns (14) while coming in just behind Derrick Henry in yards per game.
In the year the Indianapolis Colts running back has topped the 100 yard mark in six different contests and in each of those games the Colts won. In games when Taylor has rushed for less than 100 yards the Colts have lost all six games. 
#NFL #AFC Offensive Player of the Month:#Colts RB: Jonathan Taylor!

(2nd month in a row for this award!) pic.twitter.com/QkaYNok36j

— Lawrence Owen (@Colts_Law) December 2, 2021
How would you rank these NFL MVP candidates this 2021-2022 NFL season? Rank below to be added in the Power Rankings and to have a chance to win a gift card to LAZADA, Amazon, Fanatics.com, or more that is specific to you. Join the contest by ranking below. 
Related Links:
POPULAR POSTS
Thank you
Your email has been successfully subscribed.
Sorry, there are no polls available at the moment.