Mitch Trubisky and his future as a Chicago Bear
Can Trubisky save his career in Chicago?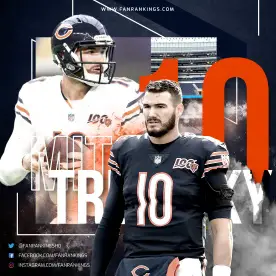 If you've seen any Chicago Bears, Kansas City Chiefs, or Houston Texans games you
have probably heard or seen several comparisons about the quarterbacks that the 2017 NFL Draft
produced. While Houston and Kansas City have recently extended their quarterbacks (Deshaun Watson
and Patrick Mahomes) to four and ten years respectfully, Chicago has declined to pick up Mitch Trubisky's
fifth-year option. Ever since the Bears traded up to take Trubisky at #2 overall, over both
Mahomes and Watson, they have been under the microscope from the fans, the media, and most
importantly the team itself.
When all hope was lost after Mitch Trubsiky was benched in week 3 vs. Atlanta, Trubisky's
career in Chicago appeared to be as good as done. Throughout the course of the season, Nick
Foles was a steady starter, though the team did not perform with him under center, going just
2-5. Since Trubsiky filled in for an Injured Foles in week 12, the team has gone 3-2 and is
currently on a three-game win streak. While Trubsiky has performed very similarly as his fellow
quarterback throughout the season, the team manages to play much better while Trubisky is
under center, going 6-2 as a starter.
With a playoff berth on the line, the Bears have gotten hot down the stretch resulting in a
3-game win streak leading into week 17. With a number of different scenarios that would result
in the Bears reaching the playoffs, they are in a win-and-in scenario. If Mitch Trubisky manages to
come out victorious vs. the Packers, to secure a playoff berth, he could find himself with a
potential contract extension and another chance to prove himself to Chicago's faithful. Trubsiky
is coming off a down year but he is just two years removed from a Pro Bowl nomination and was
a made field goal away from the first playoff win of his career.
The end of this season and how Mitch Trubisky fairs against the Packers in the season finale
and a potential playoff berth will be make or break for Trubsiky in Chicago. With a stacked 2021
quarterback class, with 4-6 quarterbacks consistently projected in the first round and the Bears
owning their 1st round pick for the first time since they traded for Khalil Mack in 2018, they
could be in a position to select their Trubisky replacement. Chicago's defense remains amongst
the top of the league and the winning window is slowly closing so the Bears need to make a
decision this off-season on how they will move forward at the quarterback position.
With all that being said, it appears very likely that Mitch Trubsiky will prove the haters wrong,
securing a playoff berth, and saving his career in Chicago. The Bears need the Rams to come out
on top vs. the Cardinals in week 17 or simply a win vs. the Packers. If Trubisky comes out
victorious in week 17 and wins a playoff game he will most certainly save his career in Chicago
and earn himself at least a one-year extension with the team.
Does anyone place Mitch Trubisky in the Top 10 of Quarterbacks? Rank below to be added in the Power Rankings and to have a chance to win a gift card to Amazon or fanatics.com. Contest Ending January 31st
POPULAR POSTS
Thank you
Your email has been successfully subscribed.
Sorry, there are no polls available at the moment.