Top 10 Shooting Guards in the NBA – April 2021
Paul George is the best Shooting Guard in the NBA?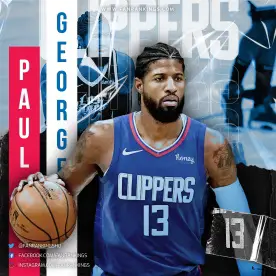 10. Demar DeRozan, San Antonio Spurs
DeRozan is one of the most consistent players in the NBA. He's one of the the most underappreciated at the same time majorly because of his non flashy game and his game doesn't create big numbers. The four time All Star has been to the playoffs in almost all of his seasons with a career average of 20 PPG. He is one of the most efficient players and always influences the game in a positive way.
9. Zack LaVine, Chicago Bulls
This young star is rising fast. LaVine became an All Star for the first time this season for his spectacular and consistent performance for the Bulls. He is averaging an impressive 28 PPG this season on an efficient 52% FG percentage and 43% from 3. Also a 2 time dunk contest champion, his bounce and near good defense adds another dimension to his game, he's going to be the best SG in the league very soon.
8. Terry Rozier, Charlotte Hornets
Scary Terry came into the limelight during his time with the Boston Celtics because of his posters and clutch performances. After signing with the Charlotte Hornets he got a bigger role and he rose to expectations improving to 18 PPG from 9 PPG. Currently averaging 20 PPG and helping Charlotte with a winning record. He's an efficient player in clutch moments and an underrated 3 point shooter averaging 43% from beyond the arc. Deservingly a Top 10 SG in the league with his performance and his team's performance.
7. Jaylen Brown, Boston Celtics
Another young star who is improving impressively pretty quick and already having a winning effect on his team. Brown made his first all star appearance this season while averaging almost 25 PPG and shooting with good efficiency and great defensive skills. Him and Jayson Tatum have risen to expectations and are making a strong statement in the league. Already have made it to conference finals last season they are aiming for the same success and Brown is huge part of that process.
6. CJ McCollum, Portland Trailblazers
CJ earned the most improved player of the year award for his huge leap he made in his 3rd year in 15′-16′ season and is currently having an all star type season, he forms one of top 3 backcourt in the NBA with Damian Lillard. He is easily one of the most skilled players in the league and and a scorer who can get you buckets whenever needed. His solid scoring abilities and experience makes him the one the best SG in the NBA.
View this post on Instagram
Swipe right for March Fan Rankings. Follow @fanrankings to stay up to date
---
5. Donovan Mitchell, Utah Jazz
A 2 time All Star in his 4th year in the league, already a proven Star who has won multiple playoff series, and he is definitely a future superstar of the league. He's a promising talent and is already leading the best team of the season. Donovan is the type of player who can score in any situation including the tougher playoffs and also disrupt the offense of the opposing team with his sneaky defense and quick hands.
4. Devin Booker, Phoenix Suns
One of the best scorers in the league and widely famous for scoring 70 points against Celtics at 20 years of age. All his clutch performances are well known to every NBA fan but he made a huge statement last season when he lead suns to 8-0 record in the bubble. This continued into this season, with the addition of Chris Paul to the team and another strong season from Booker with 25 PPG, suns have the 3rd best record in the NBA. His consistent and well trusted scoring abilities over the years definitely puts him in top 5 SG of the NBA.
3. Kyrie Irving, Brooklyn Nets
What holds Kyrie Irving back is his not so good defense but Uncle Drew's unique and spectacular offensive firepower makes up for his weaknesses. He's a 7 time all star and a 2016 NBA champion where he hit that game deciding shot over Steph Curry and dominated the whole series. Currently playing for the Brooklyn Nets he's averaging 28 PPG even though he's playing alongside Harden and Durant. Kyrie is the most creative and box office type players the game has ever seen and one of the best Ball handlers (if not the best) of all time. The way he's playing with efficiency at SG position alongside Harden is something different and makes him one of the top SG in the league without any doubt.
2. Bradley Beal, Washington Wizards
The current top scorer of the NBA with almost 32 PPG and 3 time all star has been the best scorer in the league for past 3 seasons. His wide range of skills and moves helps him score big in every situation and in almost every game. Beal's solid scoring abilities helped him become an All Star starter this season. One of his most impressive nights came against 76ers against whom he scored a whopping 60 points.
1. Paul George, Los Angeles Clippers
PG13 is one of the best defensive guards in the NBA right now. We all know what he can do with ball in his hand and combined with his abilities to make an impact on the defensive end makes him the best Shooting Guard in the league as of now. Seven time All Star and five time All NBA team selection are some of his major accomplishments other than when he finished 3rd in MVP voting in 2019. George is the best 2 way player in the league and it's not up for debate. He's currently having an almost 50-40-90 shooting season, which is also a redemption season for him considering how he performed in this past season's playoffs. His offensive powers, strong shooting and ability to have an effect on the defensive end makes him the top SG in the NBA right now, there are not many guards in the league who can impact both ends of the floor the way he does.
As we are in the second half of this shortened season how would you rank these Shooting Guards? Rank below to be added in the Power Rankings and to have a chance to win a gift card to LAZADA, Amazon, fanatics.com, Jumia, and more (Depends on your country). Sign up for our Newsletter for updates. Contest Ending May 15th
POPULAR POSTS
Thank you
Your email has been successfully subscribed.
Sorry, there are no polls available at the moment.