Top 10 Power Forwards in the NBA – April 2021
Giannis Antetokounmpo is the best Power Forward in the league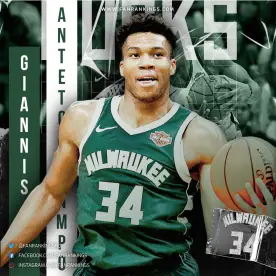 (Don't forget to rank the Top 10 Power Forwards at the end of this article for a chance to win a $50 gift card)
10. Draymond Green
Draymond Green is one of the best defenders and playmakers in the league. A 3-time All-Star, former DPOY and 3-time NBA champion, his accomplishments talk for himself. He also has a unique court vision like no other. He can read the play much before it even happens for both teams. He has a major role in the success of Steph Curry and the Golden State Warriors over the years. He can defend any position and throw 15 assists easily which makes him unique and a great power forward.
9. Aaron Gordon
Gordon is a very valuable piece to any team. He brings size, athleticism, spacing and scoring to the floor. His ability to defend effectively is underrated and one of the reasons why the Denver Nuggets traded for him. So far, the Nuggets are 13-3 since trading for him. He's still only 25 years old and can develop into an important player for nuggets or any other team.
8. Jerami Grant
Grant is a top candidate for the MIP award this season as a complete player who can do everything in the game and can make everyone better alongside him. After declining the offer to stay with the Denver Nuggets and choosing to go to Detroit in order to get more opportunity to be himself, he's been balling ever since. He was an important part of the Nuggets last season and is definitely going be an All-Star soon.
7. Pascal Siakam
Siakam was a very important part of the 2019 champion Toronto Raptors. He continued his growth, earned his 1st All-Star selection, and MIP award the following year. He continued his form and is leading the Raptors to a play in tournament averaging 22 PPG. His length, defensive abilities and skills makes him a solid PF.
6. Domantas Sabonis
Sabonis is a 2 time All-Star and is one of the most versatile big men in the NBA. He can do anything from scoring, to rebounding, and to passing on a daily basis. He's only 24 years old and significantly improving every season by currently averaging 20 PPG and 11.6 RPG. His ability to make his team better and do everything makes him a top 10 power forward in this league.
View this post on Instagram
Swipe right for April 2021 Power Forward Fan Rankings as rankings here could change. Follow @fanrankings to stay up to date
---
5. Tobias Harris
Harris is a major part of a championship contending Philadelphia 76ers team. He's somewhat underrated and is overshadowed by the presence of stars like Joel and Ben Simmons. He's a solid scorer averaging over 20 PPG efficiently while playing alongside ball dominant Joel Embiid. He's a positive presence on the floor and good defensive player which makes him a top 10 power forwards in the league.
4. Julius Randle
The 1st time All-Star and all new hero in the city of New York City, Randle and the New York Knicks are taking the NBA world by storm. After going on a league best 9 game win streak and currently holding on to the 4th seed in the Eastern Conference, Randle is leading the league in minutes played and Shooting impressively over 40% from beyond the arc. His consistent performances are bringing all the light to him and his improvement.
3. Zion Williamson
Zion is only 20 years old and is dominating the league almost Shaq like. Averaging 27 PPG on a 61% FG percentage and already an All-Star starter. His ability to get into the paint and score at the rim regardless of what the defense does is unstoppable. He's super athletic, freak of nature and that's the best part of his game. He's bullying centers throughout the game and finishing tough shots. He's the future face of the NBA.
2. Anthony Davis
Davis is easily a top 10 player in the league when healthy. He's an 8 time NBA All-Star and part of a championship winning Los Angeles Lakers team last season. A great defensive player having lead the league in blocks 3 times in his young career. He's extremely skilled being able to shoot efficiently being that big and score at will. He can do everything on the floor and impact both sides significantly making him #2 on the list.
1. Giannis Antetokounmpo
The Greek Freak is a 5 time All-Star, 2 time MVP, and Reigning DPOY with multiple All NBA and All defensive team selection, he's one of the most skilled and athletic players in the league. With his improved shooting and playmaking skills he's able to run the team and make other players around him better and not just score. His ability to score from anywhere and breaking the interior defense is very impressive mixed with his length and athleticism making him a nightmare for any team. He's still only 26 years old and can get a lot better. He's definitely the best forward in the game.
How do you rank these Power Forwards? Rank below to be added in the Power Rankings and to have a chance to win a gift card to LAZADA, Amazon, Fanatics.com, or more that is specific to you. Your Fan Rankings will be added to our Power Rankings as well. Join the contest by ranking below.
POPULAR POSTS
Thank you
Your email has been successfully subscribed.
Sorry, there are no polls available at the moment.