Top 10 Point Guards in the NBA – March 2021
James Harden is the best Point Guard in the NBA?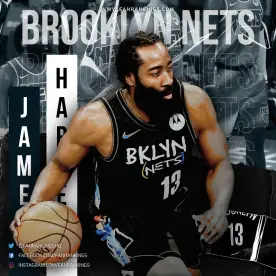 10. Kyle Lowry, Toronto Raptors
Kyle is one of the most underappreciated point guards of this era, probably because he's not flashy and doesn't put up big numbers, but he does have a positive effect on his team. Six time All-Star and an NBA Champion that has always been overshadowed by players like Russell Westbrook, Steph Curry and others in this Top 10. He's a proven winner and always contributes majorly in his team's wins. This was evident in the  Toronto Raptors' 2019 Playoffs run which eventually led to a ring.
9. Kemba Walker, Boston Celtics
Cardiac Kemba widely famous for his step back buzzer beater against Pittsburgh at MSG during March Madness but he didn't stop there. Currently a four time All-Star and a major piece for a contending Boston Celtics. His wide range of skill set and efficiency helps cover up his small size on the floor. He's a great playmaker on the floor with sneaky defensive abilities is definitely a top 10 point guard in this league.
8. Trae Young, Atlanta Hawks
Trae playing his third year in the league and already been selected as an All-Star starter in his second year brings a lot of expectations and responsibilities for him. He improved to 29.6 PPG from 19 in his rookie season while also averaging 9.3 APG! Currently averaging 26 and 8 with his team in playoff contention. He's one of the best scoring point guards in the league with underrated passing.
7. Russell Westbrook, Washington Wizards
Russ is the most athletic and the best rebounding point guard in the NBA right now. He's also the most underrated playmaker. His super fast paced playing style and transition drives are unique and something he's really great at. Nine time NBA All-Star, 2 time scoring and assist champion has many other records under his name some of them are scoring a NBA record 42 triple doubles in a season and becoming the first to average one for whole season and doing it again for next two more seasons, feat that doesn't seem possible. He always elevates his All-Star teammates to another level like Kevin Durant, Paul George, and now Bradley Beal. They've all had/are having the best season of their career with him. Now that he's getting healthier he is becoming scarier.
6. Ben Simmons, Philadelphia 76ers
Simmons is one the best defenders and by far the best defensive point guards in the NBA. Doesn't matter how great the player is in front of him he can easily slow him down. His great defensive abilities combined with his playmaking abilities, great size and athleticism makes him one of the best in the game. In his fourth year he is already a three time All-Star and is leading his team to the best record in the East tells enough about his value and what he brings to the table. Jump shot or not.
View this post on Instagram
Swipe right for March Fan Rankings. Follow @fanrankings to stay up to date
---
5. Luka Doncic, Dallas Mavericks
Luka was the favorite to win MVP coming into this season, considering his growth and leap he took only in his second season, when he performed impressively in playoffs and made All NBA first team. Having played as a professional in the second best league of the world in Liga ACB most of his teenage years he gained alot of experience and came in the league more prepared than any other rookie. He already has 33 triple doubles and he just turned 22. In his 3rd season he's averaging 28 PPG and 9 APG. His ability to score and make the team better can clearly be seen.
4. Chris Paul, Phoenix Suns
He's called the Point God for a reason. One of the most efficient and effective point guards of all time. Four time assist leader, six time steal leader and 11 time All-Star are his major accomplishments over his career, but he'll always be know for having a quick winning effect on any team he plays for. He took the Houston Rockets to 7 games in the Western Conference Finals against the dominant Golden State Warriors and then took the Oklahoma City Thunder to a sixth seed who were projected to be last in the standings at the beginning of the season. He's now taking the Phoenix Suns who are the 2nd best team in the West. All these things are enough to justify him being the 4th best point guard in the NBA.
3. Damian Lillard, Portland Trailblazers
Logo Lillard is the most clutch player of this era. You rarely see him miss a shot in clutch situations and he'll rather shoot from beyond 30 feet with the game on the line and close the game everytime. He has made the All-NBA team five times and has been an All-Star six times. His ability to score at will and pulling out the win in the clutch while facilitating the ball efficiently around makes him one of the best and underappreciated point guards.
2. Stephen Curry, Golden State Warriors
The best shooter to ever play the game of basketball. Three time NBA champion, two time MVP and the only unanimous MVP in the history of the NBA. Curry is a career 43% percent shooter from beyond the arc which is never done before an also a 50-40-90 over his career just shows how elite he is. Currently averaging almost 30 PPG and 7 APG carrying his team to 9th seed in the West. His passing and playmaking abilities always gets overshadowed by his stellar shooting performance. 
1. James Harden, Brooklyn Nets
He has always been tagged as a ball hog or someone who can score 40 but cannot win playoff games and whose playing style doesn't lead to winning. But these narratives have changed this season after getting traded to the Brooklyn Nets and leading them in a current winning streak playing with Kyrie Irving and Kevin Durant (mostly without Durant as he has been injured). A primary scorer that has lead the league with 36 PPG before is now the primary ball handler and playmaker with Kyrie playing at SG. Now his skills and all around game has come to light, averaging a league high 11.4 APG and almost 9 RPG with 25 PPG while also elevating his teammates like Bruce Brown, Joe Harris and Kyrie Irving who are all having best season of their career. Based on his performance this season he's definitely the #1 point guard in the league right now.
As we enter the second half of this shortened season how would you rank these Point Guards? Rank below to be added in the Power Rankings and to have a chance to win a gift card to LAZADA, Amazon, fanatics.com, Jumia, and more (Depends on your country). Sign up for our Newsletter for updates. Contest Ending March 31st
POPULAR POSTS
Thank you
Your email has been successfully subscribed.
Sorry, there are no polls available at the moment.