Top 10 NBA Draft Picks 2021 Rankings
Ranking the Top 10 2021 NBA Draft Picks such as Jalen Green, Cade Cunningham, Jonathan Kuminga and more.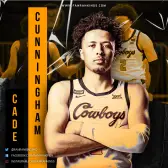 (Don't forget to rank your Top 10 NBA Draft Picks at the end of this article for a chance to win a $50 gift card or the equivalence of this amount of your country)
The 2021 NBA Draft is in the books. The teams made their picks and the future will show if they choose wisely. The destiny of many NBA players is set on draft night. The team where they end up may, or may not be the right for them. Some of them will get their opportunity right away, some will have to wait and work hard for it.
In this article, we will try to predict which of the top 10 picks will have the biggest role and impact on their teams.
Top 10 Draft Picks
Davion Mitchell
Team: Sacramento Kings
Selection: 9th Pick
The Kings are labeled as one of the losers from the 2021 draft, simply because they used their lottery pick to draft a player who plays in the same position as their franchise player. Mitchell is a 6-1 point guard who will turn 23 before next season starts.
He had a good senior season at the University of Baylor, where he averaged 14.1 points with 44.7% from the three-point line. Still, he cannot expect anything more than 10 minutes per game behind De'Aaron Fox.
Franz Wagner
Team: Orlando Magic
Selection: 8th Pick
The German forward had two great seasons at the University of Michigan averaging 12 points and 6 rebounds with 47.7% from the field. The good thing for him is that he ended up with a team which is going through a rebuilding process but still he will have to work his way up in that young Magic lineup. He is the younger brother of Moe Wagner who will be his teammate in Orlando.
Jonathan Kuminga
Team: Golden State Warriors
Selection: 7th pick
Kuminga is one of the youngest players on the draft being still 18-years-old. He is entering the league after only one year in the G-League. The Congolese forward is a great athlete, has a quick first step but in general is far away from being NBA ready.
The Warriors could have used their pick for a more mature player who would have been able to help right away. Kuminga is not that one, yet.
Scottie Barnes
Team: Toronto Raptors
Selection: 4th Pick
The Raptors used their highest pick since 2006 to select the freshmen from the University of Florida State. In his one season in Tallahassee, Barnes led the team in assists and steals while pitching in 10.3 points per game on over 50 percent shooting and 4.0 rebounds per game.
He might work his way into the starting line-up, but at the starting of the season he will see limited playing time behind Pascal Siakam. 
Evan Mobley
Team: Cleveland Cavaliers
Selection: 3rd Pick
Mobley is an impressively mobile and athletic 7-footer. His quick footwork makes him perfect for any team in the league but Cleveland might not be the best place for him. The Cavs are willing to sign Jarrett Allen to a max-deal and Mobley will have to find his way into the rotation as his backup.
View this post on Instagram
Swipe for Best NBA Draft Pick Fan Rankings and follow @fanrankings to stay up to date
---
Josh Giddey
Team: Oklahoma City Thunder
Selection: 6th Pick
The Australian guard wanted to be selected by the Warriors but he ended up in OKC. The good thing for him is that the Thunder are packed with young talent and every player receives plenty of playing time. Giddey will have a chance from day one to prove that he can be a valuable player in the NBA.
Ziaire Williams
Team: Memphis Grizzlies
Selection: 10th Pick
Williams was selected by the New Orleans Pelicans and immediately traded to the Grizzlies which is great for him. He is a tall, lanky jump shooter who showed promise as a perimeter threat in his freshman year at Stanford. He will probably get the starting role right away and will have a chance to develop playing alongside Ja Morant.
Jalen Suggs
Team: Orlando Magic
Selection: 5th Pick
The Magic didn't expect to have a chance to select Suggs at number five. He is an athletic guard with great competitive instincts who turned the corner in his lone collegiate season while helping Gonzaga to a National Championship appearance.
Listed at 6'4 with a solid 205-pound frame to go along with a 6'6 wingspan, Suggs is NBA ready. The Magic will be able to use him as Markelle Fultz's backup or give him a starting role next to him.
Cade Cunningham
Team: Detroit Pistons
Selection: 1st Pick
Cunningham was projected as the first pick and he knew that he was going to the Pistons on lottery night. The starting point guard position is reserved for him and he will have a chance to lead the young Pistons squad to a better record.
He is a gifted point-forward whose size, instincts carrying an offense, and improvement as a jump shooter shined during his lone season at Oklahoma State.
Jalen Green
Team: Houston Rockets
Selection: 2nd Pick
Being drafted by the Rockets is a win-win situation both for Green and for the Rockets. Green is an exceptionally athletic guard whose improvement as a shot-maker shined for stretches during his season with the inaugural G League Ignite team.
He is expected to become the face of the Rockets in his first year and become the leading scorer on the team.
How would you rank these draft picks of 2021? Rank below to be added in the Power Rankings and to have a chance to win a gift card to LAZADA, Amazon, Fanatics.com, or more that is specific to you. Join the contest by ranking below.
Related Links: Top 10 NBA Free Agents 2021 Rankings
POPULAR POSTS
Thank you
Your email has been successfully subscribed.
Sorry, there are no polls available at the moment.