MMA UFC Top 10 Lightweight Rankings – Dustin Poirier defeats Conor McGregor
Dustin Poirier defeats Conor McGregor by TKO winning the trilogy at UFC 264. Also we rank the Top 10 MMA Lightweights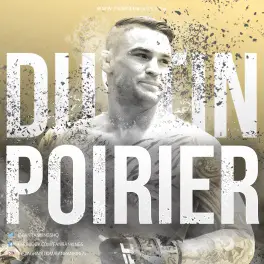 (Don't forget to rank your Top 10 P4P fighters at the end of this article for a chance to win a $50 gift card or the equivalence of this amount of your country) 
Honorable Mention
Gregor Gillespie
has a record of 14-1 with his sole loss against Kevin Lee by KO. He bounced back with a KO of his own in his last fight against Diego Ferreira.
Top 10 Lightweight Rankings
Rafael do Anjos – UFC
RDA is a former Champion in the division with a record of 30-13 returning to the division after multiple fights in the Welterweight division. He defeated a late replacement Paul Felder who subbed in for Islam Makhachev. 
RDA was the injury replacement for UFC 264's main event Conor McGregor vs Dustin Poirier.
Daniel Hooker – UFC
Daniel Hooker with a 20-10 record is still a contender in the lightweight division despite falling to Dustin Poirier and Michael Chandler who are main players in the UFC. 
His last fight in Chandler resulted in a devastating KO and had him questioning his future laying his gloves in the cage signaling his retirement. Hopefully that was out of frustration and will be back soon. 
Tony Ferguson – UFC
"El Cucuy" is now with a record of 25-6 losing his last three fights all in dominating fashion. A step back in competition is needed for him outside the top 10 to hopefully get back on track.
Conor McGregor – UFC
Conor McGregor is now 1-3 in his last four with a record of 22-6. His trilogy fight against Dustin Poirier ended in disaster. 
Both fighters look good standing up with McGregor looking to have the edge. Once it got to the ground it turned for the worst as McGregor absorbed devastating elbows and fists.
Once the fight got back to its feet McGregor suffered a gruesome leg injury. A checked leg kick by Poirier and a possible injury in camp said by McGregor's coach could have resulted in this. Either way, McGregor has a long road ahead of him.
Islam Makhachev – UFC
The Dagestani is currently 19-1 and has been dominating in the UFC with 7 wins in a row.
He's scheduled to face Thiago Moisés on July 17, 2021 at UFC Fight Night 191 as the main event. If he wins against Moises there should be no denying an opponent in the Top 10.
View this post on Instagram
Follow @fanrankings to stay up to date
---
Michael Chandler – UFC
"Iron" Michael Chandler entered the UFC from Bellator loudly with his KO win over Dan Hooker. He is currently 22-6 with his last 3 by knockout before facing Charles Oliveira for the vacant UFC Lightweight Title.
When Chandler faced Oliveira he nearly made him his fourth victory but Oliveira turned the tables and finished him.
His next fight is rumored to be against Justin Gaethje. 
Beneil Dariush – UFC
Dariush is now in the Top 4 with a record of 21-4 and entering with a 7 fight win streak. His domination of Tony Ferguson and the fall of Conor McGregor helped his case. He'll have to make serious noise in his next fight to somehow stand out in the mix of Chandler and Justin Gaethje.
Justin Gaethje – UFC
Gaethje has a record of 22-3 and his only recent loss was to possibly the greatest UFC Lightweight of all time in Khabib Nurmagomedov. 
Before that loss he was on a KO spree with names such as James Vick, Edson Barboza, Donald Cerrone, and Tony Ferguson. A rumored fight against Michael Chandler can clear up who is next in line for the title.
Dustin Poirier – UFC
"The Diamond" is now 28-6, the winner of the Conor McGregor trilogy, and now has set up a championship fight against UFC Champion Charles Oliveira.
Poirier withstood an early onslaught by McGregor as both fighters took their shots against each other. Once the fight got to the ground Poirier defended McGregor's guillotine perfectly and delivered devastating elbows and hands as punishment. 
When the fight got back to its feet McGregor suffered a gruesome leg injury that called the fight off. Poirier called out a kick that he checked which he believes resulted in his win. 
Poirier now has set up a championship fight against current champion Charles Oliveira. His calculated decision to take the "red panty night" fight against Conor McGregor and then challenge the champion was a perfect gamble. Dustin gambled and won. 
Charles Oliveira – UFC, Champion
Charles "Do Bronx" Oliveira has a record of 31-8 and is your UFC Lightweight Champion. He will now take on #1 contender Dustin Poirier in his next fight.
"Do Bronx" has done nothing but impress with a 9 fight win streak and has an impressive win against Michael Chandler. 
There is no question what Oliveira can do on the ground. What impressed us the most was what he can do in the stand up now. Him vs Poirier should be an amazing fight.
Where would you rank Conor McGregor after his loss and devastating injury? Rank below to be added in the Power Rankings and to have a chance to win a gift card to LAZADA, Amazon, Fanatics.com, or more that is specific to you. Your Fan Rankings will be added to our Power Rankings as well. Join the contest by ranking below.
Related Links: Top 10 Pound for Pound Rankings
POPULAR POSTS
Thank you
Your email has been successfully subscribed.
Sorry, there are no polls available at the moment.