MMA Top 10 Strawweight Rankings – Late April 2021
Rose Namajunas is the first woman to regain a UFC title and the rest of the Strawweight contenders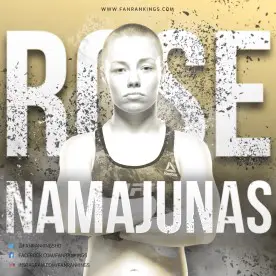 (Don't forget to rank the Top 10 Strawweights at the end for a chance to win a $50 gift card)
Honorable Mentions
Before we move on to the actual list here are some honorable mentions
Angela Lee has an impressive record of 10-2, and she is one of the best fighters in the division.
Virna Jandiroba is also a good fighter who is also the former Invicta FC strawweight champion and is currently fighting in the UFC.
Top 10 Strawweights
10. Cláudia Gadelha, UFC
To start off the list, we have Cláudia Gadelha. Fighting out of Brazil, Gadhela has a record of 18 wins and 5 losses. She made her UFC debut in 2014, and after three fights, she fought Joanna Jędrzejczyk for the UFC strawweight championship.
However, she came short and lost a Unanimous decision. Since then she has had some good performances but hasn't been able to get the momentum to put herself in a position for title contention. She has won 5 out of her last 8 fights and has won over Karolina Kowalkiewicz, Carla Esparza, Cortney Casey and Angela Hill.
Gadhelha lost her last fight against Yan Xiaonan, and her next fight hasn't been announced yet.
9. Michelle Waterson, UFC
Michelle "The Karate Hottie" Waterson is an American mixed martial artist with a record of 18 wins and 8 losses.  She was the former Invicta FC atomweight champion and has had a lot of success at strawweight as well.
She has notable wins over Paige VanZant, Felice Herrig, Karolina Kowalkiewicz, Cortney Casey, and Angela Hill. She has also fought elite champions like Rose Namajunas and Joanna Jędrzejczyk.
Waterson takes on our #8 fighter Marina Rodriguez on May 8th.
8. Marina Rodriguez, UFC
Marina Rodriguez is another fighter from Brazil, and she has a professional record of 13 wins and 1 loss and 2 draws. She got her UFC contract after winning a fight at the Dana White's Contender Series.
She has notable wins over Jessica Aguilar, Tecia Torres and Amanda Ribas, and has won four out of her last five fights. She won her last fight via TKO in the 2nd round and also won the "performance of the night" bonus.
Rodriguez is taking on our #9 Michelle Waterson
7. Tatiana Suarez, UFC
Tatiana Suarez was one of the most hyped-up fighters in the division when she made her debut in MMA. The former Wrestling standout has represented the USA in the wrestling world championship twice and won bronze in both 2008 and 2010.
Suarez got her UFC contract after winning "The Ultimate Fighter" tournament. She has an undefeated MMA record with 8 wins and has notable wins over Alexa Grasso, Carla Esparza and Nina Ansaroff. However, she has been unable to compete for almost two years now because of a neck injury that required surgery.
According to news, Suarez is targeting this summer for a comeback to the octagon.
6. Mackenzie Dern, UFC
Dern was also quite popular before making her MMA debut and is known to be one of the most elite female jiu-jitsu black belts on the planet. She is one of the most decorated jiu-jitsu athletes in the world, and she even won gold in the ADCC World Championships in 2015. She is a two Jiu-jitsu world championship gold medalist both in gi and no-gi. And she has won dozens of other championships as well.
This is why there was so much hype behind her when she stepped in the cage, and for the most part, she has lived up to it. Dern has a record of 11 wins and 1 loss. Her most notable victory came against Nina Ansarof in her last fight.
Dern has won 4 out of her last 5 fights with 3 "performance of the night" bonuses.
5. Xiaonan Yan, UFC
Coming in at number five, we have Yan Xiaonan from china. Yan has a record of 13 wins, 1 loss and 1 no contest. She is currently on a 12 fight winning streak and has also won all 6 of her fights in the UFC.
Yan has notable victories over Angela Hill, Karolina Kowalkiewicz, and Cláudia Gadelha. She is currently one of the most exciting contenders in the strawweight division, and her next fight is scheduled against number 4 contender Carla Esparza, on May 22.
View this post on Instagram
Swipe right for April 2021 Strawweight Fan Rankings as rankings here could change. Follow @fanrankings to stay up to date
---
4. Carla Esparza, UFC
Carla "Cookie Monster" Esparza is one of the original fighters in the UFC's strawweight division. She was the Invicta FC strawweight champion, and also became the first UFC strawweight champion after defeating Rose Namajunas in the Finale of TUF 20 back in 2014.
However, she lost her title to Joanna Jędrzejczyk in her first defense. Esparza has a record of 17 wins and 6 losses. She has notable wins over Alexa Grasso, Michelle Waterson, Cynthia Calvillo, and Marina Rodriguez.
Esparza is currently on a 4 fight win streak, and a win in her next fight against Xiaonan Yan on May 22nd could put her in a position for a title shot.
3. Joanna Jędrzejczyk, UFC
Jedrzejczyk had a very decorated Muay Thai career before making her way to MMA. She is a five-time IFMA World Champion and a four-time IFMA European Champion. Originally from Poland, Jedrzejczyk has an MMA record of 16-4.
Joanna is also the longest-reigning strawweight champion in the UFC, she became the UFC strawweight champion in 2015 and defended the belt 5 times before losing it to Rose Namajunas.
Though she has had an impressive record, Jędrzejczyk has been through a rough patch lately. She has lost four out of her last six fights, three of which were for world titles. However, with a resume like hers, she could be back in title contention after one impressive victory.
2. Weili Zhang, UFC
Weili Zhang was the first UFC champion from China, and she has a record of 21 wins and 2 losses. Zhang made her UFC debut in 2018, and after three consecutive wins, she found Jessica Andrade for the Strawweight strap.
Zhang won that fight and went on to defend her title against Joanna Jędrzejczyk, who is undoubtedly one of the scariest fights at strawweight. However, last weekend, she lost her title to Rose Namajunas via knockout in the first round.
1. Rose Namajunas, UFC, Champion
Thug Rose Namajunas is one of the most exciting fighters, not just in her division but in MMA as a whole. She made it to the finale of "The Ultimate Fighter", and also fought for the inaugural UFC strawweight championship. However, she came short and lost that fight.
Namajunas however bounced back, and after fighting her way to the top, she became the first fighter to defeat Joanna Jędrzejczyk. She won that fight with an incredible knockout as an underdog and shook the world. Jędrzejczyk was given an immediate rematch, but Rose won that too.
Rose lost her title to Jessica Andrade in 2019. Andrade then lost her title to Weili Zhang in her next fight, after which she had a rematch against Rose, which Rose won.
Last weekend, Rose shook the world once again, and as the underdog, she defeated dominant champion, Weili Zhang, to become the only two-time UFC strawweight champion. Moreover, that win also came by the way of a first-round knockout.
How do you rank these Strawweights? Rank below to be added in the Power Rankings and to have a chance to win a gift card to LAZADA, Amazon, Fanatics.com, or more that is specific to you. Your Fan Rankings will be added to our Power Rankings as well. Join the contest by ranking below.
POPULAR POSTS
Thank you
Your email has been successfully subscribed.
Sorry, there are no polls available at the moment.