Amanda Nunes And The Top 10 Bantamweights
MMA Women's Bantamweight Fan Rankings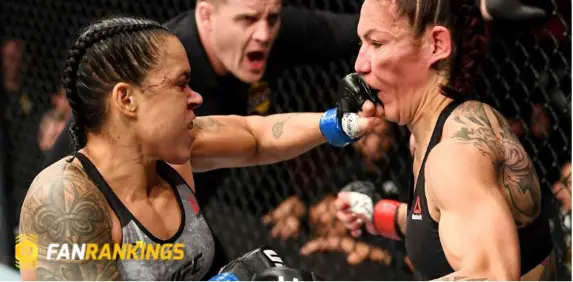 [Related: Inaugural MMA Middleweight Fan Rankings | Inaugural MMA Lightweight Fan Rankings | Inaugural MMA Light Heavyweight Fan Rankings | Inaugural MMA Heavyweight Fan Rankings | Inaugural MMA Welterweight Fan Rankings | Inaugural MMA Featherweight Fan Rankings]
For years we have been alternating between who is the GOAT of Women's MMA. Was it Ronda Rousey who ushered in the Bantamweight Women's division in the UFC? Rousey, finishing mostly all her opponents by armbar or knockouts in the first round or was it Cris Cyborg? Cyborg, who was the queen of the Featherweight division that was feared by her devastating power. No one wanted to fight Cyborg. Not even Ronda Rousey. Getting those two in the cage to settle it all was a struggle that never materialized. So, how do you settle this? Who is the GOAT of Women's MMA? The answer is neither.
Amanda Nunes not only destroyed the above mentioned fighters, she did it while they were still in their prime. The Lioness resume eclipsed both fighters combined. Not only is she the Defending Bantamweight Champion, she is the Defending Featherweight Champion as well. Nunes has been nothing but a Champion since 2016 and as we are entering the middle of 2020 I don't see anyone dethroning her. Amanda Nunes is officially the GOAT.
10. Sara McMann, UFC
Sara McMann avoids a three fight losing streak defeating Lina Lansberg back in January. McMann dominated Lansberg from the beginning of the horn till the end with her wrestling. She was supposed to fight Aspen Ladd on the 27th but Ladd had a training injury. Would have been a great fight for McMann to leapfrog many fighters if she beat her.
9. Yana Kunitskaya, UFC
Yana Kunitskaya looks to bounce back from her TKO loss from Aspen Ladd when she faces Ketlen Vieira in August. If she loses this she could fall out of our Top 10. Vieira could be a serious problem for her.
8. Ketlen Vieira, UFC
Ketlen Vieira had a KO type step back losing her undefeated streak against Irene Aldana after quality wins against Cat Zingano and Sara McMann. Vieira was in that fight against Aldana until she got hit with that left hook. She brings her dangerous striking against Yana Kunitskaya in August.
7. Irene Aldana, UFC
After taking out the undefeated Ketlen Vieira, Irene Aldana is taking a big step against Holly Holm in August.I see nothing but fireworks when these two strikers face off on Fight Island.
6. Raquel Pennington, UFC
Raquel Pennington is back in the win column after her win against Marion Reneau. Her losses against the champion Amanda Nunes, Germaine de Randamie, and Holly Holm shows she has difficulty taking the next step. So far she looks like she is in Gatekeeper status.
5. Aspen Ladd, UFC
Aspen Ladd only has one blemish on her record, losing to Germaine de Randamie. Outside of that she has been outstanding especially against her last win by TKO against Yana Kunitskaya. Ladd handled Kunitskaya on the ground and on the feet throughout the first two rounds until she finished her in the third round. Unfortunately, Ladd is injured and we are still unsure of her next bout.
4. Julianna Pena, UFC
Julianna Pena has only lost to the current Strawweight Champion Valentina Shevchenko. Other than that loss she has done nothing but win since her UFC debut. Hopefully she fights one more time whether against Aspen Ladd or Germaine de Randamie for a shot at the title.
3. Holly Holm, UFC
Holly Holm has been alternating her win loss record because she has been fighting nothing but the best jumping back and forth from Bantamweight to Featherweight and then back to Bantamweight. Her last fight was a tough win against Raquel Pennington and in August she will face fellow striker Irene Aldana. This could be a changing of the guard if Holm isn't careful.
2. Germaine de Randamie, UFC
Former Featherweight Champion Germaine de Randamie is in an awkward situation. Normally for fighters it would be great to easily jump back and forth between two divisions. A great fighter like Germaine de Randamie can have a great chance at winning a title. Why it's awkward is Amanda Nunes holds the belts in both of those divisions. de Randamie has been the closest to dethrone Nunes by rocking her a couple times and a near submission in the 4th round. A good win from any fighter in any division could have her in a rematch with Nunes.
1. Amanda Nunes, UFC, Champion
After Amanda Nunes latest destruction against Felicia Spencer I don't see anyone dethroning her and now she is talking retirement. I don't see any of the young, up and coming fighters beating her. The only fight I see is a fight against the UFC Flyweight Champion Valentina Shevchenko at Bantamweight. After that, win or loss, retire as the GOAT.
Login > Create > Save > Share and Download Your Custom Fan Rankings Here
Follow me on Twitter: @FanRankingsHQ . Facebook: FanRankings . Instagram: @FanRankings
[Related: Inaugural MMA Middleweight Fan Rankings | Inaugural MMA Lightweight Fan Rankings | Inaugural MMA Light Heavyweight Fan Rankings | Inaugural MMA Heavyweight Fan Rankings | Inaugural MMA Welterweight Fan Rankings | Inaugural MMA Featherweight Fan Rankings]
POPULAR POSTS
Thank you
Your email has been successfully subscribed.
Sorry, there are no polls available at the moment.