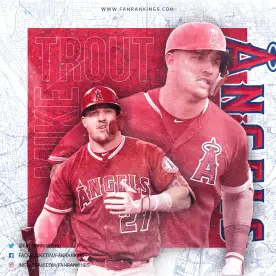 The start of the 2022 MLB schedule has been action packed, loaded with a ton of prime-time performances from MLB stars at the plate as well as on the mound. 
With the debate over whether MLB baseball is doctored is a big talking point, the overall success on the field has been great to start the season. 
Leading that charge are some very familiar faces across the diamond who have the potential to remain on the Top 10 MLB Players 2022 Rankings for most if not all the season while some fresh faces also join the list.
Leading the rankings list of the Top MLB players is the Los Angeles Angels All-Star center fielder Mike Trout. 
Trout, who is one of the game's top stars year in and year out, has battled injuries that have slowed down his success in the past but has been healthy to start the 2022 MLB season. 
In addition, Shohei Ohtani, Trout's teammate finds himself ranked second on the list while Nolan Arenado continues to hit as one of the top MLB batters in baseball.
With that said, here is our list of the Top 10 MLB Players 2022 May Rankings
Honorable Mention
Logan Gilbert
Team: Seattle Mariners
Coming in just outside of the Top 10 MLB Players 2022 Rankings, is the Seattle Mariners starter Logan Gilbert. 
Gilbert, who ranks fourth in all of baseball with a 1.36 earned run average has also posted four wins in his first six starts. 
To go along with the 4-0 record, Gilbert has struck out 33 batters across 33 innings of work to start the season and has held opponents to just a .207 batting average.
Nestor Cortes
Team: New York Yankees
Another MLB starting pitcher that deserves to land on the top players of MLB is the New York Yankees starter Nestor Cortes. 
Cortes who is just 1-1 on the year has allowed an earned run average of just 1.41 over his first six starts and 32 total innings. In three of his six starts Cortes has allowed zero runs, one game with just one earned run average and three games with two earned runs. 
In addition, Cortes has posted two games with double digit strikeouts including 12 against the Baltimore Orioles back on April 17th, 2022.
Top 10 MLB Players
10. Josh Bell
Team: Washington Nationals
One promising stud that continues to develop is the Washington Nationals first baseman Josh Bell who joined the team prior to the start of the 2021 MLB season. 
Bell who has hit at least 27 home runs in three of the past five seasons is a lifetime .264 career hitter. To start the 2022 MLB season, Bell is batting .343 with seven doubles, four home runs, 21 runs batted in and 21 runs batted in.
In addition, Bell ranks ninth in runs scored (20) in baseball, fourth in batting average and third in On-Base Percentage (.442). 
9. Taylor Ward
Team: Los Angeles Angels
As all the attention out west goes to Taylor Ward's teammates Mike Trout and Shohei Ohtani, Ward continues to put together a strong start to the 2022 MLB season. 
Through his first 22 games, Ward is batting .364 with four doubles, one triple, six home runs, 15 runs batted in and a .490 On-Base Percentage. 
Ward ranks second in Major League Baseball in batting average and leads everyone with his .490 On-Base percentage. With Ward contributing, the Angels currently lead the AL West division. 
8. Merrill Kelly
Team: Arizona Diamondbacks
Merrill Kelly is just one of a few new names to land on the Top 10 MLB Players 2022 Rankings list after the hot start he has had on the mount for the Arizona Diamondbacks. 
Kelly, who is 33 years of age, is putting together his best season in the majors this year while being one of the biggest surprises in the Diamondbacks organization. 
Kelly currently ranks third in all of baseball with a 1.22 earned run average over six starts and 37 innings of work. The Diamondbacks starter has allowed zero earned runs in three of his first six starts as well as just one run in two of the other three starts.
7. Pablo Lopez
Team: Miami Marlins
Landing just ahead of Merrill Kelly is another starting pitcher who is putting together a brilliant 2022 MLB campaign over their first six starts. 
Like Kelly, Pablo Lopez has been nearly unhittable to start the season while ranking near the top of multiple pitching statistics among all MLB players. 
Lopez is 4-1 to start the season with an astonishing 1.00 earned run average over 36 innings of work. Lopez ranks second in earned run average, ninth in WHIP (.89) and has allowed more than one run in just one of his first six starts.
6. C.J. Cron
Team: Colorado Rockies
Despite playing at Coors Field, it is hard to take anything away from the start C.J. Cron has had the 2022 MLB season. 
Cron is currently tied with four other players in MLB with nine home runs while also ranking tied for fourth with 24 runs batted in. 
Cron has taken advantage of his playing conditions at home this season hitting seven of his nine home runs at Coors Field while driving in 18 of his 24 runs to go along with a .377 batting average. That said, you can't blame or take anything away from his success.
5. Michael Kopech
Team: Chicago White Sox
Anytime you see an earned run average below for either a starter or a reliever, all you can say is "WOW". 
That is the case this season for the Chicago White Sox starter Michel Kopech who leads all of Major League Baseball with a .93 earned run average over his first 29 innings while allowing just three earned runs over that stretch. 
Despite his hot start, the struggles of the White Sox offense have failed to supply him the run support to land him a win to start the season.  
4. Manny Machado
Team: San Diego Padres
Once a storied MLB Top Prospect, Manny Machado has been as consistent over his career as any player in the Majors and one that continues to put together strong offensive numbers as well as being a plus defender in the field. 
Machado has gotten off to a red-hot start for the San Diego Padres while helping to pick up the void that is missing due to not having Fernando Tatis Jr within their lineup. 
Machado ranks first in all of baseball with a .381 batting average, second in On-Base Percentage with a .454 mark and first in hits with 43 hits over 113 at bats.
3. Nolan Arenado
Team: St. Louis Cardinals
Always considered one of the best defensive third basemen in the game, Nolan Arenado continues to prove he can hit outside of Coors Field, and it has shown up the case during the 2022 MLB season. 
Arenado is batting .330 on the year to go along with nine doubles, seven home runs and 24 runs batted in while posting a .400 On-Base Percentage. 
With the success of Arenado in the lineup, the Cardinals have surged to second place in the NL Central division, while Arenado plays himself in consideration for another All-Star team nod.
2. Shohei Ohtani
Team: Los Angeles Angels
The final two players on this list could be flipped flop as they are one of the best tandems in all of baseball. 
These two players are Shohei Ohtani and Mike Trout of the Los Angeles Angels. Trout, who is consistently the best player in baseball when on the field, has witnessed Ohtani blossom into one of the best two-way players to ever play the game. 
On the year, Ohtani is batting .252 with six home runs and 21 runs batted in. Meanwhile on the mound, Ohtani has pitched to a 3.08 earned run average over five starts while striking out 41 batters in just 26.1 innings of work.
1. Mike Trout
Team: Los Angeles Angels
Landing at number one on the Top 10 MLB Players 2022 Rankings list is the former MVP Mike Trout who when healthy is the best player in all of baseball. Trout has solidified this case this year as he has gotten off to a solid start to the 2022 MLB season. 
Trout currently ranks fourth in baseball with a .441 On-Base Percentage to go along with his .319 batting average, seven home runs, eight doubles and 16 runs batted in. In addition, Trout has picked up 18 walks over his first 26 games to start the season.
POPULAR POSTS
Thank you
Your email has been successfully subscribed.
Sorry, there are no polls available at the moment.