The Top 10 Third Basemen of MLB
The Best Third Basemen Going Into 2020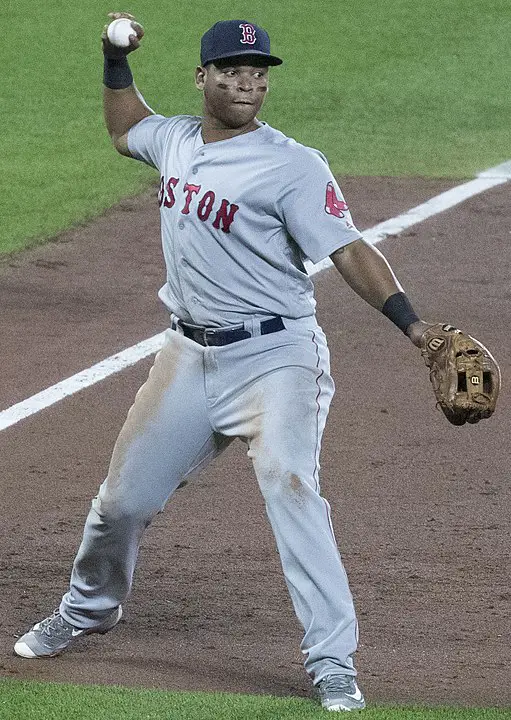 The game of baseball is filled with a ton of talented MLB players filling out each positon and each roster around the game of baseball. One of those positions that is loaded with talent from young stars to All-Star veteran is the third base position. The third base position is one of the more difficult positions to play defensively from defending the foul line to ranging from behind the third base bag to up just feet away from the catcher. When looking at the Top 10 MLB Third Baseman, many if not all of them are solid defenders.
While defending the position is key, the third base position is also loaded with a ton of the game's best hitters including the likes of Alex Bregman of the Houston Astros and Nolan Arenado of the Colorado Rockies. As we have with each of the other positions we have analyzed, we looked at both the defensive and offensive metrics of the position to put together the list of top third basemen in Major League Baseball.
As we sit here and debate the top players in the game, the big question is when will the 2020 MLB season begin? With owners and players not being able to come to an agreement no set date for a 2020 return has been announced. Previous rumors had the teams returning in mid June to complete a mini training camp with the real season beginning on or around July 4th with a potential 81 game schedule. Now with no set deal on the table, there is no set return date for baseball or set amount of games expected to be played.
Taking a look at each metric of the third baseman position, here is our Top 10 Third Baseman in Major League Baseball.
Top 10 MLB Third Baseman
Honorable Mention – Vladimir Guerrero Jr, Toronto Blue Jays
The Toronto Blue Jays third baseman made big time name for himself as a rookie in 2019 hitting 26 doubles to go along with 15 home runs. If Guerrero takes another big stride in 2020, he could find his way into the top 10 in 2021.
10. Josh Donaldson, Minnesota Twins
The nine year veteran is still one of the top third baseman in all of baseball both at the plate and defensively. Outside injury plagued 2018 season with the Toronto Blue Jays and Cleveland Indians, Donaldson has been healthy for most of his career since arriving full time in 2013. Donaldson has posted at least 33 home runs four times, drove in 122 runs twice, home the 2015 AL MVP award and made three All-Star teams. After bouncing back in 2019 hitting 37 home runs while driving in 94 runs, Donaldson will look to continue that success in a Twins lineup that features a ton of power including Nelson Cruz.
9. Matt Chapman, Oakland A's
One name that seems to be forgotten about or looked past in the debate over which third baseman around the game of baseball deserve to be in the top 10 is Matt Chapman of the Oakland A's. This has all to do with the team he plays for and not the talent level that Chapman brings to the field. Since arriving in the majors in 2017, Chapman has been one of the better fielding third basemen around the game. In addition, the A's third baseman has seen his home runs increase from 14 to 24 to 36 while his runs batted in increased from 40 to 68 to 91. The best part is Chapman is just 27 years old and is still continue to develop.
8. Rafael Devers, Boston Red Sox
The Boston Red Sox third baseman continues to see his name travel up the list of top players in the game despite being just 23 years old. While the debate can be made that he deserves to be much higher and his offensive numbers support that, however since arriving in the Majors in 2018, Devers has committed 24 and 22 errors. Despite the defensive struggles at times, Devers has an exceptional arm and range from the position. At the plate however, Devers continue to show his power finishing 2019 with a .311 batting average to go with 32 home runs and 115 runs batted in. Another big season at the plate in 2020 should see Devers climb up the third base rankings.
7. Eugenio Suarez, Cincinnati Reds
Eugenio Suarez has bounced around for the Cincinnati Reds before finding his full time role at third base. The Reds third baseman is coming off an impressive 2019 campaign where he finished with a career high 49 home runs to go a long with 103 runs batted in. Since 2016, Suarez has hit at least 21 home runs and driven in 70 runs in each of the past four seasons. Along with his bat, Suarez played above average defense posting a .954 fielding percentage last season. Another key benefit for Suarez is the fact he gets an opportunity to hit in a very hitter friendly ballpark.
6. Kris Bryant, Chicago Cubs
After a struggling 2018 campaign, Kris Bryant returned to form in 2019 with the Chicago Cubs hitting 35 doubles and 31 home runs while seeing his bat slowly come back and his glove return. This marked the fourth time in Bryant's career he hit at least 26 home runs and had at least 28 doubles. While Bryant is 28 years old, the Cubs third baseman is still just entering the prime of his career and when healthy he has shown he is one of the best players in all of baseball. Since arriving at the big leagues, Bryant has taken home a NL MVP award, a Rookie of the Year Award and been voted to three All-Star teams.
5. Anthony Rendon, Los Angeles Angels
Here is a name that saw his name creep up the rankings at third base over the past year after leading his Washington Nationals to the World Series title in 2018. The 7 year veteran is not only one of the better hitting third baseman in the game but he is also one of the best defensive third basemen. Over the past four years, Rendon has committed 9 (2016), 7 (2017), 6 (2018) and 11 (2019) errors while posting at least a .969 field percentage. To go with the glove, Rendon has led the NL in doubles with 44 in each of the past two seasons while also leading the NL with 126 runs batted in last season.
4. Manny Machado, San Diego Padres
The move to put Manny Machado at number four might be a little bit a surprised but if you look at his defensive abilities at the position and past hitting numbers before arriving in San Diego, Machado looks like a top five if not top three third baseman in all of baseball. Machado has hit at least 32 home runs in each of the past five seasons. Despite finding his way to a new league and team, Machado still managed to post a .960 fielding percentage at third base just a year after posting a career high .979 fielding percentage in 2018.
3. Jose Ramirez, Cleveland
Coming in at number three is Cleveland's seven year veteran Jose Ramirez. Despite seeing his numbers drop during the 2019 campaign due to missing 32 games, Ramirez continues to be one of the more consistent third basemen's at the plate and in the field. Last season in just 542 at bats, Ramirez hit 33 doubles to go along with 23 home runs while driving in 83 runs for Cleveland. Prior to 2019, Ramirez had finished third in the AL MVP race in back to back years (2017, 2018). If Ramirez can stay healthy in 2020, Cleveland's third baseman should put up some big time numbers.
2. Alex Bregman, Houston Astros
As we looked at the top two spots Alex Bregman is slowly making a name for himself at the third base position. That said, he lands at number two just behind Nolan Arenado. The Astros third baseman is coming off a monster 2019 campaign finishing with 41 home runs to go along with a .296 batting average and a 9.1 wins above replace (WAR). The performance earned Bregman his second All-Star team nod, his first silver slugger award and his second trip to the All-Star game. In addition to his bat, Bregman posted a .966 fielding percentage committing just eight errors in 238 total chances at the position. 
1. Nolan Arenado, Colorado Rockies
While the list of talent around the game of baseball is filled and even at the third base position, top spot on the list of Top 10 MLB Third Baseman is an easy choice. That choice is the Colorado Rockies veteran third baseman Nolan Arenado. While others are close to the ranking, Arenado continues to put together MVP season's year in and year out. Entering 2020, Arenado is a seven time gold glove winner, four time silver slugger and a five time NL All-Star. In 2019, Arenado finished with a .315 batting average to go with 31 doubles, 41 home runs and 118 runs batted in. Over the past five seasons, Arenado had hit at least 37 home runs while driving in at last 110 runs. Along with the offensive performance, Arenado commited just 9 errors in 457 attempts at third base while recording a .980 fielding percentage.
Login > Create > Save > Share and Download Your Custom Fan Rankings Here
Follow me on Twitter: @FanRankingsHQ . Facebook: FanRankings . Instagram: @FanRankings
POPULAR POSTS
Thank you
Your email has been successfully subscribed.
Sorry, there are no polls available at the moment.