The Top 10 Second Basemen of MLB
The Best Second Basemen Going Into 2020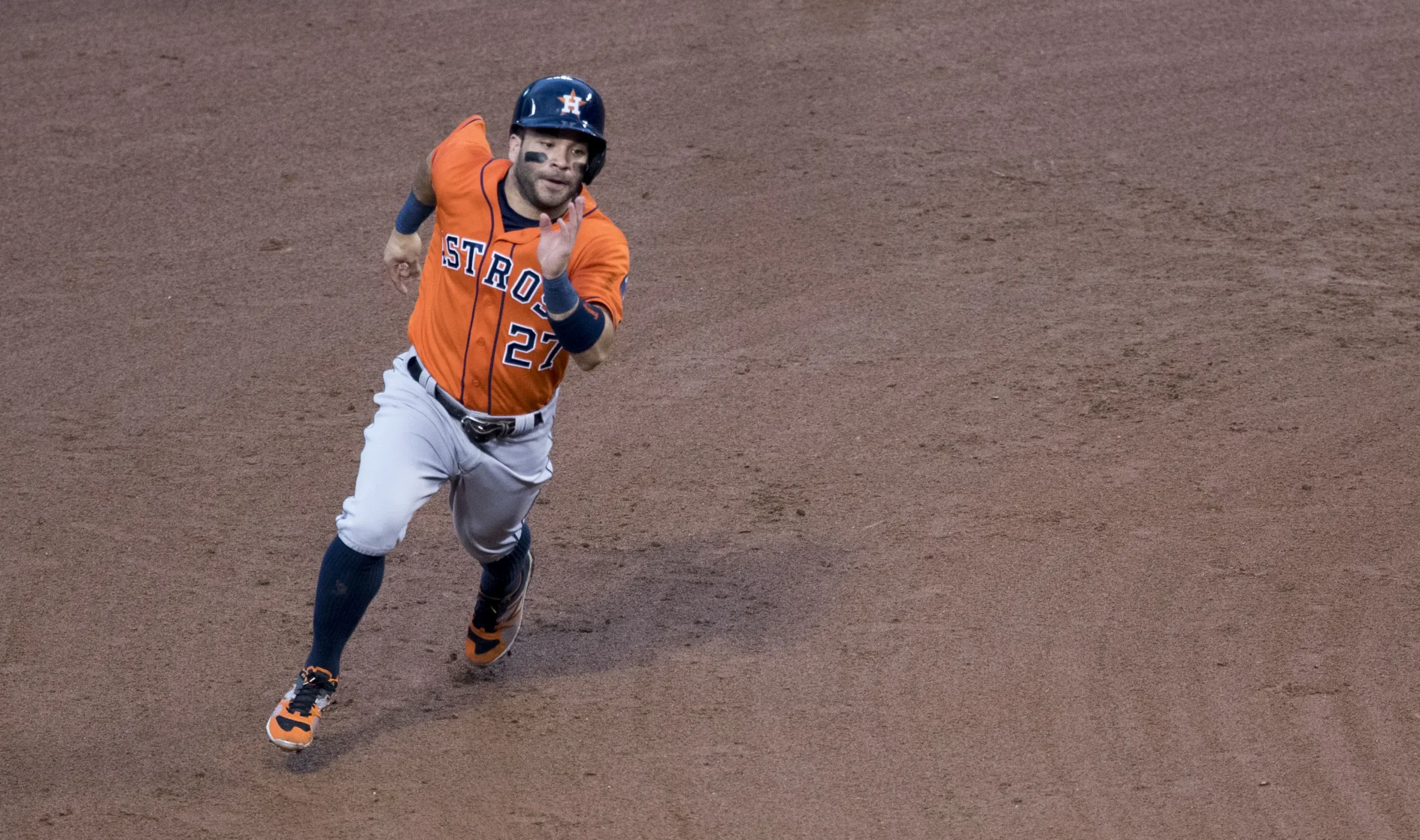 The roster of a Major League Baseball team is built around a group of twenty plus players that all come together to deliver success to their MLB club. A team that is fielded with eight positional players and either a starting or relief pitcher. Out of those eight positional players one positional player that has seen his role change from year to year is the second baseman. Once a position that saw versatile quick defensive role type players has now involved into a position that can do it all on the field.
As you look around Major League Baseball, the second base position is loaded with talent that includes former MVP Jose Altuve who led the group in home runs to young stars such as Ozzie Albies and Gleyber Torres. While second baseman lack the power and speed of some of the other positional players, the position provides a ton of impact on the outcome of a baseball game.
When looking to compile our list of Top 10 Second Baseman around the MLB, we looked a wide range of metrics of each second baseman around the game. Those metrics included not only how they produced at the plate but as well as in the field.
Taking into each consideration each aspect of the second base position, here is our Top 10 Second Baseman in Major League Baseball.
Top 10 MLB Second Baseman
10. Cavan Biggio, Toronto Blue Jays
The son of former big leaguer and Hall of Famer Craig Biggio put on a show after being called up to the Toronto Blue Jays. In just 100 games played for the Blue Jays, Cavan Biggio posted 17 doubles, two triples and 16 home runs to go with 48 runs batted in. Despite missing 62 games before being called up to the Majors, Biggio led all second baseman in walks with 71 and ranked tied for 9th in home runs with 16. While still unproven, Biggio displayed his potential down the stretch and what he can do among the group of second baseman.
9. Max Muncy, Los Angeles Dodgers

The Los Angeles Dodgers utility man is slotted by many as the teams opening day second baseman. As a utility man for the Dodgers, Muncy appeared all over the diamond including appearing in 69 contests at the second base position. Despite moving around Muncy finished tied for 23rd in MLB with 35 home runs and 24th in runs batted in. During his time at second base, Muncy picked up 12 doubles to go with 16 doubles and 52 runs batted in. In addition to his bat, Muncy played a solid defensive position when on the field.
8. Jonathan Villar, Miami Marlins
The newly acquired Miami Marlins second baseman is a dual threat weapon who can hit for power and steal bases. While with the Baltimore Orioles last year, Jonathan Villar finished with the third most steals (40) in all of baseball while finishing tied for 81st in all of baseball with 24 home runs and 73 runs batted in. In addition to hitting for power and being able to swipe a bag when needed, Villar finished the season with a .274 batting average. The only downside to Villar, has been his inconsistent play in the field.
7. Whit Merrifield, Kansas City Royals
A name that should be on everyone's top 10 MLB second baseman's heading into 2020 is Whit Merrifield of the Kanas City Royals. The Royals second baseman much like Muncy, played multiple positions for the team including both at second base as well as in the outfield. That said, Merrifield is expected to be the teams opening day second baseman in 2020. Merrifield is one of the better defensive second baseman's in the game and an all-around good hitter. Last season Merrifield finished the season with a .302 batting average to go with 16 home runs, 41 doubles, 105 runs scored a league high 206 hits and a ten triples. In addition to his glove and bat, Merrifield swiped 20 bags last season and 99 total bags over the past three seasons.
6. DJ LeMahieu, New York Yankees
While it's hard to honestly tell at this point whether or not LeMahieu will be playing second base or another position as the New York Yankees also have Gleyber Torres. That said, his proven track record at the position makes LeMahieu a difficult option to pass over at the second base position. LeMahieu's strong 2019 campaign finished him fourth on the AL MVP voting after hitting 26 home runs to go with 102 runs batted in. While time will tell if he will continue to see time at second base, one thing is for sure is when he is on the field he is one of the best options at the position.
5. Ketel Marte, Arizona Diamondbacks
Another young star landing on the top 10 second base list is the Arizona Diamondbacks Ketel Marte. Much like Gleyber Torres and DJ LeMahieu, Marte benefits from playing in one of the best hitters ball parks in all of Major League Baseball. The Diamondbacks star put together his best overall season last year stealing 10 bases to go with 36 doubles, 32 home runs and 92 runs batted in. While his bat is one of the best in the game, his glove also ranks near the top of all second baseman. His big time 2019 season earned him his first trip to the All-Star game and a fourth place spot on the NL MVP voting list.
4. Keston Hiura, Milwaukee Brewers
The Milwaukee Brewers young made a big time splash at the second base position after being called up late in the season. In just 84 games, Hiura picked up 95 hits while smashing 23 home doubles and 19 home runs to go with a .303 batting average. Along with his power surge, Hiura swiped nine bags after joining the big league roster. While showing his potential, question marks on his defense and how he will perform in a full season has many experts questioning what 2020 will look like for him. Nonetheless, it's hard to look past a young star due to his lack of experience after witnessing the production from guys like Gleyber Torres and Ozzie Albies at the big league level.
3. Gleyber Torres, New York Yankees
The 23 year old second baseman is one of the best second baseman in all of baseball and is still one of the youngest at the position. The New York Yankees young star smashed 38 home runs last year to go with 90 runs batted in and 96 runs scored. Entering 2020, Torres is a fan favorite in New York and benefits from playing in one of the friendlier hitters ball parks around the game of baseball. Last season, Torres finished with a 3.1 Wins Above Replacement (WAR) and his production on the field earned him his second straight All-Star nod.
2. Ozzie Albies, Atlanta Braves
The Braves young second baseman continues to impress year in and year out since arriving at the Major League Baseball scene. Albies finished 2019 tied for third among second baseman in home runs with 24, second in runs batted in with 86 and second with a .295 batting average. Along with the bat, Albies is a plus defender in the field with a very strong arm to make any play at the position.
1. Jose Altuve, Houston Astros
With a long list of great second baseman, the top spot could have easily been handed to the likes of Albies, Hiura and Torres. That said, despite the sign stealing drama with the Houston Astros Jose Altuve is still the best all-around second baseman in MLB. The Astros veteran has the plate discipline to lead the league in hits and batting average, the glove to rank with the best at the position and solid speed. Altuve finished the season with a .298 batting average to go with 31 home runs, 27 doubles, three triples and 74 runs batted in.
Login > Create > Save > Share and Download Your Custom Fan Rankings Here
Follow me on Twitter: @FanRankingsHQ . Facebook: FanRankings . Instagram: @FanRankings
POPULAR POSTS
Thank you
Your email has been successfully subscribed.
Sorry, there are no polls available at the moment.