MLB Top 10 Left Fielders – June 2021 Rankings
Jesse Winker and the best Left Fielders of Major League Baseball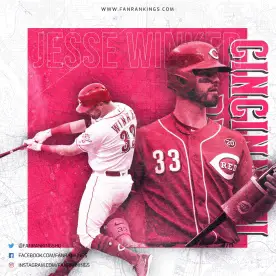 (Don't forget to rank your Top 10 Left Fielders at the end of this article for a chance to win a $50 gift card or the equivalence of this amount of your country) 
The game of baseball is at full strength this season as the MLB season looks to continue to deliver excitement all summer long. After a shortened 2020 MLB season due to COVID-19, the action has been exciting to start this season as the season is slowly approaching the 2021 MLB All-Star game. As you look around the game through the first few months, the production has been at high levels among all positions including MLB left fielders.  
While the list of the Top 10 MLB left fielders was strong going into the season, the early season surprises along with some of the expected production, has made it difficult to make this list. While fan favorites and stars such as Christian Yelich and Michael Brantley continues to see their name among the list, young stars such as Tyler O'Neill, Jesse Winker and Alex Verdugo have emerged as young stars of the game. 
With that said, here is our list of the Top 10 MLB Left Fielders in 2021. 
Top 10 MLB Left Fielder Rankings
Alex Verdugo, Boston Red Sox
Coming in at number 10 is the Boston Red Sox young star Alex Verdugo who is just 25 years of age. Verdugo who the Red Sox acquired in their blockbuster trade with the Los Angeles Dodgers, is putting together a strong 2021 MLB campaign through his first 253 at bats to start the season. Verdugo is batting .289 with nine home runs to go with 32 runs batted in while also stealing four bases. Verdugo who has spent time among all the outfield positions this season, is a strong defender in left field for the Red Sox.  
 
Michael Brantley, Houston Astros
With the list filled with some of the games brightest stars, one veteran who is putting together a strong 2021 MLB season is the Houston Astros star Michael Brantley. Over the first few months of the season, Brantley leads all left fielders in doubles (21), ranks third in total hits (75), first in batting average (.350) and second in on base percentage (.399). The 34 year old has been red hot of last batting .444 over his last seven games with eight runs batted in while batting .366 over his last 123 at bats with 24 runs batted in. 
Joc Pederson, Chicago Cubs 
The former Los Angeles Dodgers centerfielder has found a home in left field for the Chicago Cubs. From an offensive standpoint, Pederson has shown over his career he can hit for power racking up 36 home runs during the 2019 MLB season while having four different seasons with at least 25 home runs. Still just 29, Pederson is putting together another strong offensive season scoring 49 runs, driving in 30 runs to go with 11 home runs in just 203 at bats this season.   
Andrew Benintendi, Kansas City Royals 
The debate can be made over a few of the players below to land at the number seven spot on our list of Top 10 MLB left fielders. However, take in Benintendi's success and his age (26), it is hard to look past him as one of the top 10 left fielders in all of baseball. The Kansas City Royals outfielder is batting .283 on the year with eight home runs, 31 runs batted in and seven stolen bases. Between 2017 and 2019, Benintendi collected 107 doubles, 12 triples, 49 home runs to go with 248 runs batted in.  
Tyler O'Neill, St. Louis Cardinals
Another emerging young star within Major League Baseball is the St. Louis Cardinals left fielder Tyler O'Neill. O'Neill who just turned 26 on June 22nd, is in his just first full season at the Major League level aftter playing in 50 games in 2020, 60 games in 2019 and 61 games in 2018. Through his first 53 games this season, O'Neill has batted .276 with 15 home runs to go along with 34 runs batted in while recording a .913 ops. O'Neill ranks eighth in doubles, third in home runs and eight in runs batted in among all MLB left fielders.  
View this post on Instagram
Follow @fanrankings to stay up to date
---
Kyle Schwarber, Washington Nationals 
The Washington Nationals outfielder has been one of the hottest players in all of baseball over the course of the last month. Entering play June 22nd, Schwarber batted .385 with six home runs and 11 runs batted in over his last seven games. His production over his past 30 games included 12 home runs to go with 25 runs batted in and 16 runs scored. On the year, the Nationals left fielder has 18 home runs to go with 42 runs batted in while ranking first in home runs and second in runs batted in among all left fielders.  
Randy Arozarena, Tampa Bay Rays

 
A name that is slowly rising the rankings on this list is the Tampa Bay Rays young outfielder Randy Arozarena. Arozarena is just 26 years old and is slowly becoming a house hold name within the Rays locker room and among their fan base. Through the first few months of the 2021 MLB season, Arozarena has batted .259 with 10 home runs and 37 runs batted in while also stealing 11 bases. This production comes after his strong shortened 2020 season where the youngster hit seven home runs in just 23 contests. Look for his production to continue to climb on a very talented young Rays team. 
Justin Upton, Los Angeles Angels
One name that continues to rank near the top of the top left fielders in baseball year in and year out is the Los Angeles Angels star Justin Upton. Upton who continues to be one of the best offensive outfielders has continued that surge this season through his first 62 games. Upton has hit 14 home runs to go with 10 doubles, 40 runs scored and 32 runs batted in. Over the course of his career, Upton has hit 321 career home runs to go with 991 runs batted in.  
Christian Yelich, Milwaukee Brewers 
While his production is down this season due to injuries, it is hard not to put Christian Yelich at the top or near the top of the list as one of the best left fielders in all baseball. Through 127 games this season, Yelich has been able to hit three home runs, drive in 18 runs and score 26 runs. If and when Yelich returns to his old form, look for his production to increase while returning to the MVP candidate he was in years past. Prior to the shortened 2020 MLB season, Yelich hit .329 with 44 home runs, 29 doubles and drove in 97 runs. From 2018 to 2020, Yelich hit 92 home runs to go with 229 runs batted in and 70 doubles.  
Jesse Winker, Cincinnati Reds
The answer to who is the best left fielder in Major League Baseball in 2021 is the Cincinnati Reds Jesse Winker. Winker who is just 27 years old is putting together a solid 2021 MLB season through the first few weeks of June. The Reds left fielder ranks at the top or near the top in every offensive category among all left fielders. Entering play on June 22nd, Winker ranks second in home runs (17), first in batting average (.335), first in runs batted in (43) and first in on base percentage (.405). This production comes after Winker hit 12 home runs in just 54 games last season during the shortened pandemic plagued MLB season. 
How would you rank your Top 10 Left Fielders? Rank below to be added in the Power Rankings and to have a chance to win a gift card to LAZADA, Amazon, Fanatics.com, or more that is specific to you. Your Fan Rankings will be added to our Power Rankings as well. Join the contest by ranking below. 
POPULAR POSTS
Thank you
Your email has been successfully subscribed.
Sorry, there are no polls available at the moment.