Top 10 South American National Teams – CONMEBOL 2022 Rankings
Ranking the best South American national football teams in this year's 2022 CONMEBOL Libertadores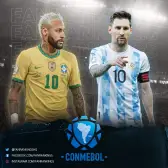 Copa Libertadores
Qualifications for the 2022 FIFA World Cup – CONMEBOL is a football competition that is played as part of the qualifications for the 2022 FIFA World Cup to be held in Qatar. Ten teams members of the CONMEBOL confederation participated in the qualifications, and at the final tournament it will be possible to place directly 4 national teams and one national team through the barrage.
After 16 matches played, we have a very interesting situation since some of the biggest favorites for qualifying for World Cup 2022 may not reach it.
Top 10 CONMEBOL Teams
10. Venezuela
With only 10 points Venezuela is in last place with 3 wins and 3 points less than Paraguay. They will try in the last 2 rounds to at least avoid finishing in last place but it will be very difficult. 
9. Paraguay
Paraguay is 9th on the table with only 13 points and 2 wins in 16 rounds. А long time has passed since Jose Luis Chilavert was their goalkeeper and captain and they had generations of players that played in the World Cups.
8. Bolivia
Bolivia is in 8th place. They didn't expect much since there are football giants in this part of the world and only 4 places that lead to the World Cup. They have 4 wins and all 4 on home ground.
7. Colombia
Colombia is the disappointment of these qualifications. They were among the favorites for qualifying for the World Cup. They have only 3 wins in 16 rounds and scored only 16 goals, their form is terrible.
6. Chile
Chile has a better team from Peru on paper but the table speaks something different. They have 2 points less than Peru and 3 points less than Uruguay and they have 2 more matches to play.
5. Peru
Peru is in the place that leads to playoff matches for qualifying. They leveled up their game although no one was giving them much chances in these qualifications. They are only 1 point behind Uruguay.
4. Uruguay
Uruguay is in 4th place which also brings direct qualifying to the World Cup. Although they have an amazing team full of super stars they were in very bad form through these qualifications.
3. Ecuador
Surprisingly in 3rd place is Ecuador. Against all odds they managed to stabilize their game and they are looking very good in the last few matches. It is most likely that they will book a place in the World Cup since they have 3 points more than Uruguay and 2 matches to play.
2. Argentina
Messi's Argentina is in 2nd position and they have qualified for the World Cup. Same as Brazil they are without a defeat but with 10 wins and 5 draws. Maybe this is the last big tournament for Messi and they will give it all to make it count.
1. Brazil
With 1st placed on the table and already booked a spot in the World Cup is Brazil. Of course, the World Cup can't be imagined without them. Brazil has played 15 matches so far and has 12 wins and 3 draws. Their form is amazing and they will be big contenders for winning the World Cup.
How would you rank these South American national football teams in this year's 2022 CONMEBOL Libertadores? Rank below to be added in the Power Rankings and to have a chance to win a gift card to LAZADA, Amazon, Fanatics.com, or more that is specific to you. Join the contest by ranking below.
Related Links:
POPULAR POSTS
Thank you
Your email has been successfully subscribed.
Sorry, there are no polls available at the moment.