Top 10 Defenders in World Football Soccer Rankings – Gerard Pique still has it
As Gerard Pique gets older he is still one of best in the business. Also, ranking the best defenders in the world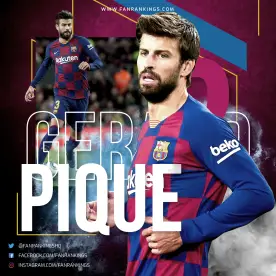 (Don't forget to rank your Top 10 Defenders at the end of this article for a chance to win a $50 gift card or the equivalence of this amount of your country) 
Honorable Mention
Giorgio Chiellini
One of the best football defenders, Chiellini currently captains the Italian side Juventus and the Italian national team. A regular in the best defender's conservation, Chiellini is a perfect blend of modern-day defending with the classic mean, aggressive defense of the old era. Alongside Bonnuci, the duo formed one of the meanest defenses Europe has seen in the last decade. 
After a disappointing season filled with injuries and poor results with Juventus, Chiellini has rediscovered his form at the European Championship with Italy.
Returning to the grand stage after nine years out, Italy has been the standout performer in this year's championship for their beautiful attacking play but the defense has been just stellar too. The captain is the kind of leader you want for your team, calm and at the same time fierce – Cheilini is reminding us all why Juventus were so feared years ago.
Top 10 Defenders
Gerard Pique – FC

Barcelona, La Liga
Barcelona has been disappointing in recent years, suffering humiliations when you least expected them to lose – even Lionel Messi is getting older- but Pique remains as important to the cause as he has been for the past decade. 
The 33-year-old has been sidelined with injuries and is looking a little more tired but speaks of playing for three or four more years.
A commanding and technically adept defender, Pique's most memorable years came alongside the legendary Puyol. He is good in the air, commands the ball well with his feet, and is a leader at the back. While the club prepares for life after him, Pique remains one of the best in the business.
Sergio Ramos – PSG,

Ligue 1
A new PSG player after departing the Spanish capital, Ramos has a career many can only dream of. He's slipping down the list now, but it's tough to dispute his position as one of the best defenders in world football…. still.
His aerial prowess in both boxes and all-round fighting spirit can only be admired. And there's something about a center-back who takes his team's penalties stylishly. 
Milan Skriniar – Inter Milan,

Serie A
The 25-year-old was key to Conte's Inter winning the Scudetto and breaking Juventus dominance in the Italian league. The Slovakian has always been a fantastic athlete capable of keeping up with the paciest strikers, but over the years he has become even better at reading the game.
He's a member of one of the best defenses in Europe – and possibly the only player plying his trade in a city he shares his name with?
Aymeric Laporte –

Manchester City, Premier League
Laporte is the typical Guardiola center-back: stylish, comfortable in possession, and not afraid to put his head where it hurts when he needs to. Manchester city's defense has run tight ship whenever Laporte anchors it.
He made a switch in Nationality from France to Spain just before the European Championship and he has been stellar for Luis Enrique in their run to the semi-finals.
Harry Maguire –

Manchester United, Premier League
Being the world's most expensive defender doesn't make you the best, but Maguire deserves his place on this list after rising fast to show his consistent class with Leichester and England- before consolidating and building on that with Manchester United.
Maguire is commanding in the air but also one of football's finest stoppers in possession, as his regular foray into midfield for club and country have demonstrated. 
View this post on Instagram
Follow @fanrankings to stay up to date
---
John Stones –

Manchester City, Premier League
There's a case to be made for John stones being England's best center-back – certainly in a ball-playing role. The 26-year-old just completed his seventh year in top-flight football and has been impressive so far for England in the European Championship. England has not conceded a goal heading into their semi-final match against Denmark at Wembley. 
He's arguably in the best shape of his career right now, though. Having come back into favor under Pep alongside Ruben Dias, he's reminding us all what he's all about.
Raphael Varane –

Real Madrid, La Liga 
Varane has affirmed his status as one of the world's best in his position, leading Real's core in the absence of captain Ramos.
The 27-year-old is the complete defender. He reads the game expertly and possesses the recovery speed to cover for his teammates' mistakes, while he is adept at stepping into midfield with the ball and setting his team on the attack.
Virgil van Dijk – Liverpool, Premier League
The Dutchman should be higher up our ranking but a gruesome tackle in the Merseyside derby early last season ended his season and prevented him from leading The Netherlands to the Euro.
Van Dijk has everything you want in a modern-day center-back; strength, speed, aerial prowess, leadership qualities, and ability on the ball. Five good reasons he was the world's best at his unstoppable peak, often talked up as the first center-back to win the Ballon d'Or since Fabio Cannavaro in 2006.
Marquinhos – PSG, Ligue 1
The Brazilian rock that guides the doors of Paris.
Thiago Silva was the heart of Paris Saint Germain. Now Marquinhos has taken the reigns.
He leads the team- even in goals, as the last couple of champions league campaigns have confirmed- and he's dominant at the back, aerially, positionally, and starting attacks for PSG. He is also instrumental for the Brazilian national team, scoring clutch goals and ensuring the Samba Boys are solid at the back.
Ruben Dias – Manchester City, Premier League
Who else could it possibly be?
Ruben Dias has slotted into Manchester City's backline like he was born to play there. He's calm on the ball, positionally supreme, and the perfect Vincent Kompany replacement. 
It's rare that a center-back is so unanimously popular, so formidably unbeatable and so obviously one of the standout stars of the season. Dias is all three. He's the foundation that Manchester City will build upon for years to come.
Where do you rank Gianluigi Donnarumma? Rank below to be added in the Power Rankings and to have a chance to win a gift card to LAZADA, Amazon, Fanatics.com, or more that is specific to you. Your Fan Rankings will be added to our Power Rankings as well. Join the contest by ranking below.
Related Links: Let's rank the Top 10 Goalkeepers in World Football
POPULAR POSTS
Thank you
Your email has been successfully subscribed.
Sorry, there are no polls available at the moment.