Top 10 Super Featherweight Boxers – April 2021 Rankings
Let's rank the Top 10 Super Featherweights after Jamel Herring knocked out Carl Frampton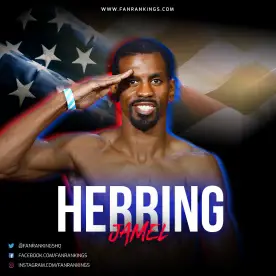 With incredible fighters like Oscar Valdes, Shakur Stevenson, and Gervonta Davis, Super Featherweight is one of the most exciting divisions in boxing, and today, I am going to share my rendition of the top 10 Super Featherweight boxers in the world. 
(Remember to rank your Top 10 at the end of the article)
Honorable mentions:
Before we get on to the countdown, here are some great fighters who couldn't make it on the list, but deserve an honorable mention.
Kenichi Ogawa is a really talented fighter from Japan and has a record of 25-1, he also held the Japanese Super-Featherweight title from 2014 to 2017, defending it 5 times.
Rene Alvarado is another excellent fighter. He has a record of 32-9, and he also won the WBA (Regular) super featherweight title, which he lost to Roger Gutiérrez in his last fight
Top 10 Super Featherweight Fan Rankings
10. Chris Colbert
To start off the list, at number 10, we have Chris Colbert. The Brooklyn native is a young and exciting fighter with an undefeated professional record of 15-0.
In January of 2020, Colbert fought Jezreel Corrales for the Interim WBA super Featherweight title, and won via a UD, Colbert also defended his title against Jaime Arboleda in December and won via TKO in the 11th round.
As far as Colbert's next fight is concerned, it hasn't been announced yet; however, since he down holds the interim WBA title, a fight again Gervonta Davis, or Roger Gutiérrez could be in the books
9. Roger Gutierrez
Roger "the Kid" Gutierrez is another young boxer, who has made it on our list at number 9. The Venezuelan professional boxer has an impressive record of 25 wins and only 3 losses. Moreover, 20 of his victories came by way of knockout.
Gutierrez has had an incredible career up till now, and he is still very young at 25 years of age. He maintained an undefeated record for his first 15 fights; however, when he faced off against René Alvarado, he suffered his first loss via knockout in the seventh round. However, currently, Gutirrez is on a six-fight winning streak, and in his last fight, which was a rematch against Alvarado, he avenged his first loss and won the WBA (Regular) super featherweight title.
8. Tevin Farmer
Tevin Farmer started his boxing career at 19, and though he did not have the best of starts, he went on to achieve a lot in the sport. With a record of 30 wins, 5 losses, and 1 draw, Farmer has been in the sport for a long time.
He fought Kenichi Ogawa for the vacant IBF super featherweight title in 2017, though Farmer lost that fight via split decision, it was later termed as a no-contest as Ogawa failed a drug test. Farmer then fought Billy Dib for the same title and won.
He went on to defend the IBF Super Featherweight title four times, before losing it to Joseph Diaz in his last fight. Though Farmer's next fight hasn't been announced yet, he is looking for a rematch against Joseph Diaz.
7. Shavkat Dzhon Rakhimov
The Tajikistani professional boxer, Shavkatdzhon "Shere Khan" Rakhimov makes it to number 6 on our list. The incredible southpaw has an undefeated record of 15 wins and no losses.
Rakhimiv has won multiple titles over the course of his career; however, in 2017, he got his first taste of a world championship.
He defeated, Emanuel Lopez to win the vacant IBO super-featherweight title and defended it three times, Rakhimiv's last fight was against Joseph Diaz for the vacant IBF super-featherweight title; however, the fight ended in a Draw. A rematch was scheduled for the 13th of February, but unfortunately, Rakhimiv seated positive for covid-19, and couldn't compete. So, for now, there is no announcement regarding Rakhimova's next fight.
6. Joseph Diaz Jr.
At the Number 5 spot, we have Joseph "JoJo" Diaz. The American boxer has an extensive record, with 31 victories, 1 loss, and 1 draw.
Jojo Won the vacant WBC-NABF featherweight title in 2015, and went on to defend it seven times, Diaz then got a chance to fight against Gary Russell Jr. for the For WBC featherweight title; however, he was handed his first loss and came up short.
In January of 2020, Diaz defeated Tevin Farmer and won the IBF super featherweight title.  His last fight against Shavkatdzhon Rakhimov ended in a majority decision draw, and a rematch was scheduled; however,  Rakhimov was infected with covid, which led to the fight being canceled.
View this post on Instagram
Swipe right for Super Featherweight April Fan Rankings. Follow @fanrankings to stay up to date
---
5. Miguel Berchelt
Berchelt is one of the most experienced fighters in the division. With an extensive record of 37 wins, 2 losses, and 1 no-contest, he has fought the best of the best.
In March 2016, Berchelt knocked out  George Jupp to win the WBO interim super featherweight title. After defending the interim title once, Berchelt got a fight against Francisco Vargas for the WBC super featherweight title. Berchelt won the title, via KO in the late round, and went on to defend it seven times.
However, in his last fight, on February 20th, Berchelt lost the title to Óscar Valdez. Berchelt's next fight isn't announced yet, but it will be very important for his career.
4. Shakur Stevenson
At Number four, we have another exhilarating young boxer. With an undefeated record of 15-0, the 23-year-old young star has a very bright future in the sport.
In his brief professional career, Stevenson has achieved a lot. He won the vacant IBF Inter-Continental and WBC Continental Americas featherweight titles, and in 2019, he won his first world title at featherweight. However, Stevenson has since moved up a weight class to Super featherweight, and won a Unanimous Decision against Toka Khan Clary in his last fight.
Stevenson is scheduled to fight against Jeremiah Nakathila next on 12th June 2021
3. Jamel Herring
With an impressive record of 23 wins and 2 losses, Jamel Herring makes it in at number three on our list. He is currently the WBO junior lightweight champion, which is a title he has already defended three times. He won the title from  Masayuki Ito in 2019, and in his most recent fight, he defeated Carl Frampton via TKO in the 6th round.
Herring started his career in 2012, and went on a 15 fight win streak, before suffering his first loss in 2016, against the Russian Denis Shafikov. As far as Herring's next fight is concerned, there aren't any announcements yet.
2. Gervonta Davis
Gervonta "Tank" Davis is perhaps one of the most prolific stars in the lower weight divisions right now. Davis is undefeated, with 24 wins, all but one of which came by the way of Knockout.
Davis won his first world title by defeating José Pedraza in 2017. He won the IBF super featherweight title, and defended it once; however, he missed weight in his next fight and was stripped of the title. In his next fight, Davis defeated Jesús Cuellar to win the vacant WBA (Super) super featherweight title. He defended the title twice and is still the reigning WBA champion at super-featherweight.
Davis's last two fights happened at lightweight, and he is also the current WBA (Regular) lightweight champion.
There are a lot of speculations about Tank's next fight; however, there hasn't been any official announcement yet.
1. Oscar Valdez
At the top of the list, sits the current WBC super featherweight champion, Oscar Valdez. He started his professional career in 2012 and has an undefeated record with 29 victories.
In 2016, he won the vacant WBO featherweight title and went on to defend it six times. In his last bout, on 20th February, Valdez defeated Miguel Berchelt and became the WBC super featherweight champion.
As far as Valdez's next fight is concerned, there hasn't been any official announcement as of yet. Where do you rank the rest of the Super Featherweights? Rank below to be added in the Power Rankings and to have a chance to win a gift card to LAZADA, Amazon, Fanatics.com, or more that is specific to you. Your Fan Rankings will be added to our Power Rankings as well. Join the contest by ranking below.
POPULAR POSTS
Thank you
Your email has been successfully subscribed.
Sorry, there are no polls available at the moment.