Top 10 Bantamweight Boxers – June 2021 Rankings
Where do you rank this age-less wonder Nonito Donaire in the Top 10 after he knocked out Nordine Oubaali to become the WBC Bantamweight Champion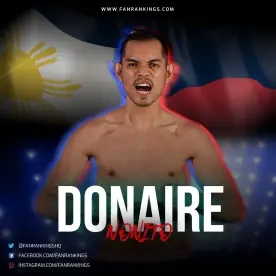 (Don't forget to rank your Top 10 Bantamweights at the end of this article for a chance to win a $50 gift card or the equivalence of this amount of your country)
Honorable Mentions
The first fighter on our list of honorable mentions is Mike Plania. He is an exciting young fighter from the Philippines with a record of 25 wins and 1 loss.
Gary Antonio Russell from the USA also deserves an honorable mention on this list. The undefeated fighter has a record of 18 victories and no defeats.
Top 10 Bantamweights (Update: June 20, 2021)
10. Jason Moloney
Starting off the list at number 10 is Jason "Mayhem" Moloney. He has a record of 21 victories and only 2 defeats, both of which came when he was challenging for the world title.
Mayhem is from Australia and has held multiple regional titles including the WBA Oceania bantamweight title. In his most recent fight, he challenged the current champion, Naoya Inoue for the WBA (Super), IBF, and The Ring bantamweight titles, however, he came short. His next fight has not been announced yet.
9. Takuma Inoue
From Japan, Takuma Inoue is a very exciting fighter in the bantamweight division.
With a record of 14-1, he is also the former WBC interim bantamweight champion. He won the title after defeating Petch Sor Chitpattana in 2018 and faced Nordine Oubaali for the world title.
He lost this title fight, however, in his most recent match, he defeated Keita Kuriharato to get back into the win column. Inoue's next fight has not been announced yet.
8. Michael Dasmarinas (-1)
Michael Dasmarinas is an exciting southpaw fighter from the Philippines. With a record now of 30-3-1, he lost his last fight against WBA Super, IBF, and The Ring Champion Naoya Inoue.
Before his recent bout against Naoya Inoue he was on an impressive win streak. In his fight against Naoya Inoue he took devastating body shots which knocked him down multiple times which resulted in a TKO in the 3rd Round.
7. Guillermo Rigondeaux – WBA Champion (+1)
At number 7, we have the Cuban legend Guillermo Rigondeaux. With a record of 20-1, Rigondeaux is a two-weight world champion.
He is the former unified WBA (Super), WBO, and Ring magazine super-bantamweight champion, and he currently holds the WBA (Regular) bantamweight title. Rigondeaux also notably challenged for the WBO super-featherweight back in 2017.
His last fight was against Liborio Solís, in which he won the WBA bantamweight title. He was supposed to take on John Riel Casimero on 14th Aug but Rigondeaux injured his hand. Rigondeaux was replaced by WBC Champion Nonito Donaire.
6. Emmanuel Rodriguez
Next up, we have Emmanuel Rodriguez from Puerto Rico. Rodriguez is also the former IBF bantamweight champion, a title he won after defeating Paul Butler in 2018.
He defended the title once, before losing it to Naoya Inoue in 2019. In his most recent fight, Rodriguez fought Reymart Gaballo for the WBC interim bantamweight title but couldn't do enough, and lost a split decision. His next fight has not been announced yet.
View this post on Instagram
Swipe right for June 2021 Bantamweight Fan Rankings as rankings here could change. Follow @fanrankings to stay up to date
---
5. Zolani Tete
Zolani Tete is a professional boxer from South Africa, and he has a record of 28-4.
Tete is a former two-weight world champion. He held the IBF junior-bantamweight title from 2014 to 2015 and defended it once before moving to bantamweight. Tete also held the WBO bantamweight title from 2017 to 2019 defending it twice before losing it to John Riel Casimero in his last fight.
Tate's next fight has not been confirmed yet but plans on moving up to Super Bantamweight.
4. John Riel Casimero – WBO Champion
John Riel Casimero is among one of the most exciting fighters to come out of the Philippines. With a record of 30 wins and 4 losses, he has held world titles in three different weight classes.
Apart from being the current WBO bantamweight champion, having held the title since 2019, John Riel Casimero has also held the IBF junior-flyweight and the IBF flyweight title he also won interim titles in both divisions.
He defended his title against Duke Micah in his last fight, and on August 14th he will be defending it against Nonito Donaire for a unification bout.
3. Nordine Oubaali
Our Number 3 pick for the list is Nordine Oubaali, a french professional fighter with Moroccan descent and a record of 17-1. He is the former WBC bantamweight champion, a title which he just lost to Nonito Donaire last weekend.
Oubaali was looking to set the pace with his awkward style, but couldn't get going from the first round. He got dropped twice in the third. However, he managed to come out for the fourth round. Unfortunately, though, he got his by a solid three-punch combination, ending in a body shot, which caused him to melt to the canvas. The referee waved off the fight without a count, and Oubaali lost his title.
2. Nonito Donaire – WBC Champion
Nonito Donaire is a Filipino-American professional boxer with a record of 41-6. Donaire is a future Hall of Famer, having held multiple titles in multiple weight classes.
These include the IBF and IBO flyweight titles, WBA interim super-flyweight titles, WBC and WBO bantamweight titles, the WBO super-bantamweight title, and the WBA (Undisputed) featherweight title.
Dionaire also won the WBC bantamweight title for the second time in his career in his last fight against Nordine Oubaali. The fight was completely one-sided in the favor of Dionaire, who dropped Oubaali twice in the third round. In the fourth, Dionaire ended the fight for certain by knocking out his opponent with a perfect three-punch combo, ending in a vicious body shot.
1. Naoya Inoue – WBA Super, IBF, The Ring Champion
Leading the pack of the bantamweights is Naoya Inoue. With an undefeated record of 20-0, he is the current unified bantamweight champion and has also held titles in two more divisions.
He won the WBC light-flyweight title in 2014, and defended it once, before moving up, and winning the WBO junior-bantamweight title, which he defended 7 times. He currently holds the WBA (Super), IBF, and The Ring bantamweight titles.
His recent bout against Michael Dasmarinas was won by dominating fashion. Vicious body shots that Inoue threw at Dasmarinas connected and knocked him down multiple times. Naoya Inoue won the fight in the 3rd Round by TKO.
Where do you rank Nonito Donaire after his win? Did we get it right? Rank below to be added in the Power Rankings and to have a chance to win a gift card to LAZADA, Amazon, Fanatics.com, or more that is specific to you. Your Fan Rankings will be added to our Power Rankings as well. Join the contest by ranking below.
Related Links:
POPULAR POSTS
Thank you
Your email has been successfully subscribed.
Sorry, there are no polls available at the moment.